How much does air conditioner repair cost in Tampa?
At HVAC.com, our writers create solutions that put you in control of your HVAC system. Our product reviews and recommendations are researched and backed by real buyers and industry experts, not dictated by our partners.
Want to make sure your HVAC technician quoted you a fair price for air conditioner repair in Tampa? You've come to the right place!
We've outlined common air conditioner repair issues for homeowners below, including their cost in the Tampa market.
How Much Does HVAC Replacement Cost?
Average Cost: $3,250 – $12,586
Like your home and needs, your HVAC project cost will be unique. Use the calculator to better estimate your investment.
*Estimate is based on current data and does not represent a guaranteed price. For accurate pricing contact a local HVAC dealer.
Tampa AC repair cost
According to HomeAdvisor, the national average cost for air conditioner repair is $384. However, the average cost for air conditioner repair in Tampa is almost double that at $768.
Across the United States, most homeowners spend anywhere from $168 to $605 repairing their AC. In Tampa, air conditioner repairs range from $160 to $1,370.
Though the cost of living in Tampa is slightly below the national average, air conditioner repair is comparatively expensive.
Air conditioner annual maintenance cost
It's smart to schedule a checkup for your AC before the summer really heats up. This typically includes inspection and testing of all your AC components. It can potentially head off any serious issues with your HVAC system.
An AC maintenance appointment costs about $100 in Tampa.
Air conditioner troubleshooting or diagnostic visit cost
If you're not sure what's wrong with your AC, you can call a professional to check it out and diagnose the problem.
An AC troubleshooting visit like this costs about $180 in Tampa. Most technicians charge for this service by the hour.
Air conditioner refrigerant recharge cost
Your AC's refrigerant (sometimes called freon) is the gas that absorbs heat from your home. If your refrigerant is low, your AC won't cool.
In Tampa, an air conditioner repair person will charge about $500 to recharge your refrigerant. The cost depends on the size of your system and availability of the system's freon.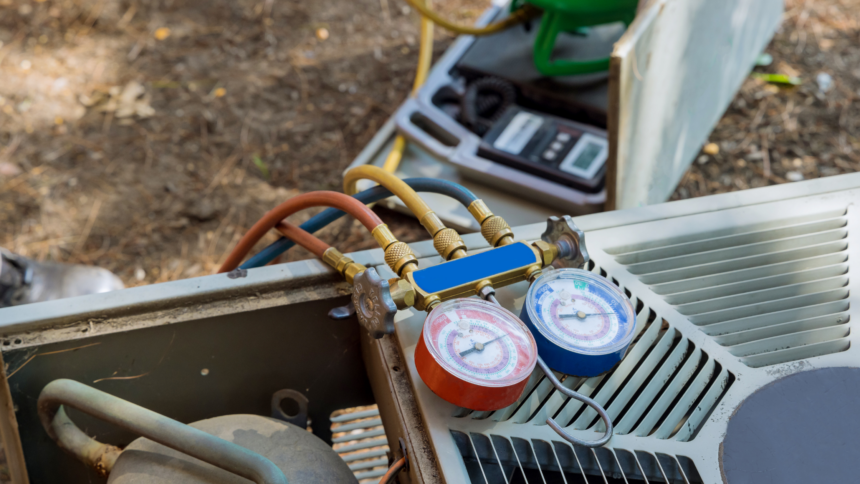 Air conditioner refrigerant leak cost
An AC refrigerant leak is the primary cause for a recharge service. A Tampa AC contractor will typically charge $225 to $1,600 to locate and repair a refrigerant leak. During the summer months, prepare to pay more towards the higher end of that range.
If a leak damages your evaporator coil, the cost to replace it is about $2,000 in Tampa.
Air conditioner compressor repair cost
The price of air conditioner repair to your compressor depends on the specific issue. For example, you may have a straightforward problem like a clogged filter. This costs less than $100 to replace. But if you have a refrigerant leak, you'll potentially pay more than $1,000.
If your compressor requires replacement, it will likely cost $1,200+ in Tampa. Of course, this depends on the specific brand, size, and model you select.
Book an HVAC inspection with a Tampa technician
Air conditioner compressor hard start kit installation cost
A hard start kit collects and stores electricity to make it easier for your AC to start cooling. An air conditioner repair person in Tampa may recommend one to prolong the life of your compressor or remedy voltage issues.
In general, a hard start kit installation costs $250 in Tampa.
Air handler repair cost
The cost of air handler repair depends on the specific issue. For instance, a dirty evaporator coil costs less to fix than a faulty blower motor.
If your air handler is beyond repair, an HVAC technician will charge you about $3,800 to replace it in Tampa.
Air conditioner duct repair cost
If you have a small leak in your ducts, you may be able to repair it yourself. If you can access that area, use duct tape or sealant to close the hole for less than $20.
Alternatively, you can hire duct specialists to clean and maintain your ductwork. In Tampa, this service costs about $429.
It can be quite pricey if you need to install or replace an entire duct system. Subject to the size of your home and your unique needs, an air conditioner repair person in Tampa can charge more than $12,000 for this work.
Air conditioner electrical wiring repair cost
Issues with your electrical wiring may impact your AC. Depending on the severity of the issue, you may pay up to $300 for a repair in Tampa.
Air conditioner capacitor repair cost
Your AC capacitor delivers power to your system's motor. If it's not working, it's generally more cost-effective to replace it rather than to fix it.
Expect to pay about $475 for this air conditioner repair cost in Tampa.
Air conditioner thermostat repair
Thermostats are fairly inexpensive. So, if yours isn't working properly, it's probably best to replace it. Doing so costs about $250 in Tampa.
If you opt for a more expensive smart thermostat, like a Google Nest, installation may cost a bit more.
Who to call for air conditioner repair in Tampa
If you need air conditioner repair in Tampa, we can pair you with a top-rated local technician. Click the yellow banner above to connect with one of our vetted air conditioner repair pros in Tampa. They'll get your system up and running at a competitive price.
How much does a new air conditioner cost in Tampa?

Air conditioners cost $5,000-10,000, depending on the size and features you require. Additionally, you'll pay for installation. 
How much does air conditioner repair cost in Tampa?

You'll pay an average of $768 for air conditioner repair in Tampa. 
Where can I get an air conditioner recharge in Tampa? 

An HVAC professional can handle an air conditioner recharge in Tampa. However, if your air conditioner requires more refrigerant, it likely has a leak somewhere. Contact an air conditioner repair company in Tampa to fix the leak and recharge the refrigerant.