Best window air conditioners of 2022
At HVAC.com, our writers create solutions that put you in control of your HVAC system. Our product reviews and recommendations are researched and backed by real buyers and industry experts, not dictated by our partners.
When summer temperatures hit, you need more than air circulation from a fan. The cooling effect from a window air conditioner can bring quick relief from heat and humidity. If your home doesn't have central air conditioning or you need more cooling in a single space, turn to our list of the best window air conditioners on the market.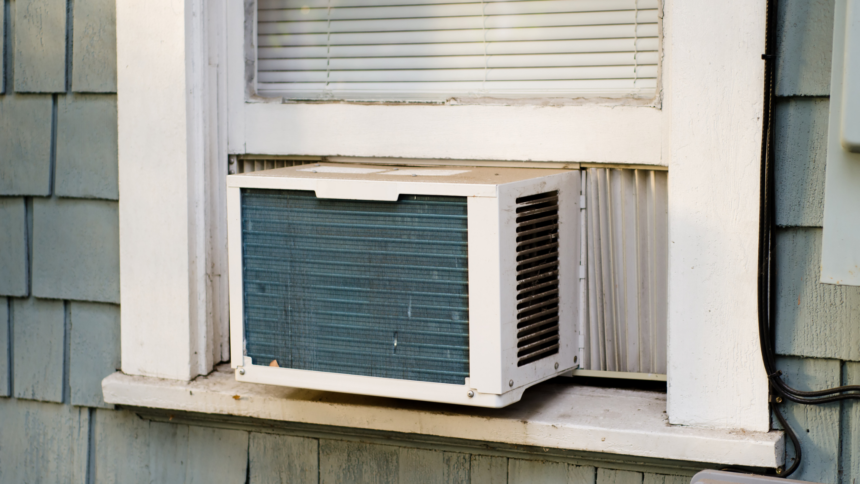 From Wi-Fi enabled to pulling dual duties, these units meet a variety of needs. Already know what's important to you? Here's our best window AC list.
Best window air conditioner
The Friedrich Chill Premier 8,000 BTU comes from a brand that is exclusively concentrated on cooling solutions. This powerful unit won us over with easy installation, quick cooling, and the ability to control the window AC remotely from a smartphone app. The air conditioner weighs in at 51 pounds, so it may be best to grab a second pair of hands to help install the unit, but the process is simple. The quality foam and side panels ensure the unit fits snuggly into your window while keeping the cool air in. The cooling power is more than you may expect. While the Friedrich Chill Premier line comes in BTUs ranging from 6,000 to 12,000, this unit can comfortably cool a space up to 350 square feet. Even with a strong cooling power, this through-the-wall unit is quieter than many competitors. Use the timer to turn the unit off up to 24 hours in advance to save on your energy bill. The built-in Wi-Fi capability allows you to turn the unit off and on from your phone – especially helpful on those hot summer days.
Buy on Amazon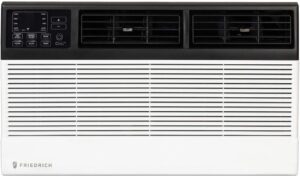 Best window air conditioner with heat
If you're looking for a unit that can easily carry you from summer to winter, the Koldfront WAC8001W is our top suggestion. This window air conditioner with heat offers a quick cooldown when the temperatures soar and an easy transition to warmth as winter approaches. We specifically like the energy-saving capabilities of this AC. The check filter light lets you know when it's time to clean the filter to optimize the unit's cooling power. The thermostat-controlled operation means you don't have to keep turning the AC off and on as the indoor temperature changes. Plus, the sleep mode and energy saver mode allow you to enjoy the cool air with minimal noise or light interrupting your sleep. A small, but brilliant design of this unit is the four-way air directional louvers that let you direct the cool air into the space where it's most needed. Use the remote control to adjust the settings on your unit as you cool a room up to 350 square feet or use the supplemental heating option to warm a 100 square feet space.
Buy on Amazon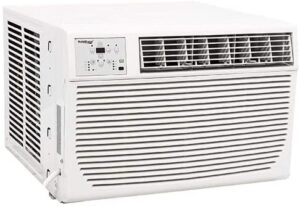 Best smart window air conditioner
Cooling your space has never been easier. The GE AHY08LZ Smart Window Air Conditioner offers three cooling speeds and three fan speeds, all of which can be controlled by your voice, the remote control, or your smartphone. We love the easy installation and dehumidifying feature of this unit. Plus, its quiet operation means you can use this unit as a living room or bedroom air conditioner. The cooling capacity is best in rooms around 250 square feet, but you will notice a difference in spaces up to 350 square feet. With Wi-Fi compatibility and an easy integration with Alexa, Apple Home Kit, and Google Assistant, it's one of the best window air conditioners for a smart home design.
Buy on Amazon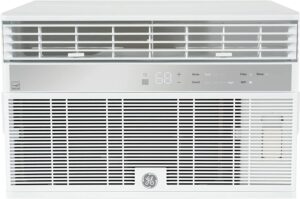 Best budget window air conditioner
For a light-weight window air conditioner for a small room or office, you can't beat the FRIGIDAIRE Mini-Compact Air Conditioner. At 41 pounds, it's easy to install and will start cooling in just minutes. When you want to skip the bells and whistles and get straight to comfort, this is your unit. Cool up to 150 square feet with this model's two cool speeds and two fan speeds. The rotary controls are easy to understand, allowing you to customize the temperature to your desired setting. When the air conditioner is set to its most powerful output, the running noise is more noticeable than with other units, but if you're simply looking for an inexpensive cool down for a small space – look no further.
Buy on Amazon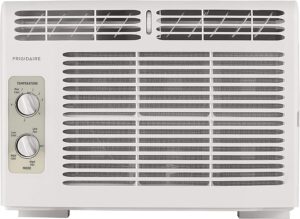 Best window air conditioner for a large room
Cool a space of up to 550 square feet with the TOSOT 12,000 BTU Window Air Conditioner. At $410 (on Amazon at time of publication), this unit is more of a considered purchase, but the 12,000 BTUs will make a world of difference for your large bedroom, kitchen, or family room. The three-in-one system offers a fan-only mode as well as a dehumidifier to support a personalized environment. We love the sleek, modern design of this unit and the digital display that tells you the temperature setting. Of course, we also like that this unit is Energy Star rated, shielding your wallet and the environment, but our favorite feature is the thermostat. The smart temperature control of this TOSOT model means the thermostat is in the remote, not the actual unit. The AC will get a more accurate reading of the indoor air temperature because you'll likely have the remote somewhere close. The AC weighs just over 70 pounds, so plan to have a helping hand installing this model.
Buy on Amazon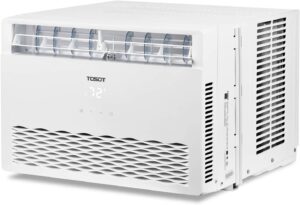 Quietest window air conditioner
The quietest window air conditioner has arrived, and it's in a u-shape. The Midea U MAW08V1QWT provides great cooling, a quiet experience, and you can still use your window as normal thanks to the unit's unique design. The unit comes with its own bracket, but the installation process still takes longer than with traditional window units. Once it's installed, the Midea U Inverter model will cool a space up to 350 square feet. If you have a larger room, opt for the higher BTU count in the same design. The non-traditional design of this AC pushes most of the louder parts to the portion that's positioned outside your window, which means your cooling experience is exceptionally quiet. An added bonus is that this model is easy to integrate into your smart home setup as it will react to voice commands through Alexa or Google Assistant. Plus, the Midea U is Wi-Fi-enabled, so you can control the unit from anywhere with your smartphone.
Buy on Amazon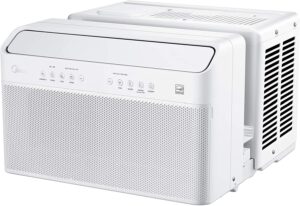 How do window AC units work?
A window air conditioner also called a window-mounted ac, has the ability to cool a single room. Depending on the size of the unit you purchase, the AC will be sufficient for a small bedroom or accommodate a larger, more open space.
The AC units we've spotlighted in this article have multiple operating modes, allowing you to customize the temperature or fan strength to your liking. Some models also come with a remote, so you can change the settings from across the room. Or, opt for a Wi-Fi-capable device so you can integrate the unit into your smart home setup.
When you set the desired temperature, a sensor within the AC will monitor the air in the room. When the indoor temperature rises above your preset level, the unit begins a cooling cycle until the sensor detects the appropriate temperature has been reached.
Units with a fan-only mode can be used to circulate the air in the room when AC cooling isn't needed. Other features may include a dehumidifying option or a heating mode. Consider the needs of your space before scrolling through window air conditioning reviews to ensure you're selecting an AC that checks each of your must-haves.
Speak with an HVAC pro about your home comfort needs.
What to look for in a window AC
A quality window-mounted air conditioner operates quietly, is energy efficient, and cools your room quickly. The unit to buy, however, depends on a number of factors. Before you toss the top-rated unit into your digital cart, keep the below list of considerations in mind.
Room size
Know the square footage of the space you wish to cool. A simple way to estimate the room size is to multiply the floor's length by its width.
Window air conditioners have different cooling capacities based on their British thermal unit (BTU) rating. A BTU indicates the amount of heat an AC can remove from a room. If you need to cool a larger room, go for a higher BTU.
Use the chart below as a starting point for buying the right size air conditioner.
| Room size (Sq ft) | Recommended BTU |
| --- | --- |
| 100 to 350 square feet | 5,000 to 8,000 BTU |
| 350 to 450 square feet | 8,000 to 10,000 BTU |
| 450 to 550 square feet | 10,000 to 12,000 BTU |
| 550 to 700 square feet | 12,000 to 15,000 BTU |
| 700 to 1,000 square feet | 15,000 to 18,000 BTU |
To maximize the cooling effects of the AC, consider other characteristics of the space. Is the room properly insulated? Does the room face the sun? These factors may affect your BTU need.
Window size
The most common window size is 24"×36", but you'll want to measure your opening to be sure you choose a window AC that will fit properly. Nearly all units come with accordion panels so you can close the remaining space between the unit and edge of the window.
When ordering your air conditioner, be observant of the unit's weight. Because the models vary so greatly in size, the weight of a window AC can range from 40 to 120 pounds. It's a good idea to plan for a second person to help you install the unit, especially if it's on the heavy side.
Noise level
If your new AC is going into a bedroom or living room, you may opt for our quietest window air conditioner pick. Most units will describe the noise level in decibels, but that can be difficult to translate to real life until the loud hum of an AC is interrupting your sleep or movie.
Most window air conditioner reviews will mention the noise level of the unit. Before you commit to one model, read what other users have said about how loud the unit runs. If you're looking for a super quiet window AC, opt for a unit that operates at around 35 decibels.
Smarthome capability
If the convenience of turning on your window AC from a smartphone before you arrive home is appealing, opt for a smart air conditioner. You will also find units that integrate with your home smart speaker, like the Echo Dot or Google Nest.
Once you know which features matter the most to you, scroll our list of top picks to find an easy home air conditioner to cool your space.
Schedule seasonal maintenance for your HVAC system.
Best air conditioner brands
If a window unit isn't providing the cooling you need or you have an open floor plan with high ceilings, it may be best to consider installing or replacing your central air conditioner. The best AC brands have a number of choices that fit a variety of budgets, energy-saving needs, and home sizes.
Our top window-mounted options are a great supplemental cooling option or ideal for a single room, but central air conditioning is the best way to get whole home cooling. In a recent blog, we break down the pros and cons of window AC units versus whole house air conditioners.