Can I Repair My Own Air Conditioner?
At HVAC.com, our writers create solutions that put you in control of your HVAC system. Our product reviews and recommendations are researched and backed by real buyers and industry experts, not dictated by our partners.
You should never attempt to repair your own air conditioner when air conditioner problems arise. Some simple troubleshooting is ok for homeowners, but it is in your best interest to leave repairs to trained HVAC technicians who are knowledgeable regarding these complex systems and their components.
Can I Repair My Own Air Conditioner?
If you are not trained to work on HVAC systems, it is not a good idea to repair your own air conditioner. Air conditioning systems are composed of expensive and complex components – without specialized knowledge and training of these systems, it is highly likely you could cause further damage that will be costly to repair, and could even injure yourself.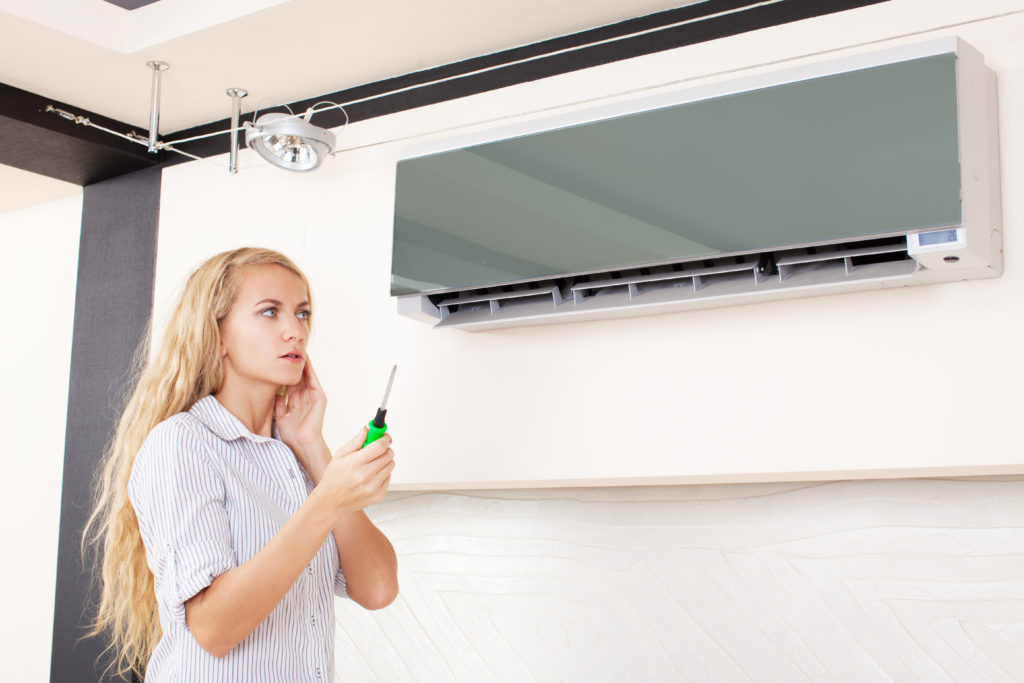 Call an HVAC Technician to Repair Air Conditioner Problems
HVAC technicians undergo years of education and training plus testing to obtain state and local licenses. Elite HVAC technicians pursue further certification through NATE, the North American Technician Excellence independent certifying body, and complete continuing education to maintain NATE certification.
HVAC technicians have the knowledge and know-how to tackle your air conditioner problems safely and accurately. Working with a licensed technician will allow problems to be diagnosed and corrected quickly, sparing you the discomfort of a hot house on a hot day.
Troubleshooting Instead of Repairing Your Own Air Conditioner
While you should never attempt to repair your own air conditioner, there are several safe troubleshooting steps you can take in attempts to solve your cooling issue. If you feel comfortable performing these steps, give it a shot – if not, allow your HVAC technician to do so.
These troubleshooting steps may show you that your air conditioner problems just need a simple fix, allowing you to restore cooling quickly. If they do not work, call your HVAC technician for assistance.
Check to see that your thermostat has power, whether it's hard-wired or battery-powered.
Ensure cooling mode is selected on your thermostat, and that the temperature is set a few degrees below the current room temperature, that should trigger the cooling system to come on.
Inspect your furnace filter, and replace it if it is clogged with debris. A clogged filter restricts airflow through the system and can cause it to overheat, forcing safety controls to shut it off.
Check your electrical panel to make sure the fuse or breaker that powers your air conditioner has not blown or tripped.
Check the on/off switches near the exterior unit and on your indoor air handler to ensure they have not been turned off accidentally.
Related Content You May Be Interested In