Who To Call For Emergency Air Conditioning Repair?
At HVAC.com, our writers create solutions that put you in control of your HVAC system. Our product reviews and recommendations are researched and backed by real buyers and industry experts, not dictated by our partners.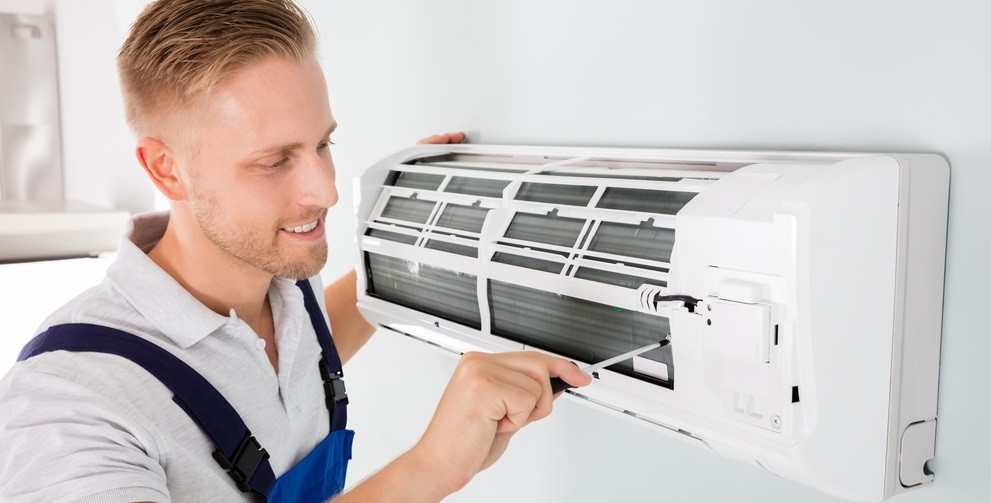 For emergency air conditioner repair, call your trusted local HVAC company. Find an emergency air conditioner repair contractor through HVAC.com's Contractor Directory. If you are unable to troubleshoot the system, shut it down, call for repair, and do not use the system until it has been serviced.
Finding an Emergency Air Conditioner Repair Company
Finding an emergency air conditioner repair company to come out right away may be a challenge, especially in the heat of the summer. Start by contacting the company you usually work with – if you have a preventative maintenance contract for your cooling system, you may receive the benefit of priority repair scheduling.
If you do not have a cooling contractor you have worked with in the past, find reputable local emergency air conditioner service companies through the HVAC.com Contractor Directory.
How Much Does Emergency Air Conditioner Repair Cost?
While a typical repair call during business hours usually costs between $50 and $100 just for a technician to come out, expect to pay more for emergency service. Air conditioner repair companies usually charge a premium for after-hours calls, including overnights, weekends, and holidays.
In addition to the service call fee, there will be a cost for repair work and necessary parts. Your technician will provide you with a quote for the repair and you must accept it before work is started. The cost of the repair will depend on the affected components and the cost of any parts that are needed to perform a replacement, if applicable.
Common Air Conditioner Repairs
Air conditioners are mechanical systems, and problems can occur with pretty much any system component, especially when the system is not properly cared for. A few of the most common air conditioner repairs are listed below – when faced with emergency air conditioner repair, one of these problems could be the issue at hand.
Refrigerant issues, including a leak or poor charge
Drainage issues, including clogs in condensate drain lines
Faulty compressor fan
Iced evaporator or condenser coils
Troubleshooting an Air Conditioner
Sometimes, the air conditioner issue you face can be resolved with some simple troubleshooting. Troubleshooting isn't a guaranteed solution for every repair issue, but you may be able to save yourself the cost of an emergency call and repair by taking these steps first.
Check your thermostat's settings. The thermostat should be set to cooling model, and the temperature set a few degrees lower than the home's current temperature to initiate a cooling cycle. Make sure the hold or vacation setting hasn't accidentally been initiated to halt your air conditioner's operation.
Check power. Make sure your thermostat has power, as well as your cooling unit. Replace batteries in the thermostat if necessary. Ensure the power switch of your air handler hasn't been turned off (it is located on or near the unit inside your home) as well as the power switch to the outdoor component, if applicable (this is likely positioned on the exterior wall of your home near the unit). Check your home's electrical panel to ensure the breakers of the circuits suppling power to your cooling system are not tripped, or that fuses are in good shape.
Check your air filter. A filter that has become clogged with contaminants can restrict airflow, preventing cool air from coming into your home. It could also cause the cooling system's coils to freeze up, inhibiting performance. If your filter is dirty, replace it with a new one or clean your reusable filter according to the manufacturer's directions.
If these troubleshooting steps don't resolve the issue, shut your system down. Continuing to run your cooling system can damage it further. Wait for a professional to diagnose and repair your system prior to using it again.