HVAC.com's Guide to Air Conditioning Installation, Maintenance, Repairs, Cost & More
At HVAC.com, our writers create solutions that put you in control of your HVAC system. Our product reviews and recommendations are researched and backed by real buyers and industry experts, not dictated by our partners.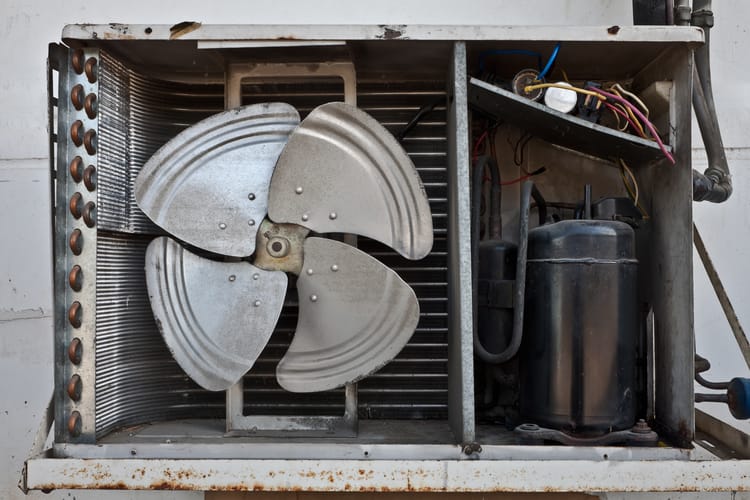 Warm weather has arrived throughout the U.S. and every day, homeowners fire up their cooling systems to create a comfortable indoor escape from the heat! Over the coming months, you may encounter the need for air conditioning installation or air conditioning repair, as well as the necessary air conditioner maintenance required to protect your system's performance.
For many homeowners, these things are unfamiliar territory, especially if you've never needed to work with an HVAC contractor in the past. HVAC.com aims to end the confusion surrounding your cooling system – below, find out what you need to know about these air conditioner topics so you know what to expect when you work with a cooling contractor this summer.
Air Conditioning Installation
Air conditioning installation is a job for a professional – homeowners should never attempt to install an air conditioner on their own if they are not trained to do so. Luckily, your local air conditioning installation contractor is well-equipped for the job.
The following articles provide  information about air conditioning installation:
Popular Air Conditioning Brands
When it's time to purchase a new air conditioner for your home, there are many equipment options available. The HVAC industry is full of reputable brands that produce high-quality air conditioning equipment, with options available to fit every budget.
Shop for a new air conditioner by researching brands and equipment. High-quality air conditioning brands include:
Cost to Install Air Conditioner
Cost to install air conditioner equipment varies based on several factors. First, the brand and model of equipment comes into play – installation requirements that allow your home to accommodate the new unit also affect the final cost of air conditioner installation.
High-efficiency air conditioners typically cost more than units with lower SEER values, but this equipment offers much lower operating costs which helps pay you back for the initial air conditioner cost.
A higher capacity unit costs more than a smaller air conditioner. Air conditioners are appropriately sized based on factors such as the size of your home, home construction, cooling demand, and more.
To accommodate a new air conditioner, your home may need additional work. Duct sealing and new ductwork installation is common with air conditioner installation, as a proper duct system is an absolute must – your ducts allow the new air conditioner to efficiently run.
The average cost to install air conditioner equipment ranges from $5,000 to $6,000. Most air conditioning installation contractors offer free estimates to give you a clear look at the price involved with a new cooling system. Temporary solutions such as window air conditioners and portable air conditioners are another option for homeowners.
Air Conditioning Repair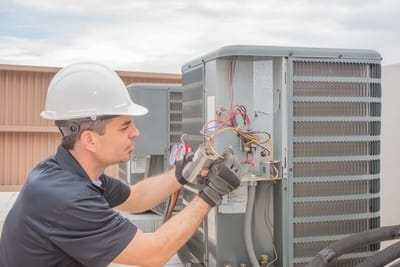 Air conditioner repair isn't just required when you have no cooling – any time when your air conditioner is unable to keep your home sufficiently comfortable, you should call for air conditioning repair. Your HVAC technician inspects your system to diagnose the issues standing in the way of proper air conditioner performance, and provides solutions to correct them.
HVAC.com is full of resources to guide you through the air conditioning repair process. Browse the following articles to learn more about troubleshooting, common problems, detecting air conditioner malfunctions, and more.
Common Air Conditioner Repairs & Troubleshooting
Before you call for air conditioner repair, troubleshoot your cooling system to see if the problem is easily resolved. Check out our Air Conditioner Repair Guide for details on how to perform the following air conditioner troubleshooting steps:
Thermostat checks
Verify power to the unit and components
Inspect air filter
While any number of things can go wrong within an air conditioning system, there are a few common problems that air conditioner repair technicians address more often. Common air conditioning repair issues include:
Refrigerant leaks
Drainage problems
Frozen coils
Compressor fan issues
Cost to Repair Air Conditioner
The cost to repair air conditioner equipment depends on the issue at hand and what is needed for correction. With air conditioner repairs, you typically pay a service call fee plus the cost of the repair. Service calls typically range between $50 and $100, and cost more for emergency air conditioning repair situations.
The average air conditioner repair cost is about $300. The average prices of common air conditioner repairs are as follows:
Flush condensate lines: $75 to $250
Replace drip pan: $250 to $575
Replace condensate drain tube: $20
Replace condensate drain pump: $240 to $450
Repair refrigerant leaks: $200 to $1,500
Recharge refrigerant: $250 to $750
Replace fan motor: $200 to $650
Replace compressor: $1,900
Replace condenser coil: $1,900 to $2,900
Replace relays, fuses, or breakers: $75 to $290
Air Conditioner Maintenance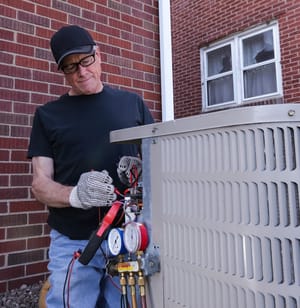 Air conditioner maintenance needs to be done once per year to protect system performance and longevity. While it is ideal to have this professional service performed in the spring before you turn on your air conditioner for the first time, don't skip it!
Preventative Maintenance with an Air Conditioning Contractor
Preventative maintenance tune ups are performed by air conditioning contractors to ensure the system is able to function at peak efficiency levels throughout the summer months. The tasks done during a tune up are designed to optimize cooling system performance while protecting essential components from damage caused by normal system use.
A preventative maintenance tune up includes a full air conditioning inspection and service. Special care is given to the system's essential components to ensure they are in good condition. If any malfunctions are found, repairs are made to prevent the likelihood of a system breakdown over the summer.
Your preventative maintenance tune up has many steps, including:
Homeowner Air Conditioner Maintenance Steps
Throughout the summer, homeowners need to make a regular effort to keep their cooling systems in top shape. Routine air conditioner maintenance allows your air conditioner to operate more efficiently and also preserves your indoor comfort.
A homeowner's air conditioner maintenance to-do list includes easy-to-perform steps, but if you aren't comfortable performing any particular task, you can always call your HVAC company for help. Your air conditioning maintenance to-do steps include:
For more information on the total care of your air conditioning system over the summer months, consult our Complete Summer HVAC Maintenance Guide! We make it easy on you – see a monthly list of the steps you need to complete along with detailed instructions for doing so.
Get Air Conditioning Help on HVAC.com
At HVAC.com, it's our mission to help homeowners like you best understand their air conditioning systems. We provide many valuable resources regarding air conditioning installation, maintenance, air conditioning repair, and more – we want you to feel comfortable with your system's needs and understand how to use your home's cooling equipment to maximize comfort and energy efficiency.
When you need air conditioning repair or air conditioning installation, you need a local HVAC company to help. We make it easy to find a cooling contractor near you, with our HVAC Contractor Directory! Just enter your ZIP code to find a nearby HVAC company who provides the equipment and services you need to keep your family comfortable throughout the summer months.
Book an appointment with an HVAC expert now