Kenmore Air Conditioners
At HVAC.com, our writers create solutions that put you in control of your HVAC system. Our product reviews and recommendations are researched and backed by real buyers and industry experts, not dictated by our partners.
Kenmore AC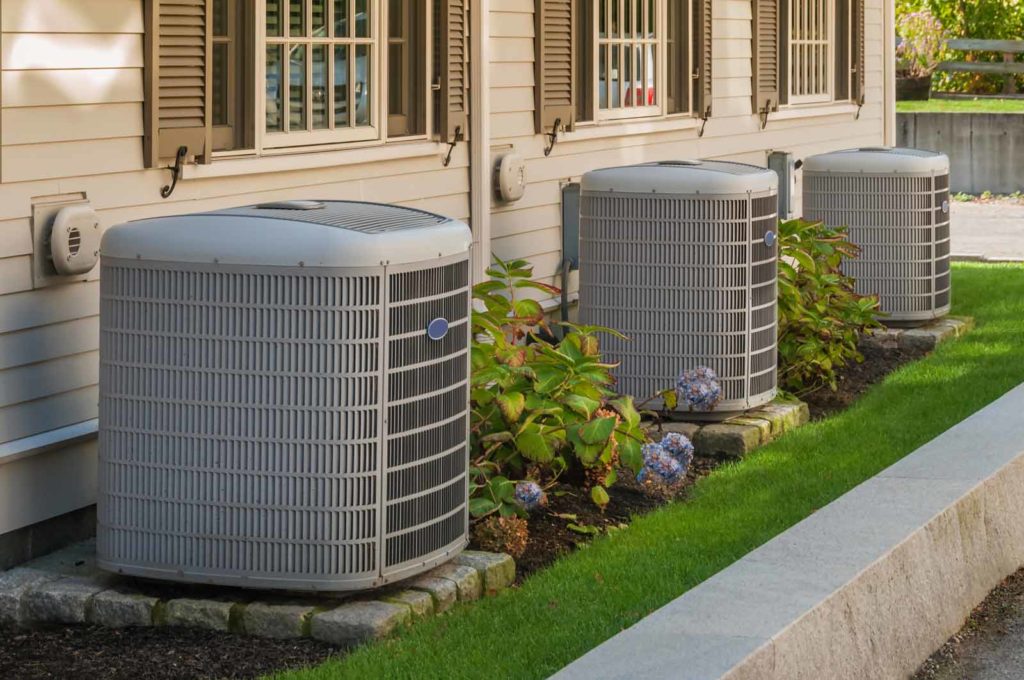 Compare models and pricing
Kenmore made its debut in 1913, and today it remains a leader in the home appliance market. Kenmore air conditioners come in a variety of types and models, making it tough for homeowners to know which one to choose. Here is an in-depth look at Kenmore's central air conditioners, wall air conditioners, and window unit systems.
Types of Kenmore air conditioners
Kenmore air conditioners come in three basic types, each with its own advantages and disadvantages.
A central air conditioner provides whole-home cooling. Kenmore offers both traditional split-systems and package units. In a split-system, the evaporator, along with a furnace or the indoor part of a heat pump, is located in a cabinet inside the house. The compressor and condenser are placed outside in a metal, weather-resistant cabinet. If space inside your home is scarce, a package unit may be a better choice. This combines all the components inside a single outdoor unit, which is placed either on a concrete pad or on your roof. A package system may also include heating, making it unnecessary to install a separate heater.
A wall or window unit air conditioner is designed to cool one room. Wall air conditioners are installed in an opening in the exterior wall, while window units are installed in an existing window. It can be an excellent choice for a home in a mild climate, a rental, or a room that needs a bit of extra cooling power.
A portable air conditioner also cools a single room. Unlike a wall or window unit, though, it's not anchored in one spot. You can move it around the room to redirect the airflow, or even move it from one room to the next. This can be a great choice for those who need to cool the living room during the day and the bedroom at night, as well as those whose exterior walls don't directly face the most frequently used part of the room.
Kenmore air conditioner models
Kenmore central air conditioners are available exclusively through Sears Home Services. A service professional will come to your home to provide a free estimate, including a professional recommendation on the type and size of central air conditioner that is best for your home.
Room air conditioners are sized by their cooling capacity in BTUs (British thermal units) per hour. This includes wall units, window units, and portable air conditioners. It's important to choose the correct size for your room, as you will not achieve optimal cooling or efficiency with a system that is too big or too small.
Room air conditioners are also rated on their EER (Energy Efficiency Ratio), which is calculated by dividing the BTUs by the power input. The higher the EER, the more efficient the air conditioner is. Here are some of the most popular Kenmore air conditioner models.
If you need both air conditioning and heating for a larger room, the Kenmore 77185 is the granddaddy of window units. This compact system packs 18,000 BTUs of cooling and 16,000 BTUs of heating, enough for a room of 750 to 1,050 square feet. It features three fan speeds, eight-way direction control, and easy to use electronic button operation. An LED reminder tells you when the antimicrobial filter needs to be changed. Its EER is 10.7.
The 77125 is almost exactly the same, except that it features 12,000 BTUs of cooling and 11,000 BTUs of heating, making it best for a room that is 450 to 550 square feet. The EER of the 77125 is 9.8.
If you're looking for a low profile window ac for a smaller room, the 77062 may be right for you. Its 6,000 BTUs are ideal for cooling a room of 150 to 250 square feet. Its EER is 12.1, making it one of the most efficient Kenmore window units. Features include eight-way direction control and three fan speeds. The Elite version, with an EER of 11.0, adds a 24-hour timer with sleep mode and a remote control.
The Kenmore 77223 is a 10,000 BTU window unit air conditioner appropriate for rooms 350 to 450 square feet in size. The ac unit features three fan speeds and four-way direction control, as well as a 24-hour timer with sleep mode. Its EER is 10.4. The controls are fully electronic with a remote, and a reminder light lets you know when it's time to change the antimicrobial filter.
If you don't have a convenient window, the Kenmore 77135 offers through-the-wall installation. With an EER of 10.5 and 12,000 BTUs, this unit works well in rooms that are 450 to 550 square feet in size. Features include three fan speeds, six-way direction control, electronic button operation, and a temperature sensing remote. The 77085 is very similar, but its EER of 10.6 and 8,000 BTUs make it appropriate for a room of 250 to 350 square feet.
Though the EER of portable air conditioners is generally unrated, the Kenmore 77126 packs quite a punch with 12,000 BTUs. It is suitable for a room of 450 to 550 square feet. Features include a swing mode for faster room cooling, a sleep mode and timer, and a remote control. Similar models include the 10,000 BTU 77106, suited to rooms of 350 to 450 square feet, and the 8,000 BTU 77086, best for rooms of 250 to 350 square feet.
Kenmore AC pricing
Prices vary widely according to the type, size and model of Kenmore air conditioner you select. Room air conditioners are significantly less expensive than central air conditioners, but they may not be cost-effective if you need to cool multiple rooms. Room air conditioners range from approximately $150 to $800, depending on size and features. A typical central air conditioner can cost $1,500 to $3,500 or more, plus installation. Check with a Sears Home Services professional to determine whether central air conditioning is best for you and, if so, what your installed price will be.
Kenmore AC warranty
For details on your central air conditioner warranty, talk to your Sears Home Services professional. Room air conditioners carry a one-year warranty on parts and workmanship and a five-year limited warranty on the sealed refrigerant component of the unit.
Frequently asked questions about Kenmore air conditioners
How much does a Kenmore air conditioner cost?
Kenmore air conditioners come in a range of prices based on type, size, features, and other factors. Your local HVAC professional can give you an accurate cost estimate based on your unique needs.
Where can I buy a Kenmore air conditioner?
Kenmore air conditioners are exclusively sold through Sears and Amazon.com. Choose your desired model and then click to purchase from one of those two outlets.
How long will a Kenmore AC unit last?
The average useful life of a central air conditioner is 15-20 years. A room unit typically lasts 10-15 years. Factors such as regular maintenance and frequency of use can affect the lifespan of both types of air conditioners.