Tent air conditioners: best portable air conditioners for camping
At HVAC.com, our writers create solutions that put you in control of your HVAC system. Our product reviews and recommendations are researched and backed by real buyers and industry experts, not dictated by our partners.
If the great outdoors is calling you this summer, we're going to help you enjoy the journey without all the heat. We'll walk you through the benefits of a tent air conditioner, what to look for as you shop for the best model, and what you can really expect when you hit the trail with your camping AC.
Best tent air conditioners
Don't think of your portable air conditioner for camping the same as your home's central air conditioning system. While the portable units we recommend below will offer relief from the heat (some better than others), the goal isn't to create an icy atmosphere. These tent AC units will decrease the temperature in your space by a few degrees, giving you a relaxing spot after a day of hiking or outdoor activities.
Types of tent air conditioner
There are three primary types of portable ac units for camping.
Evaporative coolers: Consider these units more of a personal cooling fan than a full-tent air conditioner. Sometimes referred to as swamp coolers, an evaporative cooler is ideal if you're camping in a high heat, low humidity area. The cooler relies on a fan to pull in hot air, circulates that air over wet cooling pads, and dispenses a cool mist into the direct space.

Portable air conditioners: These units do offer cooling for small spaces, but research them carefully as many are powered by electricity. A few battery-powered options are available. We've listed our favorites of both styles in the tent camping air condition list below.

Window air conditioners: For those who plan their trips near a power grid or don't mind bringing along a camping generator, a window air conditioner for camping will keep you the most comfortable. These units will easily cool a 6-8 person tent.

For those in the market for a cordless AC for camping, there is one viable option. However, the price tag makes it a considered purchase for the novice camper, so think about whether you'll venture outdoors enough to get a return on your investment.
Best tent air conditioners for camping
In order to find the best camping air conditioner, we considered multiple tent sizes, various climates, and of course, the cooling effect of the unit. Grab the s'mores ingredients, bug spray and one of our recommended outdoor AC units and plan your next camping trip.
Best overall tent air conditioner
TheSERENELIFE SLPAC8is our top overall choice for a portable AC unit for a number of reasons. For starters, it's actually an air conditioner, unlike many of the products on the market that serve more as a personal fan.
With a 10,000 BTU rating, it has the power to cool a multi-person tent that's up to 225 square feet of space. Plus, it has a fan mode, which is suitable for smaller tents or milder days. Even when this outdoor AC is cooling on "high," it's very quiet.
While we love the cooling power that comes with this unit, there are a few drawbacks. This unit requires 120V of power. If your campsite doesn't offer a power source, you'll need a generator to use this device. Weighing in at 53 pounds and standing 27" tall, this unit isn't as portable as some of the other options.
At around $540, the SereneLife SLPAC8 falls in the middle of our product price list, and outperforms many competitors.
Buy on Amazon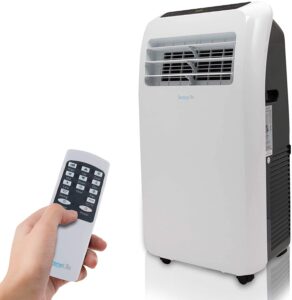 Best small portable air conditioner
If you're in the market for a small, light-weight personal air conditioner, try theAMACOOL 5000MAH EVAPORATIVE AIR COOLER. This portable unit comes with a rechargeable battery that's supported by USB charging, so you don't have to worry about finding an electrical outlet while camping.
At under three pounds, this unit is small but mighty, offering an instant cool down. Choose from the three wind speeds and three mist modes, both with separate control. Use the one-touch timer to select a run time of one to eight hours. When the battery is fully charged, you can enjoy the max cool setting for up to seven hours.
The water reservoir holds about 27 ounces and is easy to refill, even while it's in use. At $70, this personal unit is a solid investment for anyone camping in a one to two-person tent. While we love the Amacool 5000mAh Evaporative Air Cooler for its ease of use and convenience, it's not ideal for cooling off a large space. To get the most from this device, you'll need to be within five to 10 feet of the breeze it creates.
Buy on Amazon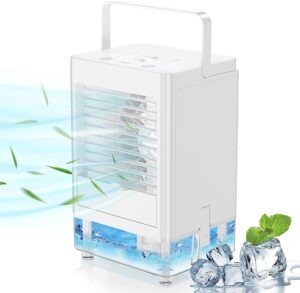 Best large tent air conditioner
The entire family can cool off with theBLACK+DECKER BPACT08WT PORTABLE AIR CONDITIONER. This unit offers great cooling power for a multi-person tent up to 150 square feet. With more than 5,000 five-star reviews on Amazon, this $330 unit operates at a 5,000 BTU rating and makes for a solid investment when purchasing an air conditioner for a camping tent.
At nearly 53 pounds and 26" tall, it's larger than some of our other top picks, but the cooling power is worth it if you have space to give up inside your tent. While the unit is super simple to put together and start using (should take less than 10 minutes straight from the box), the cooling capacity does come with a couple drawbacks.
You'll need a power source of 120V or a generator for this unit to work. Plus, it operates with a single exhaust hose, so you may need to modify your tent to accommodate for the accessory.
Once you're connected and powered on, let the cool down begin! This unit can be managed with a remote control, giving you easy access to its three energy-efficient functions: cool, fan, and dehumidify.
Use the 24-hour timer to set the tent AC to your needs. We loved the easy maintenance of this unit as you only need to rinse the filter under running water once or twice monthly, depending on your use.
Buy on Amazon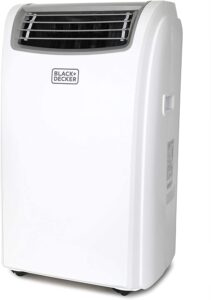 Best battery-powered portable air conditioner
The best and only true camping air conditioner on the market is theZERO BREEZE MARK 2. It is specifically designed for portability, outdoor use, and effective cooling that has a 2300 BTU rating. The only reason this unit didn't snag our best overall tent air conditioner spot is the price tag.
At around $1,400 this unit is ideal for a camping enthusiast. The cooling power is impressive, especially considering the device is only about 17 pounds and 20" long. We especially love that this is a battery-powered unit and can easily go anywhere. The batteries have a lifespan of about five hours, so we recommend purchasing multiple battery packs so you can extend the cool down experience.
Personalize your comfort by choosing the best setting from the unit's 4-speed fan, super cold AC mode, or sleep mode. The Zero Breeze Mark 2 uses a dual hose exhaust to pull in cool air and release humid air from your tent.
Buy on Amazon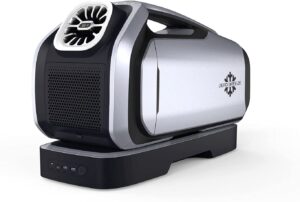 Best window AC for tents
When cooling relief is a necessity, theTAOTRONICS 8,000 BTU WINDOW-MOUNTED ACis our recommended solution. This unit quickly releases a refreshing breeze with minimal sound.
Set the timer on this tent camping air conditioner between 30 minutes and 24 hours to turn on and off to fit your needs. We really like the five operation modes (Cool, Energy Save, Fan, Dry, Auto) and the four-fan speed to set the temperature to your comfort level.
The LED display screen makes maintenance super easy. A filter cleaning indicator light will display when it's time to rinse the filter under running water. In most cases, the unit will run efficiently for 250 hours before the filter will need to be cleaned.
This unit requires a power outlet or generator, as well as anADJUSTABLE HEIGHT AC STAND, to operate properly. The unit fits in tent windows that are 25″ to 36″ wide with a minimum height of 13.5″. This $370 investment will keep your entire tent cool and allow you to enjoy the outdoors in comfort.
Buy online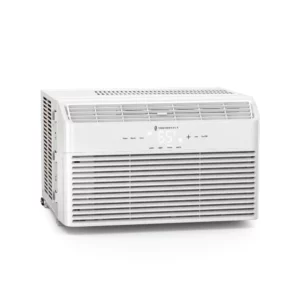 How much does a portable AC for camping cost?
Prices for a tent air conditioner will vary depending on the functionality and space you want to cool. For example, the evaporative coolers are the least costly but also offer little relief unless you're sitting directly in front of the device. Take note of the size of your tent, the climate of your camping site, and your budget to determine the best camping AC for your needs.

| Portable AC type | Price | Square feet |
| --- | --- | --- |
| Small evaporative coolers | $30 – $75 | >20 |
| Large evaporative coolers | $175 – $1,000 | 100 – 800 |
| 120V portable AC | $300 – $850 | 100 – 450+ |
| Tent window AC | $175 – $1,400 | 150 – 1,000+ |
| Cordless tent AC | $900 – $1,700 | 50 – 200 |
Whether you're in the market for a personal cooling device or want to chill an entire multi-person tent, our reviews and recommendations below will help you purchase the best air conditioner for outdoors.
Cooling capacity of portable air conditioners
In order to choose the best portable AC for camping, you'll need a little background on the cooling capacity of these units. If your air conditioning unit is too small, your tent won't be cooled adequately. Too large of a unit may leave your tent feeling humid. Use these British Thermal Unit (BTU) rating guidelines to determine the cooling capacity you need. The higher the BTU, the greater the cooling capacity.

Up to 150 square feet: 5,000 BTU
Up to 200 square feet: 8,000 BTU
Up to 300 square feet: 10,000 BTU
Up to 400 square feet: 12,000 BTU
Up to 450 square feet: 13,000 BTU
Only true air conditioners will have a BTU rating. Some units we've introduced in this article, like the evaporative air cooler, are not ranked on the BTU scale.
Before you buy a tent air conditioner
In order to keep your tent cool in the summer, consider the type of portable camping air conditioner you can accommodate. If your campsite offers electricity, you can use the higher-powered options we've mentioned above. For outdoor adventures far from a power grid, opt for an evaporative air cooler or use a generator to power your portable AC.