Kristen Jones joined the HVAC.com team in 2021. As an official Comfort Expert, she has researched, reviewed, and recommended a range of home comfort and air quality products from whole-house humidifiers to portable air scrubbers. Her favorite realm of home comfort products, however, is air purifiers. If you're all about breathing in ultra-filtered indoor air, Kristen's guides are your go-to.
How Kristen makes HVAC human:
"I want my content to feel like chatting with a friend. My goal is to bridge the gap between jargon-heavy, technical HVAC specialists and people who just want their heat pump fixed."
Kristen graduated from UNC-Chapel Hill in May of 2021 with a B.A. in Journalism and Media and a B.A. in Spanish. Before she stepped into the world of HVAC and home comfort, Kristen worked the the Arts and Culture desk of The Daily Tar Heel newspaper and crafted content for To Her Credit, a financial literacy and empowerment platform for women.
When she's not writing about awesome HVAC products, you'll find Kristen playing her vinyl record of Rumours by Fleetwood Mac or recounting the latest Survivor episode to anybody within earshot (the HVAC.com team can attest!). 
Perfect thermostat setting: 70° (and the fan stays on!)
Random fact: Is a Sagittarius, but if born nine hours later, would be a Capricorn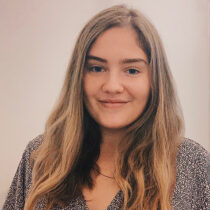 Recent Articles
If you're shopping for a Rheem air handler, check out our product reviews. We've got all the details on Rheem's current lineup.

Summers in Charlotte, NC are muggy. An air conditioner is a great cooling option for humidity contro…

Regular maintenance performed by a Charlotte HVAC technician is the best way to prevent large AC and…