Nic Rardin joined the HVAC.com team in October 2019. His specialty as a Comfort Expert is honing in on exactly what people want to know about specific home comfort solutions. Nic understands homeowners don't want to just know the "best" air conditioner brand. They want to know which brand lasts the longest and has the best reputation for backing its warranty. 
How Nic makes HVAC human:
"HVAC.com is all about helping you fix your problem without breaking the bank. We've done the research so you can get in and get out quickly without overpaying."
Nic graduated from UNC-Chapel Hill in 2019 with a B.A. in Public Relations and a B.A. in International Relations. Before he started answering the most pressing HVAC questions on the internet, Nic served as the Assistant News Editor at The Daily Tar Heel newspaper before transitioning to Three Ships as a Performance SEO Associate.
His go-to for creating the best indoor air experience is a humidifier (cool mist, warm mist, evaporative…Nic's content will recommend just what you need). When he's not digging into home comfort questions, Nic can be found exploring downtown attractions in the Raleigh-Durham area. 
Perfect thermostat setting: 70° (Not too cold for shorts and a t-shirt, not too warm for a hoodie or jacket. Perfectly balanced as all things should be.)
Random fact: Loves playing music and hangs his guitars like the pieces of artwork they are on his walls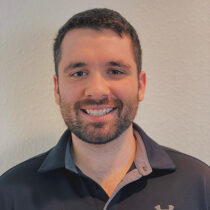 Recent Articles
Do you smell that? If your air conditioner is putting out more than chilled air, you may be dealing…

If your ceiling fan is making noise, this article will help you fix it! Check out our guide to troubleshooting your noisy ceiling fan.

We review the best garage air conditioners on the market. And we'll help you choose the best garage AC for your space.