3 Ways HVAC Contractors Can Improve Their Telephone Game
Posted on: September 28, 2015 | by: Will HoushHVAC.com July 26, 2017
Good telephone customer service is still very valuable to any HVAC company. While contractors today focus on perfecting their online game, a simple telephone call is the first point of contact for the majority of potential customers. Good customer service starts on the first call, allowing your business to establish a positive first impression and begin to build trust with the customer. Implementing the tips below will help your team improve their telephone skills while growing your business in the process.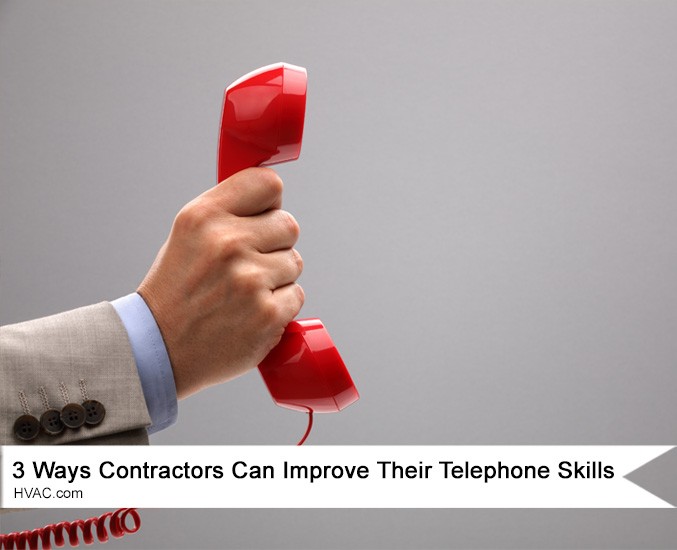 Always Answer
The easiest way to lose a potential customer is by not answering the phone. While it may seem basic, many contractors are failing in this area. If a potential customer can't reach you on the first call, they are likely to move on to the next HVAC company on their list. Answering the phone gives the impression that your company is available and can be reached when needed.
It's important that you have a way to answer each and every call. Voicemail isn't a customer-friendly solution; customers wait on the line only to leave a message, and are left wondering if they'll ever get a call back. Find a solution which ensures that a live person answers the phone every time. Hiring a receptionist or using an answering service can help you handle phone traffic during the day, and an answering service can be especially comforting for customers calling after-hours for emergency service.
Be Prepared and Professional
Casually answering the phone is a good way to turn off a customer. You don't want your telephone greeting to leave callers wondering if they've called a business or accidentally dialed the wrong number. Decide upon a professional greeting which includes the name of your business, and inform all staff members that this standard greeting is to be used every time a call is answered.
Customers don't want to be passed around and kept on hold. Anyone who answers the phone needs to be capable of deciphering their needs and offering solutions. To prepare your staff members, compile a list of the common requests callers have, and decide upon a standard response for each one.
Make Them Comfortable
Hiring an HVAC company is more personal than some other types of service contractors; your sales staff, installation team, and service technicians will be entering the customer's home, their personal space. They need to trust you before they decide to hire you. To build this trust over the phone, your staff should be patient, polite, and friendly; please and thank you will go a long way here.
Show that your company is knowledgeable about the customer's issues. Ask questions about their needs, which will provide your company with the opportunity to promote your expertise and ensure the customer that you have the ability to solve their problems. When you make a caller feel comfortable with you and convinced of your abilities, they will be confident in scheduling a consultation or service call with your company.
Are you a contractor and interested in growing your business? HVAC.com can help grow your business by introducing you to new customers in your local area for free! We are inviting the best HVAC contractors in the industry to join our network so you can connect with customers who need help with their HVAC system.