5 Heating & Air Conditioning Tips for Dad
Posted on: June 20, 2016 | by: Will HoushHVAC.com July 26, 2017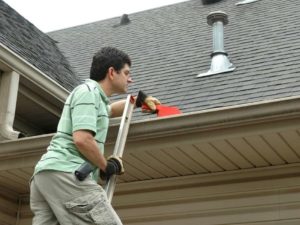 Dad can be quite the guy. Many of us know our dad to be the guy who thinks he can do it all. The type of guy who thinks that it is a good idea to go on the roof of the house to fix the satellite dish instead of calling the satellite company to come out and fix it because he is perfectly capable of doing it himself. He sometimes thinks he is also the heating & air conditioning repairman too. While he may be able to do some things, there are other things that are better left to the professionals. So what should he do and what should he not do?
Replace the Filter? – Absolutely. Changing a filter is a simple process and your dad should have no problem doing this. And while he is doing this, he can make sure that the system looks clean and that there is no debris on it. If it looks dirty and covered in debris, replace it with a clean one or wash it off if it is a washable filter.
Electrical Issues? – Not the best idea. While it may seem simple to change an electrical component to your system such as the thermostat, dad should not do so unless he is an electrician or HVAC professional. If dad needs a professional HVAC technician, he should check out our network of professionals.
Cover Return Vents with Furniture? – Definitely not a good idea. Your dad may not like the look of the return vent and decide to cover it with a piece of furniture. This is a bad idea as this prevents the system from pulling air from that location and forces the system to work harder to heat or cool the house.
Thinking about HVAC Maintenance Long-Term – He should definitely do this! If dad's heating and a/c system is between 5-10 years old, it is a good idea for him to start budgeting for a new system. He will definitely not be in a good mood if it stops working one day and he hasn't set aside enough cash to repair or replace the system.
Concern Himself with Noises & Allergies- Dad is perfect for this. He seems to hear everything, like when the dog is nosing through the garbage after everyone is in bed. If he is hearing that the fan is getting unusually loud or the system in general is becoming very noisy, it is a good time for him to call his HVAC technician. It would also be a good idea for him to talk to a professional if he has any indoor air quality concerns within the home, especially if anyone in the home has allergies. If he does not have one in mind, get him in touch with one of our trusted professionals in his area.
Dad often thinks that he can be the jack-of-all-trades. However, he needs to remember that while he is the go-to-guy to fix many things, some things are best left to the professionals. Get him in touch with us today and we will find him the professional who can help him out.
Want to learn more about heating and air conditioning? Check out our complete guides to heating and air conditioning today.
Heating: The Complete Guide for Home Owners