Air Conditioning Service Calls for Residential Cooling Systems
Posted on: May 9, 2017 | by: Will Housh HVAC.com July 26, 2017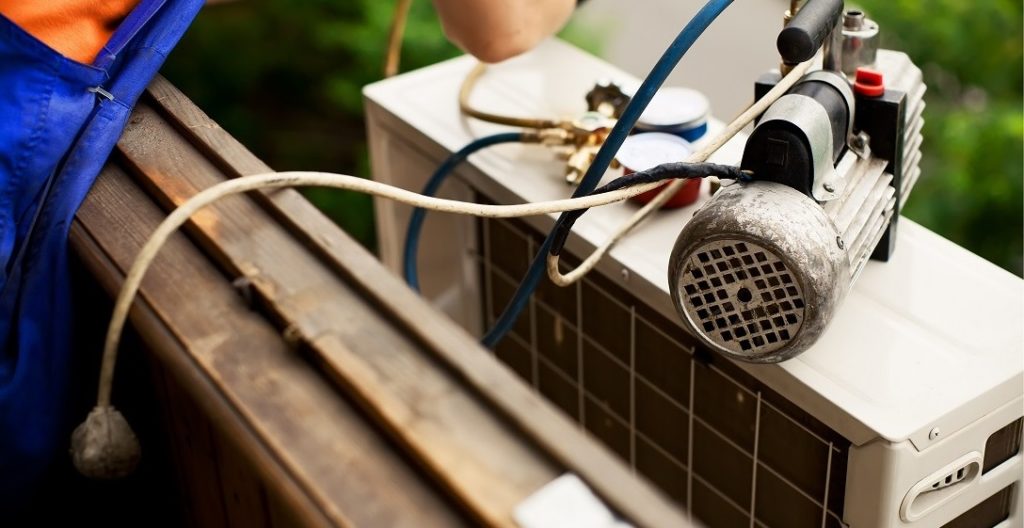 If you've never had the misfortune of experiencing a cooling system breakdown, you may be unfamiliar with air conditioning service. It's likely at some point in your life, you will need to work with an HVAC technician – if you've never done so before, this can be slightly intimidating for some.
HVAC technicians never want you to be uncomfortable or intimidated when calling upon them for air conditioning service. They understand that many homeowners are unfamiliar with HVAC systems and will have questions.
For your own assurance, it may help you to familiarize yourself with the air conditioning service call process before you meet with your contractor. We've outlined the general process below so you'll know what to expect.
Calling for Air Conditioner Service
When you call an HVAC company for air conditioner service, you'll likely be speaking with a dispatcher or a member of their office staff. The staff member will ask your contact information. They'll ask about the cooling system issue you're facing – it's ok if you haven't identified the source of the problem, just provide the information you have.
The dispatcher may ask for information about your cooling system, such as the manufacturer, model number, and size. You may not have this information memorized, but it can be easy to locate by looking at the labels on your cooling equipment. Check our blog below for information on how to decode the information you find on your unit.
Understanding air conditioner labels: https://www.hvac.com/blog/understanding-air-conditioning-system-doesnt-scary.
Lastly, they'll schedule a time for a technician to visit your home, diagnose your system issue, and perform air conditioning service.
Common Air Conditioner Terms
Before your technician arrives for air conditioner service, it may make you more comfortable to familiarize yourself with some of the HVAC industry terms they may use.
Check out our infographic which explains ten common HVAC terms you may hear during your service call: https://www.hvac.com/blog/ten-common-hvac-terms.
Some other terms your technician may mention when discussing air conditioner service involve the unit's efficiency. SEER (Seasonal Energy Efficiency Ratio) is the efficiency measure used for air conditioners. If your cooling system is a heat pump, your technician may refer to the HSPF (Heating Seasonal Performance Factor) as well, though a heat pump's cooling efficiency is also measured in SEER.
Your Air Conditioner Service Call
When your air conditioner technician arrives, show them to your cooling equipment. Let them know where the indoor components can be accessed – they may need to evaluate your air handler, which is typically located with your furnace. Also, show them where the home's thermostat is located, or if your home is zoned, give them an overview about how your home is divided into zones. Give them access to the outdoor condenser unit, which in some cases within a locked and fenced back yard.
Your technician will spend some time evaluating the system, possibly performing some tests. Once the technician has diagnosed the problem, they'll report to you with the issue your system faces and an estimate of costs and time to repair your air conditioner. At this time, feel free to ask any questions you may have – your technician is there to help you better understand your system and become comfortable with the work it needs.
Performing Air Conditioner Service
Many air conditioner repairs can be performed right away. Sometimes, special parts may need to be ordered, or the technician may have to return to the shop to gather appropriate materials. If your air conditioner service cannot be performed immediately, the technician or an office staff member will schedule a time for the technician to return.
If air conditioner service can be completed the same day, your technician will get to work once they have your approval to complete the needed repairs. They'll perform the work, and test the system to ensure their fix has solved the issues you face. The technician should check in with you to let you know the work is completed and they'll be leaving, so you can inspect it if necessary and secure your home and equipment.
All HVAC companies have different procedures for payment. Your technician may accept payment, or inform you that an invoice will be sent. Once you're satisfied with the air conditioner service that's been performed, your technician will leave the home.
Finding an Air Conditioner Service Technician
Ready to find a trustworthy technician to tackle your air conditioner service? Check HVAC.com's Contractor Directory to find a local HVAC service company. Enter your ZIP code and you'll be able to view all contractors in your area. Look for the Certified Contractor seal next to a contractor's listing, which lets you know this company has been pre-screened and meets our rigorous standards for workmanship and customer service.