Aprilaire Humidifiers for Superior Humidity Control
Posted on: June 29, 2017 | by: Will Housh HVAC.com July 26, 2017
Humidity control in a home is very important – when moisture levels are too low, discomfort, health issues, and even damage can result. If relative humidity levels fall below 30 percent, you'll start to feel the effects of dry air – static, cold-like symptoms, and more.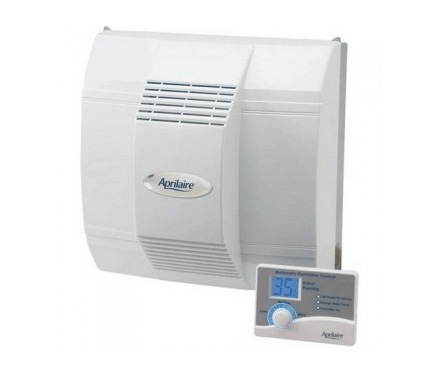 Installing an Aprilaire humidifier is a solution that will keep the moisture levels in your home perfectly balanced – between the ideal levels of 30 percent to 50 percent relative humidity. Whole home humidifiers by Aprilaire, like the Aprilaire 700 Power Humidifier work with your home's heating and cooling systems to automatically add moisture to the air when low levels are detected.
Learn more about Aprilaire humidifiers and see why they are the right choice for any home with moisture control issues.
Aprilaire Humidifiers: The Aprilaire 700 Power Humidifier
Did you know that Aprilaire actually pioneered the whole home humidification system? Their first unit was introduced in 1954, and has since changed the home humidification game! When you need a humidifier for your home, why not trust the manufacturer who has led innovation since the very beginning?
The Aprilaire 700 humidifier is a powerful system – it can properly humidify a home up to 4,200 square feet! This unit has an 18-gallon per day output, and has the capabilities to bring your home up to ideal relative humidity levels quickly.
Aprilaire humidifiers are designed for use with your home's heating and cooling system. The Aprilaire humidifier is installed directly on your heating and cooling ducts. This is what you want – humidity is added effortlessly, directly to the airflow circulating into your home.
With a whole home humidifier from Aprilaire, there's no mess, maintenance, or fuss. The Aprilaire 700 is connected to its own water line – there is no need to fill it daily, as must be done with portable units. It's quiet and efficient, with a fan pulling warm air directly from your furnace to increase its efficacy.
The Aprilaire 700 is out of sight, out of mind – it requires a water panel change as indicated by the unit's service lights. Use genuine OEM Aprilaire #35 water panels for best results and to protect your humidification system. The unit comes with an automatic controller for your convenience.
Find Aprilaire Humidifier Technicians on HVAC.com
Aprilaire humidifiers should always be installed by a qualified technician. Certified HVAC technicians understand the specifications needed to install such equipment correctly, to ensure it will operate properly and efficiently.
Find a skilled HVAC technician to install a new Aprilaire humidifier on HVAC.com's online Contractor Directory! Search your ZIP code and keyword "Aprilaire" to find an HVAC company serving your area who works with genuine Aprilaire indoor air quality products.