Contractor Commerce Helps HVAC Contractors Expand to Ecommerce
Posted on: June 19, 2018 | by: Will Housh HVAC.com June 19, 2018
Today, many household purchases are made online. Homeowners go online for everything from groceries to appliances, leaving traditional stores and shops behind. The convenience of quickly comparing prices between multiple sources and time saved by eliminating to the store make ecommerce attractive to consumers.
Heating and cooling parts and equipment has traditionally been sold to homeowners directly by HVAC contractors. With the ecommerce trend in consumer purchases, more heating and cooling professionals are taking advantage of the online marketplace and selling products and services directly to customers online.
Ecommerce Trends
Ecommerce continues to grow, at an estimated 246.15 percent by 2021. Even when buying products in a physical store, purchase decisions are still impacted by ecommerce – the majority of consumer purchases made in-store are influenced by information gathered by the consumer through ecommerce.
While once a strictly face-to-face business, the HVAC industry is also going the way of ecommerce. ACHR News, a major trade publication covering the heating and cooling industry, reports that more homeowners today are buying heating and cooling products online. This means instead of buying parts or systems directly from contractors, homeowners are purchasing through ecommerce, then turning to local HVAC professionals for installation services.
Increased Purchase Options for Homeowners
Expanding to ecommerce allows HVAC contractors to deliver more value and convenience for their customers. Companies that give consumers the information they need to evaluate heating and cooling systems and services via their company website and make purchases at their convenience have a leg up compared to HVAC contractors who tie up homeowner time in making sales calls and waiting for appointments.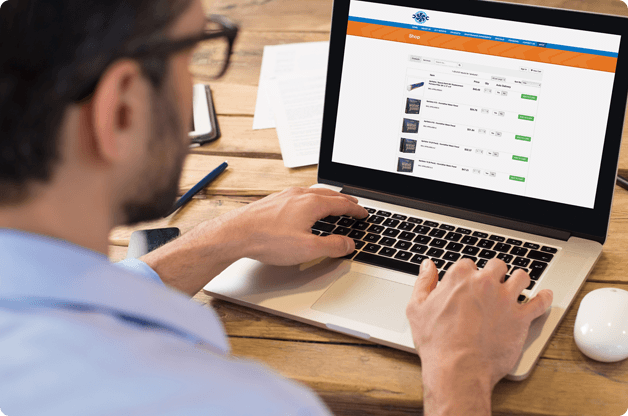 Previously when it was time to purchase new heating or cooling services or consumable supplies such as air filters, homeowners would schedule a service call with an HVAC contractor. Each of these calls requires time out of one's day, including time off work and the potential pressure of making a purchase decision on the spot.
When an HVAC contractor offers ecommerce, the hassle is removed from the consumer buying experience. Homeowners can take their time to do their research and review options when it's convenient. They can also purchase replacement products, such as filters, and services including preventative maintenance online, anytime. This convenience means HVAC contractors can make sales at any time – homeowners no longer have to wait for office hours.
Contractor Commerce for HVAC Contractors
Contractor Commerce is a new technology that allows HVAC contractors to sell heating and cooling products and services direct to homeowners via their HVAC company websites. The easy-to-use ecommerce platform plugs into a contractor's existing website, creating a user-friendly online shopping experience. Consumers can research and compare products and purchase furnace filters or services such as maintenance agreements directly through the website.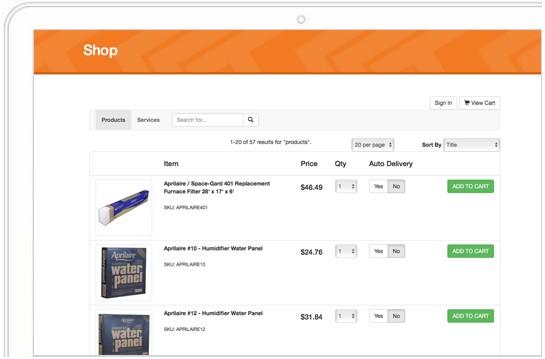 Contractor Commerce benefits HVAC companies by stocking, shipping, and processing payments for all purchases, as well as other logistics. This frees up HVAC companies so they can handle homeowner needs, performing skilled installation, repairs, and maintenance services in the home.
Thompson Heating & Cooling is one HVAC contractor that has recently adopted the Contractor Commerce technology. Visit https://trustthompson.com/ and click "SHOP" to see the live online store and navigate the ecommerce shopping experience Contractor Commerce delivers.
Contractor Commerce Benefits HVAC Contractors
Contractor Commerce delivers business-building benefits for HVAC contractors, helping companies grow and enhance their customer service experience.
Increased revenue via online product and service sales.
Expand product offering without the risk, customizing prices and margins.
Reduce inventory cost and operational hassle through dropship capabilities, eliminating the need for stocking filters, replacement parts, and supplies.
Enhance the customer experience by delivering 24/7 access to your company for purchases online.
Build the reputation of a tech-savvy innovator, delivering the online shopping convenience to customers that is unmatched by competitors.
Customers stay on your website – no 3rd party links directing traffic off your site for shopping or checkout.
Expand Your HVAC Business with Contractor Commerce
Growing your HVAC business depends on your ability to reach homeowners when and where it is convenient to them. Ecommerce technology for your existing website gives your company the power to build customer satisfaction and trust through convenience. Contractor Commerce makes this possible for any HVAC contractor with a business website.
Contractor Commerce is free to sign up, and setting up your online store is quick and easy. In just minutes, your online store will be populated with the products and services your customers want and need. Contractors can request a demo to see how the program works.