Find an HVAC Technician – Residential versus Commercial
Posted on: March 30, 2017 | by: Will HoushHVAC.com July 26, 2017
Whether you need a new cooling system or a few repairs to improve the performance of your existing furnace, you need a skilled HVAC technician to do the job. If you don't have a contractor you trust, it can be tricky to find an HVAC technician.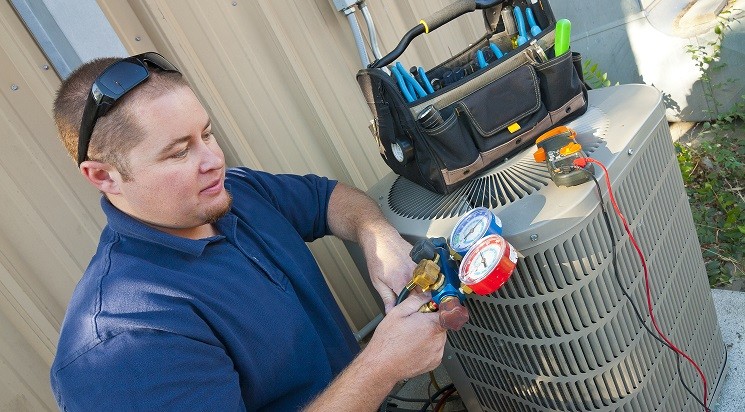 HVAC companies don't all serve the same markets. Some offer residential services, some offer commercial, and some do both.
To find an HVAC technician, you may look in different places depending on the type of services you need. If you're a homeowner needing service for your home's heating and cooling systems, you'll need a residential HVAC technician. If you're in need of HVAC services for a commercial building, you'll need a commercial HVAC technician.
Find an HVAC Technician
Contractor Directories
For both residential and commercial HVAC services, check a contractor directory. A contractor directory lists local HVAC contractors for consumers to search. Find a contractor specializing in the type of service you need. Check credentials, and even review customer testimony, depending on the directory.
Personal Recommendations
For both residential and commercial consumers, personal recommendations are great for finding HVAC technicians. Homeowners can look to family, friends, and neighbors who have used an HVAC contractor. Ask the trusted party about their experience, the customer service delivered and workmanship.
Commercial consumers may wish to ask other business owners for recommendations. If your business requires specific HVAC equipment to conduct processes, ask another business owner in your line of work. Facility managers may ask other maintenance professionals or those at sister sites of a parent company. Ask your trusted contact about the experience, payments, the level of professionalism delivered by the contractor, as well as their knowledge and workmanship.
Licensing Board
For your protection, find an HVAC technician who holds a license, if your state or local government requires it. Check your area's licensing body for a list of licensed HVAC contractors, or to verify a contractor's license.
Find an HVAC Technician: Residential
Homeowners who've never had to find an HVAC contractor before may find it hard to know where to start. The suggestions above are a good starting place; here are some additional references to help you find a trusted professional.
Real Estate Agent
If you're new to your area, you may not know anyone to ask for local recommendations. In this situation, your realtor is a great resource. Odds are they've worked with local HVAC companies to aid their clients. Ask your realtor to help you find an HVAC contractor. Ask if there is a company they'd recommend, or if they can tell you which ones to steer clear of. If your realtor doesn't have direct experience working with a local HVAC company, they likely have a trusted colleague who can assist you.
Find an HVAC Technician: Commercial
For business owners, facility managers, or maintenance professionals in need of commercial services, you may look elsewhere to find an HVAC technician. As you're looking for commercial HVAC work, you don't necessarily want to look to homeowner reviews to judge services – although these reviews can still tell you a great deal about a contractor's professionalism and customer service.
Industry Groups
If your business is in a particular industry which uses HVAC equipment for processes, you may wish to work with a contractor who has specific experience working in your industry. To find an HVAC technician with these specific skills, you may look to trade groups in your industry. You may find HVAC technicians listed on the trade group's website or in a trade journal.
Chamber of Commerce
Many business owners choose to work with other local business owners to support their local economies. If you wish to hire local, you may find an HVAC contractor through the chamber of commerce which you're a member of. Members may even offer discounted services to other members and business professionals in the area, which can be a great advantage to you.
Hiring an HVAC Technician
For residential and commercial consumers, there are many resources out there to help you find HVAC technicians. Once you've found an HVAC technician, it's important to evaluate the company to make sure it's the type of business you want to work with. These HVAC.com resources will help you assess different HVAC companies and find the right match:
If you're in need of residential or commercial services, you can find an HVAC technician through HVAC.com's Online Contractor Directory. Or, let us find one for you – tell us about your project and we'll have an HVAC.com Certified Contractor in touch with you shortl