HVAC.com Featured Contractor: Hoffmann Brothers
Posted on: March 5, 2019 | by: Will Housh HVAC.com March 6, 2019
It's time for our next Featured Contractor profile, where we highlight some of the exceptional members of the HVAC industry community and the good they're doing for their communities. Hoffmann Brothers of Brentwood, Missouri was recently named the Air Conditioning Contractors of America (ACCA) 2019 Residential Contractor of the Year. This company goes above and beyond for those in their community, from people to pets – let's take a look at what they're doing!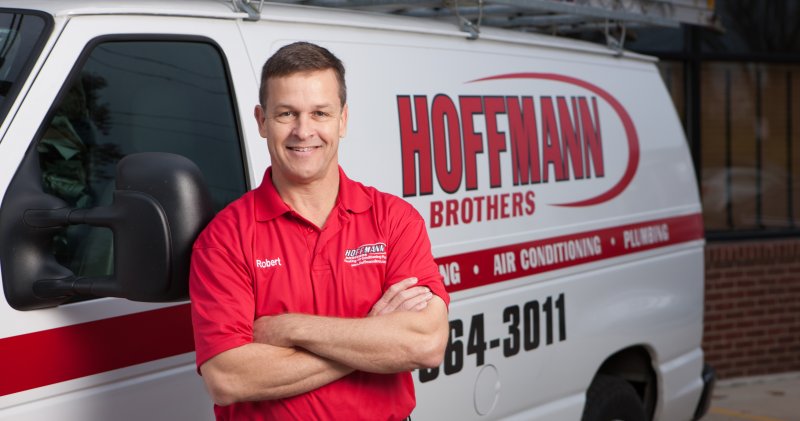 ACCA 2019 Residential Contractor of the Year
At the end of February, ACCA announced that Hoffmann Brothers was selected as their 2019 Residential Contractor of the Year. Each year, the organization judges candidates based on important qualities including community and industry involvement, as well as commitment to training and certifications.
This second-generation family business is operated by Robert, Chris, and Joe Hoffmann and has served the heating and cooling needs of Brentwood and the surrounding communities for over 40 years. Over the years, the company has grown from four employees to more than 135 today.
Hoffmann Brothers is committed to technical proficiency and continued training. Their hiring process includes a rigorous technical proficiency exam to ensure new team members exemplify the company's dedication to industry knowledge and skill. The company offers paid training as well as an extensive apprenticeship program for current students and recent graduates.
Stray Rescue of St. Louis
A "pet" project close to the hearts of their team members, Hoffmann Brothers regularly partners with Stray Rescue of St. Louis to help the area's animals in need. Stray Rescue of St. Louis provides medical care to animals in need while working to restore their health and find their forever families. They are a no kill organization committed to giving these animals a second lease on life.
Hoffmann Brothers is currently operating a fundraiser benefiting Stray Rescue of St. Louis. During February and March, a portion of all sales will be donated to the organization to help stray animals in the Greater St. Louis area. All installation and repair services scheduled during these months will directly contribute to the company's cause.
It's clear that the Hoffmann Brothers team loves animals and is committed to animal welfare. The company regularly features adoptable pet profiles on their Facebook page. They host a Pet of the Month contest and invite followers to submit their pets! Technicians' trucks are always stocked – with pet treats, too!
Find HVAC Help on HVAC.com
HVAC.com connects you with outstanding HVAC contractors in your local community through our HVAC Contractor Directory. By entering your ZIP code, you'll receive a comprehensive list of heating and air conditioning contractors near you, ready to assist with all your home comfort needs.