Is Getting an HVAC Tune-Up Worth It? HVAC.com's HVAC Tune-Up Checklist
Nic RardinFebruary 19, 2019
Spring is right around the corner! One big to-do list item for homeowners is an HVAC tune-up. Unfortunately, many HVAC systems are neglected as they're out of sight and out of mind – some homeowners just don't think of them until they aren't working.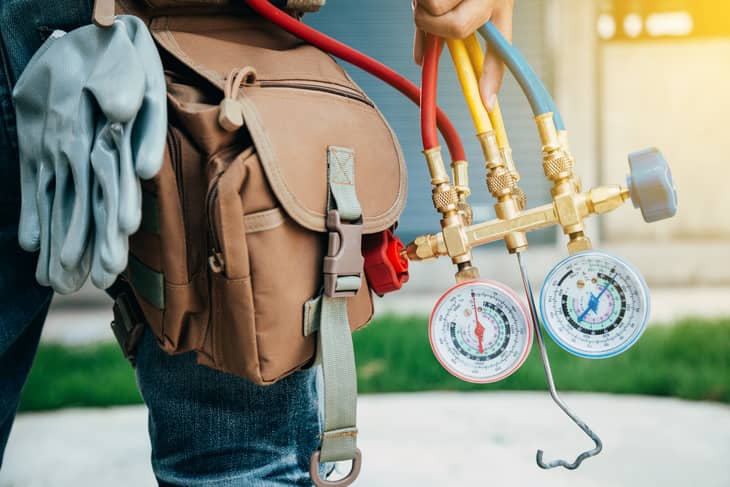 Is an HVAC tune-up worth it? Absolutely. This affordably-priced service spares you from a lot of headaches down the road. Read on to learn more about HVAC tune-ups and HVAC tune-up cost. Plus, we share our HVAC Tune-Up Checklist so you know what to expect when your technician arrives this spring.
Is an HVAC Tune-Up Worth It?
Yes, yes, yes – an HVAC tune-up is worth the money. Just like your vehicle, your HVAC system is a complex piece of machinery that gets a lot of "mileage." It's full of critical and moving components, that experience wear and tear over time. Also just like your car, your HVAC system doesn't operate at its best when it's neglected and worn down.
If you ask, "Is an HVAC tune-up worth it?", consider these benefits:
When you undergo an HVAC tune-up, wear and tear issues are remedied. Your technician also reviews your system to look for other potential problems that have the potential to cause a breakdown. These problems are fixed early so a breakdown plus more extensive damage doesn't occur.
Breakdowns leave you without the cooling you need. What's the price you put on your family's comfort? Plus, air conditioning repairs, especially unexpected ones, aren't always cheap. An HVAC tune-up helps you avoid these costs.
HVAC tune-ups generate better performance and lower energy consumption from your system. The direct result is better comfort and lower energy bills. The difference in your energy bills over the coming cooling season can pay for the cost of your tune-up and more.
A well-maintained HVAC system lasts longer – you get more years of service. It's no secret that a new HVAC system is expensive. Neglecting your system, resulting in a shorter system life, can cost you hundreds or even thousands in early replacement costs.
HVAC Tune-Up Cost
HVAC tune-up cost varies from one contractor to the next. On average, this twice-per-year service runs $100 to $200. Luckily, most contractors offer options for savings.
In addition to possible new customer special rates covering HVAC tune-up cost, most HVAC contractors offer something called a preventative maintenance agreement (PMA). They may call it something like a "Service Plan" or "Comfort Care Club," but no matter the name, these plans are typically designed to help you best care for your HVAC equipment.
A contractor's PMA program typically locks homeowners in for two HVAC tune-ups each year – one for heating in the fall and one for cooling in the spring. When you join this program, contractors take care of scheduling your tune-up and performing the work, usually ahead of the season. It's insurance that your system receives the care it needs.
Your HVAC contractor may also include other bonuses that make a PMA worth your while. These perks may include:
Priority scheduling
Discounts on repairs
Waived service call fees
Discounts on equipment purchases
HVAC Tune-Up Checklist
When your contractor arrives this spring to perform an HVAC tune-up for your cooling system, here's what to expect:
Thermostat testing and settings review
Electrical connection tightening
Lubrication for all moving parts
Controls check
Coil cleaning
Check and straighten fins
Clean condensate drain
Change air filter
Measuring refrigerant levels and charge
Check and adjust blower motor and belts
HVAC Tune-Up Homeowner Steps
In addition to a professional HVAC tune-up, there are many steps you need to take throughout the season to best care for your cooling system. Check out our resources below to learn more:
Get HVAC Tune-Up Help from HVAC.com
HVAC.com offers a number of resources to help you best care for your heating and cooling systems. We recommend your HVAC systems be serviced by a professional in the spring and fall. Search our HVAC Contractor Directory to find an HVAC company near you! Search by your ZIP code and receive a complete listing of local HVAC contractors who offer HVAC tune-up services.