PHILANTHRO: Change Lives When You Change Your Furnace Filter
Posted on: May 15, 2018 | by: Will Housh HVAC.com May 16, 2018
Approximately 140 million children worldwide are orphaned – with nearly 12,000 in the U.S. alone waiting to find their forever families through adoption. While this is a global problem that requires dedicated resources, you can make a difference in the lives of these children by making a simple switch in your home.
PHILANTHRO furnace filters support the efforts of global organizations working to better the lives of orphaned and vulnerable children throughout the world. Ten percent of every PHILANTHRO filter sale is donated to Back2Back Ministries, an organization dedicated to serving the whole needs of high-risk children in need.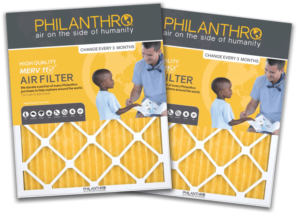 Philanthropy has always been a cornerstone of HVAC.com's business model, with Founder Will Housh and his team taking part in yearly mission trips to give back to those in need. PHILANTHRO was developed as a way to further this mission, generating funds that will directly improve children worldwide. We are using furnace filters to change lives – bet you never thought your HVAC system could produce so much good!
With PHILANTHRO, you too can support this generous mission by making the switch in your home today. Something as simple as performing a regular maintenance task for your HVAC system directly contributes to helping children where they need it most.
Switch to PHILANTHRO Filters
By switching to PHILANTHRO furnace filters, you'll improve the air quality in your home, protect your heating and cooling equipment, and make a difference in the lives of children in need. PHILANTHRO filters offer MERV 11 filtration, removing harmful airborne contaminants from your indoor air supply, including:
Pollen
Dust & dust mites
Mold spores
Pet dander
Debris
Germs
Sneeze droplets
Car emissions
Fibers
Cleaning aids
Fungus
PHILANTHRO filters are available in many common furnace filter sizes and offer superior indoor air filtration for up to three months. Set up reoccurring orders and a new PHILANTHRO filter will be delivered to your door exactly when needed, so you'll always remember to change your furnace filter on time!
HVAC.com Supports PHILANTHRO
HVAC.com is your leading resource for information about heating, cooling, and indoor air quality. We're here to bring you innovative solutions that improve your home comfort – and now, you can make the world a better place, too! We are happy to introduce the PHILANTHRO line of furnace filters to our community, as PHILANTHRO's mission is to not only improve air quality in your home, but to improve the lives of children across the globe.
Learn more about this amazing opportunity to do good for others simply by changing your furnace filter regularly – visit www.PHILANTHRO.com today.