Top Mobile Apps for HVAC Contractors
Posted on: October 12, 2015 | by: Will HoushHVAC.com July 26, 2017
Smart phone and tablet usage has greatly increased over the last few years. These devices aren't just for personal use, but are a valuable tool for any HVAC contractor. They can equip your whole team, from sales to service, with all the tools they need to do their jobs successfully. From quick access to needed information to easily communicating with customers, mobile apps and devices are becoming a must in the field.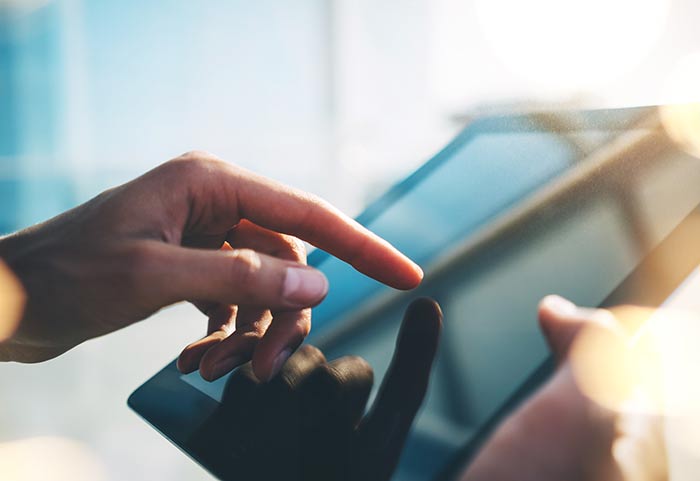 Best Types of Mobile Apps for HVAC Contractors
Four main types of apps exist to benefit HVAC contractors. Evaluate these types of apps and consider how they would be useful to your team. If you decide a certain type of app would improve your business's processes, then you can narrow your search for a specific app to implement within your team.
Service Management Apps:
Service management apps can improve communication between office and field staff. They will allow office staff to dispatch technicians and send essential details about the job. Field staff can use these solutions to create quotes, work orders, and invoices, sending them not only to the client, but to your main database.
ESC Mobile Tech for Android and iOS allows you to schedule appointments, dispatch technicians, and create quotes and invoices while you're out in the field. Access customer records and service history for up-to-date information anywhere.
Breezeworks for Android and iOS offers mobile scheduling and invoicing. Use the app's traffic and mapping settings for navigation, and instantly send invoices to customers upon completing the job.
Reference Apps:
Reference apps eliminate the need for printed equipment manuals. Technicians can use these apps to quickly access information on the jobsite.
WRMobile for Android and iOS gives contractors mobile access to wiring diagrams, sell sheets, installation instructions, and other resources for White Rodgers HVAC controls, gas valves, and thermostats, eliminating the need to consult bulky manuals.
GEMAIRE Contractor Assist for Android and iOS allows contractors to view spec sheets, installation guides, wiring diagrams, and other resources for a variety of equipment, and check product availability from the field.
Calculators:
Calculator apps make it easy for technicians to perform the calculations necessary to any job, including load calculations, pressure drops, and more.
Refrigerant Slider for Android and iOS is a pressure-to-temperature converter for 69 refrigerants, using Antoine equations for dew- and bubble points for refrigerants with glide. This user-friendly app makes on-site calculations simple.
HVAC Duct Sizer for Android and iOS allows technicians to quickly size a single duct run or multiple duct sizes via the constant friction method.
Controllers:
Controller apps work with specific equipment, allowing users to operate HVAC devices via their mobile device. Smart thermostats are one HVAC device which can be controlled via a controller app.
Nest app for Android and iOS allows users to control Nest Learning Thermostat and other Nest devices remotely.
Benefits of Mobile Apps for HVAC Contractors
A huge benefit of utilizing mobile devices and apps in your HVAC business is the ability to connect your in-office staff to your field team. Apps can simplify communication between these teams, allowing for quick dispatching, information sharing, and more. Data from the field can be input directly to your main database, eliminating the need for duplicate data entry and the delay in receiving info from the field.
With mobile devices and apps, your technicians can easily access all the information they need on a daily basis. Many manufacturers offer apps that include resource materials for their equipment, eliminating the need to dig through manuals for information, which may not be available out in the field.
Your team can also use mobile devices and apps to improve communication with your customers. Customers can be reminded of appointments and notified when staff is on the way, via text or email. Quotes, equipment literature, and more can be shared with customers electronically. Your sales and technical staff can use mobile apps to coordinate with in-office teams to order equipment, schedule installations and service, right then and there, rather than making customers wait for a callback.
By taking advantage of these mobile apps, your company can improve customer service, expand knowledge, and simplify job tasks. Which apps will your HVAC company be utilizing?
Are you a contractor and interested in growing your business? HVAC.com can help grow your business by introducing you to new customers in your local area for free! We are inviting the best HVAC contractors in the industry to join our network so you can connect with customers who need help with their HVAC system.