Carrier Overview, Products, and Resources
At HVAC.com, our writers create solutions that put you in control of your HVAC system. Our product reviews and recommendations are researched and backed by real buyers and industry experts, not dictated by our partners.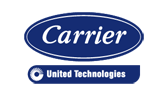 Carrier is one of the world's leading HVAC manufacturers. Since Willis Carrier invented the air conditioner in 1902, they have been engineering and producing heating and cooling products. They're also a leader in environmentally-friendly practices like phasing out ozone-destroying refrigerants and manufacturing some of the most energy-efficient air conditioners, furnaces and heat pumps around.
HVAC Cost Calculator
Let our cost calculator provide you with free local estimates from the top HVAC brands.
How Much Does HVAC Replacement Cost?
Average Cost: $3,250 – $12,586
Like your home and needs, your HVAC project cost will be unique. Use the calculator to better estimate your investment.
*Estimate is based on current data and does not represent a guaranteed price. For accurate pricing contact a local HVAC dealer.
Carrier products
Carrier sells an extensive line of air conditioners, gas and oil furnaces, heat pumps and packaged systems.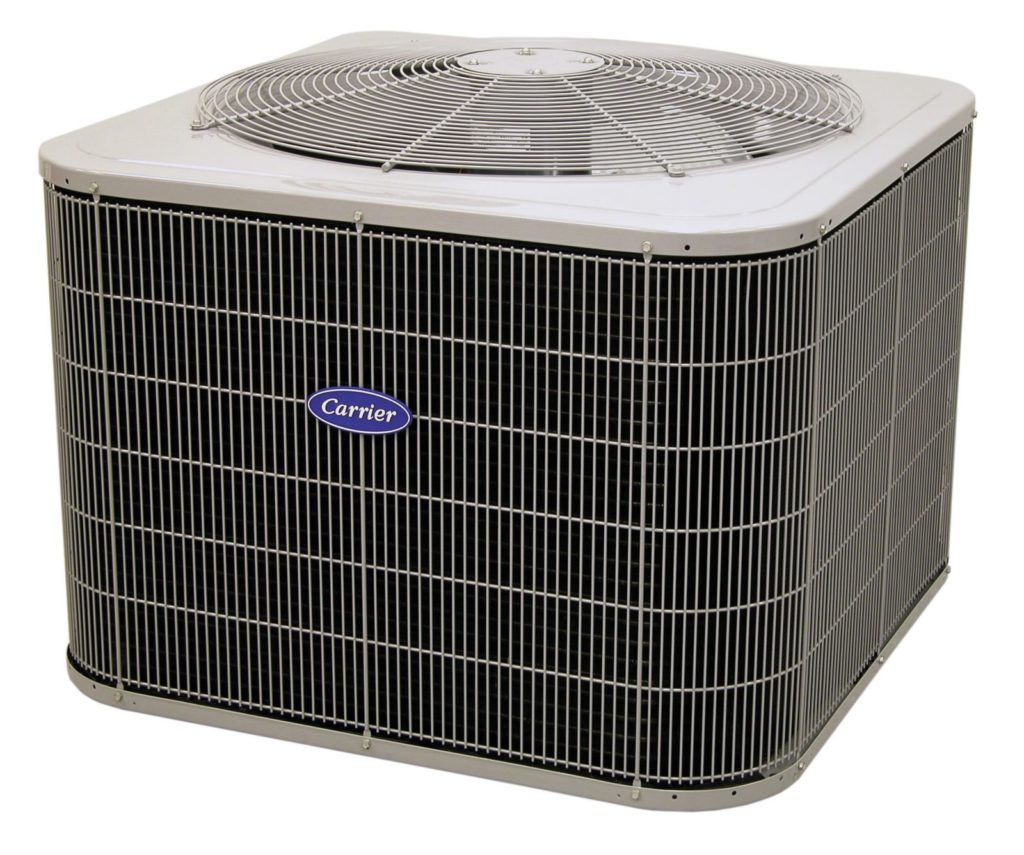 Carrier air conditioners
Carrier offers three air conditioner series that vary in price range to fit different budgets. They feature technology built to make them quieter and more energy efficient than previous systems. Here's a closer look at each series of Carrier air conditioner.
Infinity series
Carrier offers 6 models in the infinity series. Infinity air conditioners have the most features, the highest energy efficiency rating and run the quietest, as low as 65 decibels. They feature a built-in compressor sound blanket and multi-stage compressor operation. Infinity Series air conditioners are best for very hot and humid clients since they're equipped with a dehumidifier and run efficiently to save on electric bills.
Our Pick: Carrier Infinity 21 Air Conditioner
This Carrier air conditioner model is their most efficient. The two-stage compressor manages indoor humidity well for maximum comfort. The two stages also means the unit is the quietest when running at the lower stage.
Up to 21 SEER
ENERGY STAR certified
Operates as low as 65 decibels
Performance series
There are 5 models of performance series air conditioners. The Carrier Performance Series air conditioners are mid-range in price and Energy Star certified. Five models are available in many capacity sizes including a compact unit designed for installation in smaller areas. The Carrier air conditioner Performance series rates as low as 72 decibels of noise.
Our Pick: Carrier Performance 17 Air Conditioner
This Performance model gives you two-stage compression to manage summer dehumidification and the highest SEER rating of all Performance Series models.
Up to 17 SEER
ENERGY STAR certified
Operates as low as 72 decibels
Comfort series
Carrier offers six models of comfort series air conditioners. If you're shopping around for low Carrier air conditioner prices, the Comfort Series offers the most budget-friendly systems. You not only save on the price of this unit but also on electric bills. Comfort Series units have a SEER efficiency rating between 14 and 16. Although not the highest rating, it's better than older units and efficient in milder climates. In addition to a lower price point, they also feature noise levels around 72 decibels.
Our Pick: Comfort 16 Air Conditioner
The Comfort 16 air conditioner manages to be affordable and still meet the Department of Energy's minimum efficiency rating for the South and Southwest. A filter drier system protects a home's air quality by trapping moisture and contaminants.
Up to 16 SEER
ENERGY STAR certified
Operates as low as 72 decibels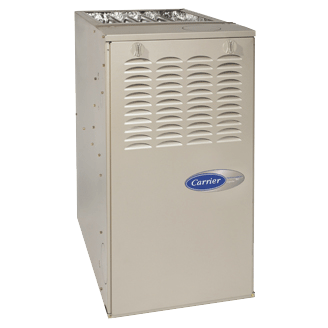 Carrier furnaces
Carrier sells gas and oil furnaces for every size home and climate zone. Here's more information about each series and type of Carrier furnace.
Gas furnaces
Carrier gas furnaces come available in three different series:
Infinity – The premium series with intelligent, multi-stage, variable-speed capability with the highest AFUE of up to 96%.
Performance – Two-stage energy-efficient models with premium features and up to 95% AFUE.
Comfort – 90+% AFUE efficient models that are affordable and value-driven.
Our Pick: Infinity 98 gas furnace
The most efficient gas furnace is the most advanced furnace Carrier has made with a 98.5% AFUE. Greenspeed Intelligence pairs adaptable-speed technology and a modulating gas valve managed by the Infinity control to adapt and deliver the minimum amount of heating needed to keep a home warm and comfortable for less energy.
Up to 98.5% AFUE
ENERGY STAR certified
Greenspeed Intelligence
Oil furnaces
Carrier oil furnaces are designed to bring high-efficiency heat while controlling summertime humidity. Their oil furnaces can be installed as upflow, downflow, horizontal and low-ceiling installations. All oil furnaces have a combustion/heat exchanger combination that quickly converts oil to heat. The unique combustion silencer system isolates sound for quiet operation.
Two series are available:
Performance – Two units available with a variable speed motor and up to 86.6% AFUE and Energy Star certification.
Comfort – Two units available with a fixed speed motor up to 86.6% AFUE.
Our Pick: Performance 80 oil furnace
This is the best Carrier option if you're looking for an oil-fueled furnace, it includes a variable-speed ECM blower to run at the lowest speed possible while still meeting your comfort needs.
UP to 86.6% AFUE
ENERGY STAR certified
Variable-speed blower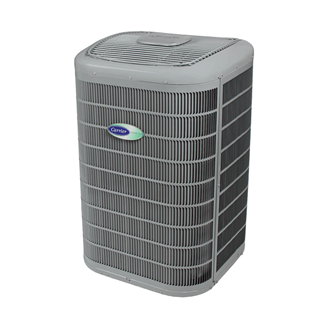 Carrier heat pumps
Heat pumps offer cooling, heating and humidity control in one efficient system. According to Carrier, an electric heat pump combined with an oil or gas furnace is ideal in a colder area to improve energy efficiency and save on overall heating costs.
Carrier heat pumps series:
Infinity – All five models are ENERGY STAR certified with ratings of up to 20.5 SEER/13HSPF and superior comfort and quiet performance in both heating and cooling modes.
Performance – Four models with up to 17.5 SEER / 9.5 HSPF ratings.
Comfort – Three economical heat pump models that offer summer dehumidification and air conditioning as well as cold-weather heating performance.
Our Pick: Performance 16 heat pump
The Performance 16 is the most efficient in the series with up to 17.5 SEER. It's designed to be a Hybrid Heat system compatible to help save on winter heating costs. The model also goes one step further with two-stage compression for added home comfort and quiet operation.

Up to 17.5 SEER
Up to 9.5 HSPF
Operates as low as 70 decibels
Carrier packaged systems
If you're thinking of replacing an existing air conditioner or heat pump and adding heating as well, a packaged system offers a complete solution. Combining multiple HVAC components into a single unit outside your home is a growing HVAC trend.
Carrier offers two different series of packaged systems.
Four Performance series
Six Comfort series packaged systems
Our Pick: Performance 15 Packaged Hybrid Heat System

This system offers ratings of up to 15.5 SEER, 8.5 HSPF and 81% AFUE. It even manages energy use in the winter by selecting the best heating source (gas furnace or electric heat pump) according to the weather conditions. In summer, two-stage compression cools and dehumidifies a home. The Performance 15 delivers consistent, quiet and high-efficiency comfort all year long.
Up to 15.5 SEER
Up to 8.5 HSPF
81% AFUE
Carrier pricing
Many factors affect the cost of an HVAC system making it difficult to generalize on pricing. Carrier air conditioner prices can vary. Region, installation, the size and features of the unit and type of home all affect the price. The best way to get an accurate price is by contacting one or two local HVAC professionals for a home consultation and price quote.
Carrier organizes their price points by series. The Infinity Series has the most features and is the most expensive, followed by the mid-range priced Performance Series. The least expensive is the Comfort series.
Carrier reviews
You can learn more about Carrier products by reading Carrier reviews. Carrier reviews are written by consumers like you who own a system. Look for what the most common issues are, installation experiences, how customers feel about their unit's reliability and energy efficiency, as well as if their issues or complaints were properly resolved.
Carrier warranties
Carrier offers warranties for their Infinity, Performance and Comfort series products with a 10-year parts limited warranty. For detailed information on a model, check their warranty page.