Goodman Overview, Products, and Resources
At HVAC.com, our writers create solutions that put you in control of your HVAC system. Our product reviews and recommendations are researched and backed by real buyers and industry experts, not dictated by our partners.

Goodman makes and sells HVAC systems that are proudly "designed, engineered and assembled in the U.S.A." Depending on your home's size and needs, Goodman offers a variety of quality, affordable air conditioning systems, furnaces and heat pumps.
Goodman products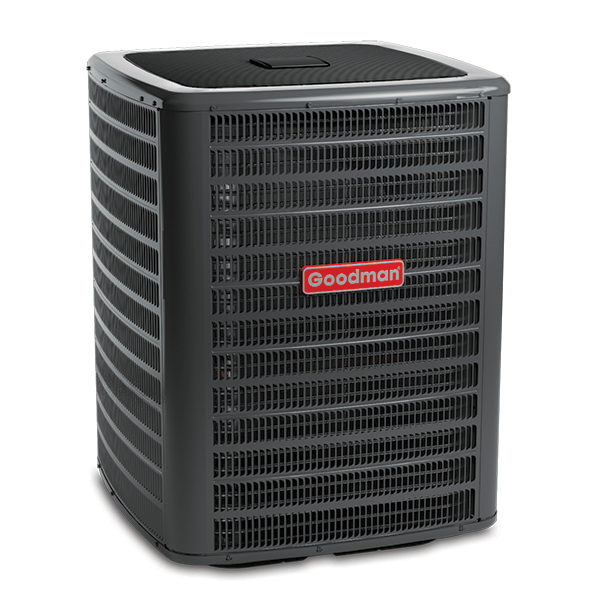 SEER rating should be the first thing to consider when shopping for a system. The higher the SEER number, the more you'll save on energy bills. Goodman's most energy-efficient models are:
Goodman's most efficient system, the GSXC18 is ENERGY STAR certified and comes with ComfortBridge Technology that continuously monitors and adjusts the system. It's up to 19 SEER and is a two-stage compressor and two-speed condenser fan motor adds to the system's efficiency and humidity control. It's labeled as a Coastal Model that has anti-corrosion features to protect your investment from the ocean-related corrosion and comes with a lifetime warranty.
Like the GSXC18, this model is ENERGY STAR certified and comes with ComfortBridge Technology, a two-stage compressor and two-speed condenser fan. This model is up to 17 SEER. The Coastal Model label means the GSXC16 has a corrosion-resistant finish that stands up to harsh coastal elements and a lifetime warranty.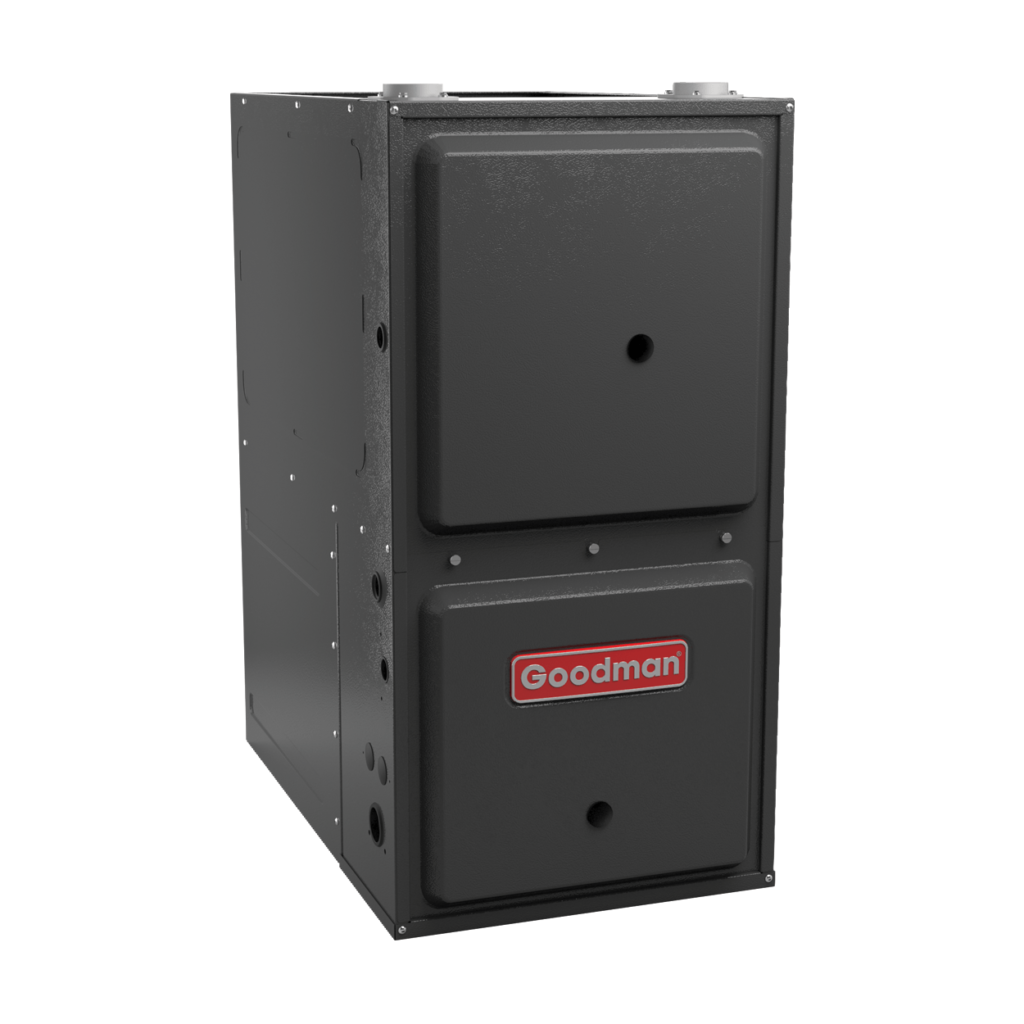 All Goodman furnaces are gas furnaces and feature:
A permanent split capacitor (PSC) electric motor to provide airflow as needed to reduce system noise and energy consumption.
A tubular heat exchanger designed to last with wrinkle-bend technology for stronger walls and better heat transfer.
Goodman furnaces come in two efficiency ratings of 80+% AFUE (12 models) and 90+% AFUE (14 models). 90+% AFUE gas furnaces are more expensive but make up for the initial cost in lower utility bills. When deciding on which efficiency rating to invest in, choose a high AFUE unit for cold climates and an 80+% AFUE model for milder-winter zones.

The most energy-efficient Goodman furnace models are:
This gas furnace model can be installed in multi-positions and is up to 98% AFUE performance. A variable-speed draft blower heats or cools a room quietly. Two heavy-duty heat exchangers, one of aluminized-steel and the other made with stainless-steel, heat efficiently with only 2% heat loss from the unit, making it the most efficient gas furnace Goodman makes.
At up to 96% AFUE performance, the GCEC96 also offers multi-position installation. This unit features a multi-speed ECM blower motor and a quiet two-speed induced draft blower.
At up to 80% AFUE performance this energy-efficient two-stage gas furnace features a variable-speed ECM motor and built-in ComfortBridge technology to work with a variety of thermostats and control systems.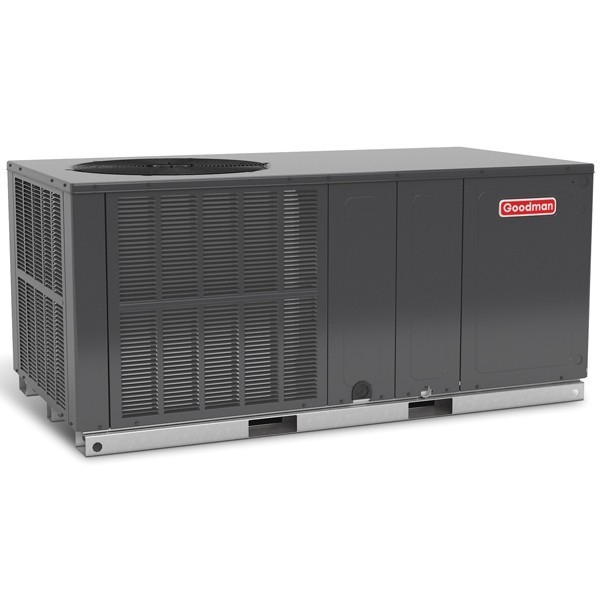 Goodman heat pumps
All Goodman heat pumps feature:
A factory-installed filter drier that absorbs and filters system contaminants and moisture.
Louvered coil guards that protect the heating coil from damage from things like leaves, sticks, hail and more.
The most energy-efficient Goodman heat pumps include:
Up to 19 SEER and 10 HSPF Performance
A two-stage Copeland UltraTech scroll compressor is the heart of the unit. Copeland compressors are the top-of-the-line in the industry. ComfortAlert diagnostics are built into the unit to communicate with the thermostat and monitor the system's performance.
Up to 16 SEER and 9.7 HSPF Performance
Similar in features and build to the GSZC18, the GSZC16 model offers energy efficiency at a lower price point for milder winter zones.
Goodman packaged units
Packaged units come in four styles:
Air conditioning
Designed to keep your home cool in the summer while saving you money on your electric bill. Three models with an energy-efficient rating of up to 15 SEER.

Heat pump packaged units
Providing efficient electric heating and cooling to your home. Four models with up to 16 SEER and 8.2 HSPF.

Gas electric
A combo of gas furnace for the winter and electric air conditioning for the summer. Two models with multi-position installation possible and up to 16 SEER, 81% AFUE ratings.

Dual fuel
When you need climate control year-round, the duel fuel GPD14 unit combines cooling with a heat pump and gas heating with up to 14.5 SEER, 8.0 HSPF and 81% AFUE energy-efficiency rating.
Goodman HVAC pricing
Goodman is known for providing affordable HVAC systems. They offer a wide variety of options for each type of system. Many factors can affect the cost of the unit including installation, size of the home, your local climate and type of setup. To get the most accurate price, contact a local HVAC professional for an in-home consultation.
[table id=16 /]
Goodman reviews
If you're having trouble deciding on how to choose from the selection of quality Goodman HVAC systems, reading Goodman reviews from other consumers can be quite helpful. A Goodman AC review should include information about reliability, energy efficiency and installation experience.

Look out for a pattern of issues with unit parts, installation or how Goodman customer service handles complaints. Knowing ahead of time what shortfalls your unit of choice tends to have and hiring the right installation contractor can help you avoid the most common issues.
Goodman warranties
Goodman HVAC warranties depend on the type of product and model. For more details, check their warranty lookup page by entering the model number. Here's a list of their general warranties:
Air conditioners – The compressor is covered by a Lifetime Limited Warranty. All other parts are covered by a 10-Year Parts Limited Warranty.
Gas furnaces – The heat exchanger is covered by a Lifetime Limited Warranty. The rest of the furnace has a 10-Year Limited Parts Warranty.
Heat pumps – The compressor is covered by a Lifetime Limited Warranty. All other parts are covered by a 10-Year Parts Limited Warranty.
Packaged units – 10-Year Parts Limited Warranty on all parts.