Lennox Overview, Products, and Resources
At HVAC.com, our writers create solutions that put you in control of your HVAC system. Our product reviews and recommendations are researched and backed by real buyers and industry experts, not dictated by our partners.

Since 1895, Lennox's mission has been to provide homeowners with exceptional comfort through its line of extensive products. Based in Richardson, Texas, they've grown since creating the world's first riveted steel furnace in 1895 to now having over 6,000 independent dealers located throughout the U.S.They sell air conditioners, furnaces, garage heating, heat pumps, boilers, air handlers, solar-ready systems, and mini-split systems.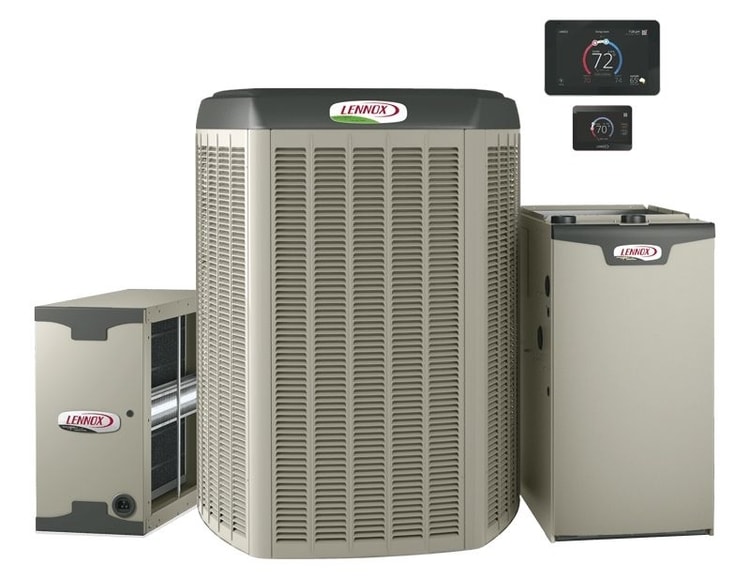 Lennox products
Lennox focuses on delivering energy efficient equipment, as evidenced by many of their models earning ENERGY STAR® certification. Below is a look at some of the products they offer homeowners.
HVAC Cost Calculator
Let our cost calculator provide you with free local estimates from the top HVAC brands.
How Much Does HVAC Replacement Cost?
Average Cost: $3,250 – $12,586
Like your home and needs, your HVAC project cost will be unique. Use the calculator to better estimate your investment.
*Estimate is based on current data and does not represent a guaranteed price. For accurate pricing contact a local HVAC dealer.
Lennox air conditioners
Lennox offers 11 air conditioner units across three different series. These include the Dave Lennox Signature Collection, the ELITE Series and the MERIT Series. All but one of their units (the Merit Series 13ACX air conditioner) are ENERGY STAR® certified, meaning they surpass the efficiency standards mandated by the U.S. Department of Energy.
Lennox designed many of these units for smart energy use, which allows users with a smart thermostat to control the temperature of their home from their smartphone. What's more, these units deliver superior comfort without also raising utility bills, with some units achieving a SEER efficiency rating of up to 26.
One popular Lennox air conditioner is the single-stage ML14XC1. This unit features the Lennox Quantum coil and is constructed from fortified aluminum alloy. It's well-designed to withstand corrosion in humid climates.
Some of their other top units include:
Lennox air handlers
An air handler circulates air through your home's HVAC or air-conditioning system. Lennox offers 10 different air handler models for a variety of homes.

Lennox boasts that its air handlers are among the quietest and most efficient models available. Here's a look at several of their popular models:

Lennox sells two types of furnaces: gas and oil. Their gas furnaces feature technological advancements like the Power Saver constant torque motor. With this motor, the unit monitors and adjusts airspeed as needed to reduce the furnace's energy use. Lennox claims this increases their furnaces' efficiency by as much as 33%.

Meanwhile, their oil furnaces can achieve an efficiency rating of up to 87% AFUE, meaning you're not throwing your money away on fuel costs. Lennox also retrofitted these units to fit in many tight areas including closets, basements or crawl spaces. Below is a look at some of their best-selling models:

Lennox heat pumps
Each of Lennox's heat pumps is compatible with its Humiditrol® dehumidification system. These systems work in tandem to provide a blast of fresh air when you need it.
Each heat pump is also dual-fuel compatible with a Lennox-brand furnace. This allows the heating system to alternate between electric and gas depending on your area's weather conditions.
Some of their top models include:
Lennox packaged systems
Lennox also provides packaged systems that offer both heating and cooling in one. These systems are built for versatility and efficiency. Here's a closer look at each:
Lennox pricing
The best way to find Lennox pricing information is to contact a local HVAC professional. They can explain which factors might affect the costs of your unit, like the age of your home, the size of your home and your region's climate. Let HVAC.com help you contact a licensed and reputable professional who can work with you to determine your home's heating and cooling needs and costs.
Lennox reviews
An effective way to learn about Lennox products is to read reviews of customers who use the products. When reading through reviews, search for commonalities both good and bad. Focus on energy efficiency, how smooth or problematic the installation process was, the durability of the product, and how Lennox addresses any issues with performance or quality.
Lennox warranties
Lennox offers a 20-year limited warranty on the heat exchangers in their furnaces. They also have a five-year limited warranty on covered parts, with the option to move to a 10-year extended warranty on certain models after product registration.
On their air conditioners, they offer a 10-year warranty on the compressor and a five-year limited warranty on covered parts. This same five-year warranty comes included if you buy one of their heat pumps or air handlers.
For their mini split-systems, the heat pump comes with a seven-year warranty on the compressor and five years on covered parts while the mini air conditioner comes with the same five-year warranty.