At HVAC.com, our writers create solutions that put you in control of your HVAC system. Our product reviews and recommendations are researched and backed by real buyers and industry experts, not dictated by our partners.
The Aprilaire 213 furnace filter is a replacement filter used in certain models of Aprilaire air cleaners. For best performance, your Aprilaire furnace filter must be replaced regularly to deliver proper air flow and contaminant control in the home. Read on to learn about Aprilaire furnace filter model 213 and how to care for your system.
About the Aprilaire 213 Furnace Filter
The Aprilaire 213 furnace filter is a pleated expandable filter that fits select Aprilaire air cleaning equipment. The furnace filter rating is MERV 13 – MERV 13 furnace filters effectively remove over 90 percent of airborne pollen, dust, dust mites, pet dander, and mold, along with up to 95 percent of tobacco smoke.
What Equipment Does the Aprilaire 213 Furnace Filter Work With?
The Aprilaire furnace filter model 213 is a direct replacement filter for the following Aprilaire air cleaner models: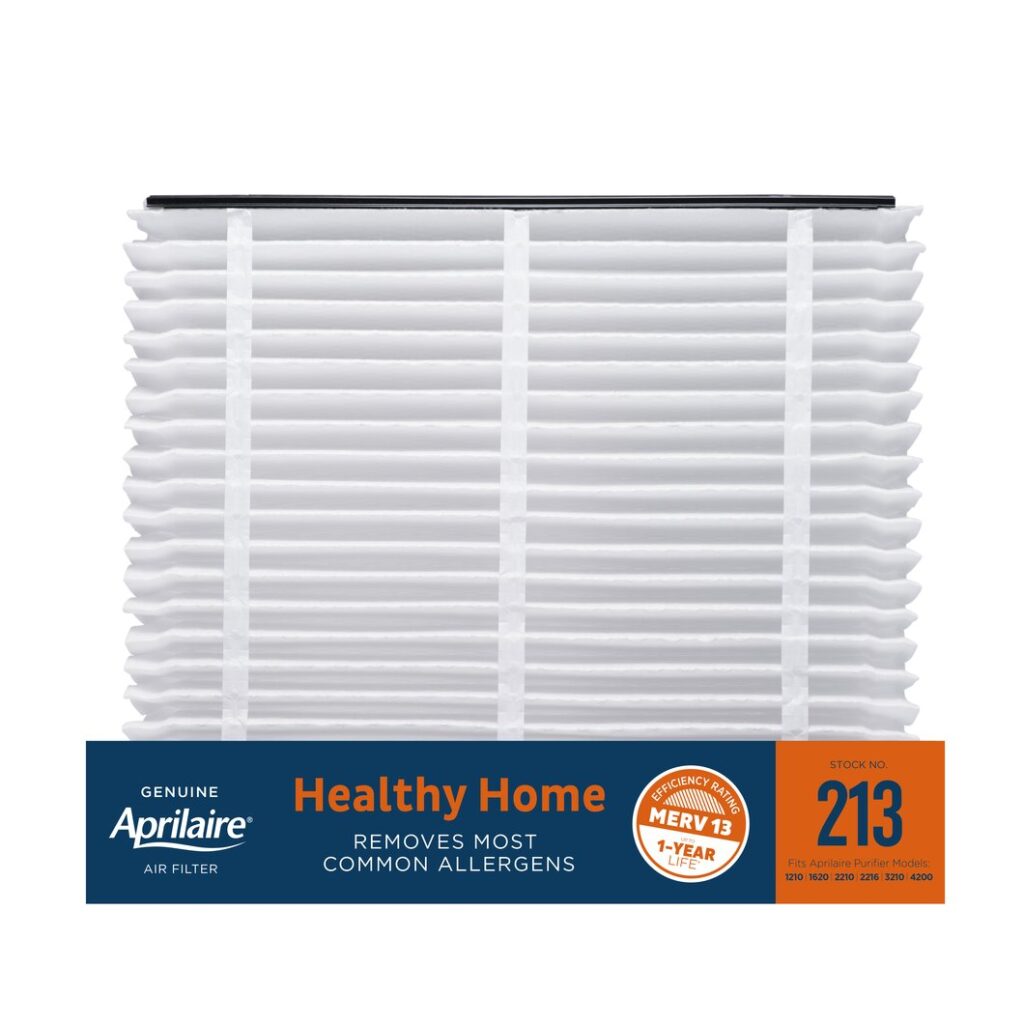 How Often Should I Change My Aprilaire Furnace Filter?
Aprilaire recommends that the 213 furnace filter be changed every 9 to 12 months. The exact frequency will vary between homes depending on air quality factors. In homes with pets or smokers, the Aprilaire furnace filter may need to be replaced more frequently, as contaminant buildup occurs faster.
Check your Aprilaire furnace filter monthly to assess whether or not it should be changed. The following signs indicate your Aprilaire 213 furnace filter needs changed:
The filter is gray colored, and you can see dust and dirt on the filter media
Your home has been dustier than normal
Your heating or cooling system runs longer cycles than usual
Changing the Aprilaire 213 Furnace Filter
Since the Aprilaire furnace filter model 213 is an expandable filter, changing it is a bit different than a regular furnace filter. Follow the instructions below or watch our Aprilaire 213 furnace filter video:
Locate the air cleaner – it's likely positioned between the air handler or furnace and the return air duct.
Remove the air cleaner panel to access the filter compartment.
Slide out the old filter from the filter compartment.
Remove the old Aprilaire 213 furnace filter from the end caps and dispose.
Attach the ends of the new Aprilaire 213 furnace filter to the end caps.
Insert the filter into the filter compartment, making sure to do so in the direction indicated by the arrows on the filter.
Replace the air cleaner panel.
Find Aprilaire Furnace Filter Assistance on HVAC.com
HVAC.com is the world's leading resource site for all things heating, cooling, and indoor air quality. Our helpful blogs, videos, FAQs, guides, and other resources are available to answer any questions you may have about your Aprilaire furnace filter or other equipment.
If you need professional assistance changing your Aprilaire furnace filter or other services for your Aprilaire air cleaner, we recommend you locate an HVAC contractor nearby who can help! Our HVAC Contractor Directory allows you to find heating and cooling companies near you by simply searching your ZIP code!