At HVAC.com, our writers create solutions that put you in control of your HVAC system. Our product reviews and recommendations are researched and backed by real buyers and industry experts, not dictated by our partners.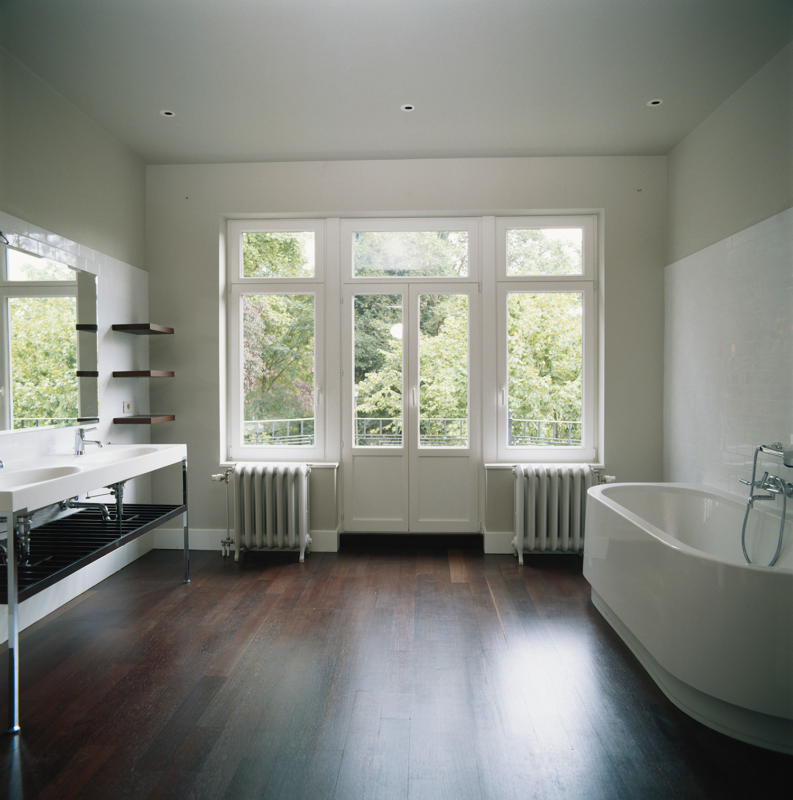 If your bathroom is colder than the rest of your house you may need a bathroom heater. Especially during the winter months, these supplemental heating devices can help keep your home comfortable.

There are many types of bathroom heaters to choose from, and each has its own pros and cons. With this buying guide, you'll be able to review the top bathroom heater choices and find the one that best fits your needs and budget.
Types of bathroom heaters
Before tossing the first bathroom heater that pops up on an Amazon search into your virtual shopping cart, consider the different styles. Each model is equipped with unique features, so let's find the one that best fits your needs.
Portable bathroom heaters
Portable heaters are one of the most popular kinds of bathroom heaters as they are budget-friendly and can be used throughout your home. Portable bathroom heaters are also able to be stored away during the summer months when you may not need the added warmth. Many units vary in size which makes them a great choice regardless of the size of your bathroom.
Small bathroom heaters
Small bathroom heaters provide lots of functionality without taking up precious bathroom space. These may be a good choice for your home if you're looking to save energy. The average half bathroom ranges from 18 to 32 square feet. Smaller portable heaters may be preferred for these sized bathrooms.
Ceiling/wall mounted bathroom heaters
Ceiling and wall mounted bathroom heaters work to heat rooms while still saving space. Bathrooms that range from 75 to 150 square feet may be best served by ceiling or wall mounted heaters as these types of units generally have the energy capacity to heat these sized spaces.

Many ceiling or wall mounted heaters require some form of hardwiring and may need professional installation.
Bathroom exhaust fan with heater
A bathroom exhaust fan with heater is a great choice if you want to save space and quickly dehumidify the bathroom. These units can typically be installed in place of your current ceiling exhaust fan unit.

While some units can be easily installed, others may require professional installation due to hardwiring or drywall cutting. Certain models include both a heater and a light feature to add an extra touch to your bathroom.
Best bathroom heaters
There are many options to choose from when deciding which bathroom heater is best for you. After comparing models, these are the best bathroom heaters that may suit your needs.
Best portable bathroom heater
TheVORNADO MVH VORTEX HEATERis our top choice if you plan to use the device in different spaces. The unit features vortex air circulation to quickly heat your bathroom, and at under 4 pounds, you can easily move the device from room to room.
This model prioritizes safety with advanced features that include tip-over protection, a cool touch exterior and an auto shut-off system. The design of the heater also features an integrated handle which allows for easy portability.
We especially like that this portable bathroom heater has three power modes (Low/750W, Medium/1125W, High/1500W). Since you'll need about 10W of power to warm each square foot of space, you can count on the Vornado to efficiently warm an area up to 150 square feet. Plus, this unit is backed by a 5-year warranty and a dedicated customer service team.
Buy on Amazon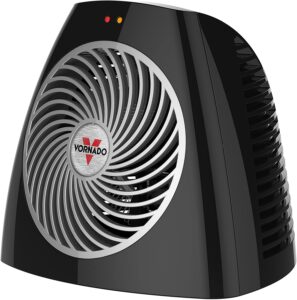 Size
10.6″ x 10.4″ x 9.2″
Best wall-mounted bathroom heater
The sleek design of theSTIEBEL ELTRON CK 15 E WALL MOUNTED HEATERcaught our eye. The heater pulls cool room air through the top and blows warm air out the bottom of the unit to evenly distribute warm air throughout the space. The unit offers a built-in thermostat, timer, and a frost protection setting that will maintain above freezing temperatures in the appropriately sized space. The device requires hardwiring and, depending on your electrical skills, may need professional installation. The unit effectively heats up to 150 square feet of space. One note on this heater, the device comes out from the wall approximately 3 to 4 inches, depending on how it is installed. This unit comes with a 3-year warranty.
Buy on Amazon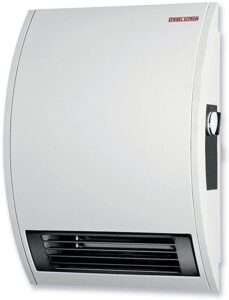 Size
4.8″ x 13.2″ x 18.1″
Best bathroom heater with exhaust fan
When you need a multi-purpose bathroom heater, theBROAN-NUTONEis a powerfully versatile option. If your bathroom constantly feels humid and muggy, you'll appreciate that the fan vents moisture in bathrooms up to 65 square feet to help prevent mildew from forming.
The bathroom exhaust fan with heater combo is best for full size bathrooms, but its 1500W power may not perform as well for larger master ensuites. The unit also features a 100-watt light and a 7-watt night light to add a soft glow to your bathroom. This unit is backed by a 1-year warranty.
Buy on Amazon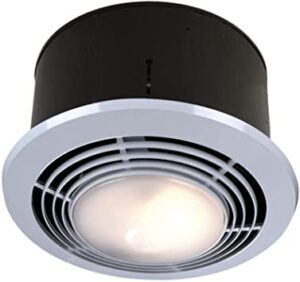 Best small bathroom heater
When small meets mighty, you get theMINETOM PORTABLE ELECTRIC HEATER. It's our top pick for best small bathroom heater. At just 9 inches tall and weighing in at 3 pounds, this device puts out a surprising amount of heat.
The heater saves on space and still makes your bathroom a comfortable temperature. The unit offers three different operation modes, two of which provide heat (1500W and 750W) for up to 200 square feet, and a fan mode for cool natural winds. With tip-over and overheat protection, the heater offers a safe yet powerful option for your bathroom. Plus, the sturdy handle makes portability as easy as possible.
Buy on Amazon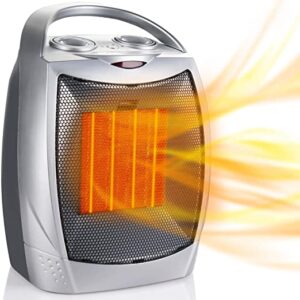 Best bathroom ceiling heater
The modern design of theBROAN-NUTONE 157 CEILING HEATERmakes it a great option for your bathroom. The unit is powered by 1250W and can comfortably heat a 125 square foot space. If you are comfortable wiring a ceiling electrical box, then installation can be completed in about an hour. Otherwise, opt for a professional electrician to do the job.
The unit features automatic overheat protection and a UL Listing, demonstrating it has been tested for safety and reduced risk of fire hazards. Broan-NuTone also offers a variety of timers and thermostats that are compatible and recommended for this product.
Buy on Amazon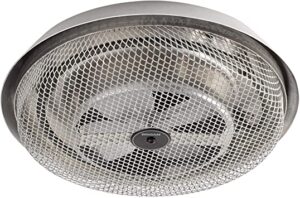 Things to consider when buying a bathroom heater
Whether you're looking for a quick solution, as with a portable bathroom heater, or want to invest in a permanent modification and install a bathroom exhaust fan with heater, there are a few things you'll need to consider.
Space
First, you may want to consider the layout of your bathroom. The average full-size bathroom is around 40 square feet, which is roughly a 5 by 8 feet space. Larger master bathrooms with double vanities can be 150 square feet or more, so consider the amount of space you need to heat.

Powder rooms and half baths can be easily warmed with a small bathroom heater that uses a standard electrical outlet. If, however, you're heating a larger space, consider a wall- or ceiling-mounted bathroom heater for more power.
Durability
If you're looking to invest in a bathroom heater, you'll want one that will last a long time.The typical lifespan for a heater varies by model and can range from 10 to 20 years depending on usage. Some units also come with warranties that range between 1 to 5 years varying by brand.

A durable bathroom heater is one that is made from strong materials, like metal, and has fewer moving parts. Most of those models will be ceiling or wall-mounted options, but some portable units also boast a long lifespan.

Durable bathroom heaters aren't necessarily the most expensive options on the market, but it's important to consider your budget partnered with online reviews. Before investing in a device, see what other buyers have to say.
Noise
Bathroom heaters vary in noise levels. Wall heaters may range in noise from 50 to 60 decibels which is equivalent to the sound of an electric toothbrush. Portable heaters may be quieter with a range of 30 to 40 decibels, or about the volume of a conversation in a library. If creating a quiet space is a priority for you, look for a bathroom heater that boasts quiet operation as one of its features. Paying close attention to the reviews of certain bathroom heaters can help determine what noise levels others have experienced from their heater.
Safety
One of the most important things to keep in mind when purchasing a bathroom heater is safety. As you explore the different models available, look for a few key safety features, including auto shut-off, tip-over protection, and a cool-touch exterior.

These and other safety mechanisms will help prevent accidental fires from the heater being left on too long or from it sitting too close to other objects. The cool-touch and tip-over protection features are especially important if you have children or pets in the home. The online product description or box should identify which of these functionalities is available, keeping you warm and safe.
Professional installation of bathroom heater
Regardless of which heater you choose, there are options to fit every bathroom situation. Keep in mind that some of these options may require professional installation. Use our top questions to ask a contractor when choosing a local pro.