At HVAC.com, our writers create solutions that put you in control of your HVAC system. Our product reviews and recommendations are researched and backed by real buyers and industry experts, not dictated by our partners.
Cold weather camping offers beautiful views and unmatched seclusion, but it's hard to enjoy if you're shivering the whole time. A tent heater is an affordable way to keep cozy and make the most of your fall or winter getaway.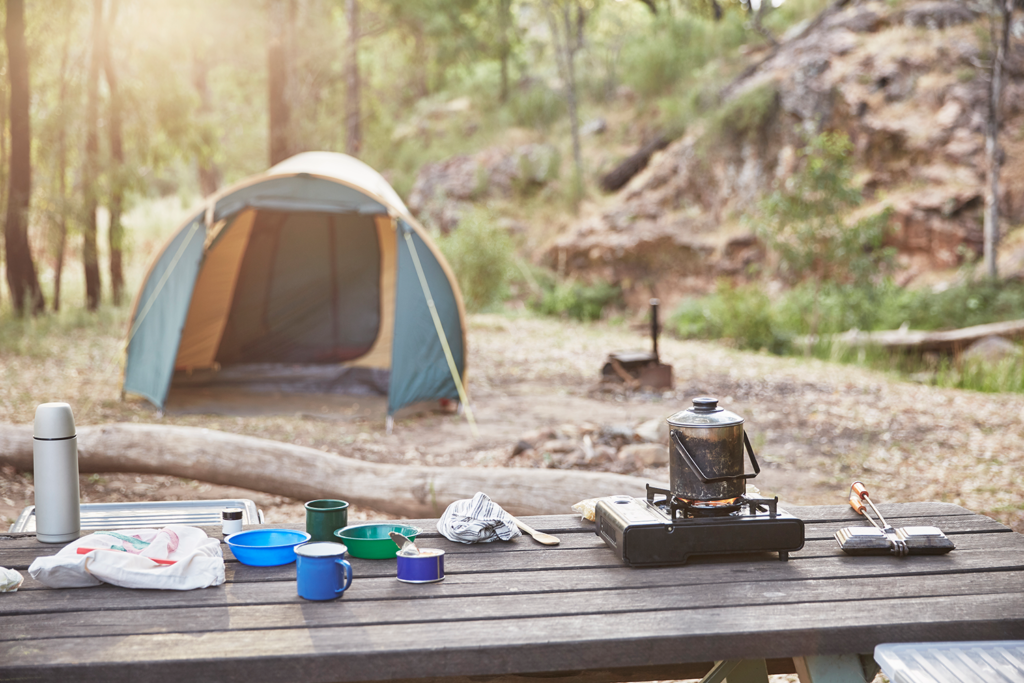 What are tent heaters?
Tent heaters are portable devices that help warm your camping space. Most run on gases like propane or butane, but electric models have become more popular in recent years.
Types of Tent Heaters
Gas: Most gas tent heaters are propane-powered, but some use butane. These models are cordless, and they can be set up anywhere. The portability makes gas-powered tent heaters a great fit for campers who roam far off the grid. To replenish your heater, just bring along a canister of the gas your device runs on. A gas heater's output is measured in BTU (British Thermal Units).
Electric: Electric tent heaters are marketed as a safer alternative to gas-powered heaters. Here's the catch: they need to be plugged into a power source. This means they're ideal for occupied campgrounds, like an RV site. Some are battery-powered or even solar-powered, but the battery life is usually not long-lasting. An electric heaters' output is measured in Watts.
Depending on the model, tent heaters warm anywhere from 50 to 300 sq. ft. of space. A pound of propane or butane will last a gas tent heater anywhere from three to six hours.

Most electric heaters need to be plugged into a power source, so they can warm your tent for as long as they are connected. Some electric models are battery-powered, but the batteries tend to drain within an hour or two.

Small tent heater models can cost as little as $30, but some electric models cost upwards of $1,800. Tent heaters are widely available, both directly from the manufacturers and through third-party retailers.

Generally, tent heaters are not noisy. Most operate below 60 decibels, which is as loud as hair clippers. However, some electric models get loud enough to wake light sleepers on their highest settings.
How does a tent heater work?
When you attach a propane or butane canister to a gas tent heater, an igniter will spark. When the fire and gas combine, your device starts to create heat.

Electric tent heaters often run on batteries or generators. The batteries drain quickly, though, since these heaters work at a high wattage.

There's no installation required for gas tent heaters, but you'll need to bring along canisters of the gas your model uses. Electric tent heaters need an extension cord or a generator, but setting up either type of tent heater is a DIY project.
Are tent heaters safe?
When powering a small and insulated space like a tent, carbon monoxide poisoning is a safety concern. Although gas heaters concern some campers, they are not inherently unsafe when used properly.

Most tent heaters come with safety protocols that help prevent tragic accidents. For example, many have sensors that turn off the device if it's tipped over or gets overheated.
Tent heater safety tips
We have a few more safety tips to keep in mind if you're looking for a gas-powered tent heater:
When you fall asleep, turn your heater off or run it on the lowest setting.
Don't place any clothing or flammable items on top of or near your heater.
Make sure your heater is labeled 'indoor-safe.'
Let some air in. You'll need to ventilate your tent as directed by the heater manufacturer to prevent a carbon monoxide buildup.
Best Tent Heaters
We chose a wide variety of tent heaters for our best-of list. These picks include both gas and electric heaters, and all cost under $100.

We'll go into more detail below, but here's a quick peek at our top tent heaters for camping.
Some of our choices can do more than just heat your tent. We've included multiple 2-in-1 heating and cooling systems, and our versatility pick doubles as a stove.

Whether you're a rugged backpacker or a backyard glamper, we'll help you find the best tent heater for your next excursion.
Best Small Propane Heater
Mr. Heater Little Buddy | $79.39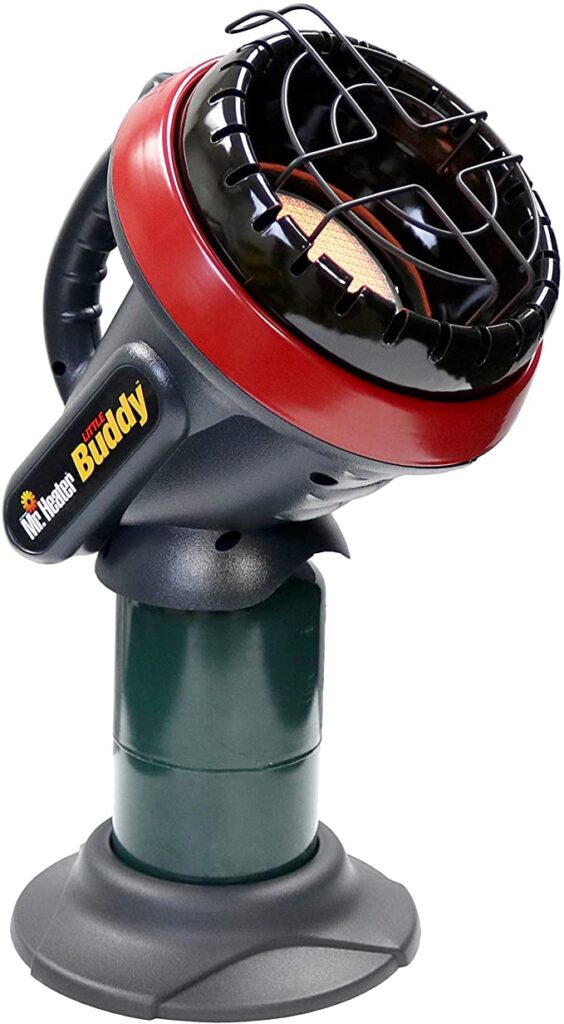 Say hello to our little friend. The Little Buddy portable tent heater powers up to 95 square feet, making it perfect for a couple or small group. 

This 3800 BTU machine can make a pound of propane last almost six hours. If you want something more powerful, the Mr. Heater brand offers higher-BTU options. 

We love the safety settings on this heater. While many tent heaters come equipped with safety measures, the Little Buddy goes above and beyond the competition. This unit comes with a wire guard to prevent burns. The guard helps keep your clothes and hair safely away from the flame.

This heater also comes with a tip-over sensor, but our favorite safety measure on the Little Buddy is its low oxygen detector. This detector will shut off the heat if it senses low oxygen levels, keeping any worries about harmful emissions at bay.

The Little Buddy is a smart choice for small-tent campers. This heater may only weigh five pounds, but it packs a punch with top-notch safety features and a reasonable price tag to boot.
Best Electric Heater
iPower Heater Electric Fan | $69.99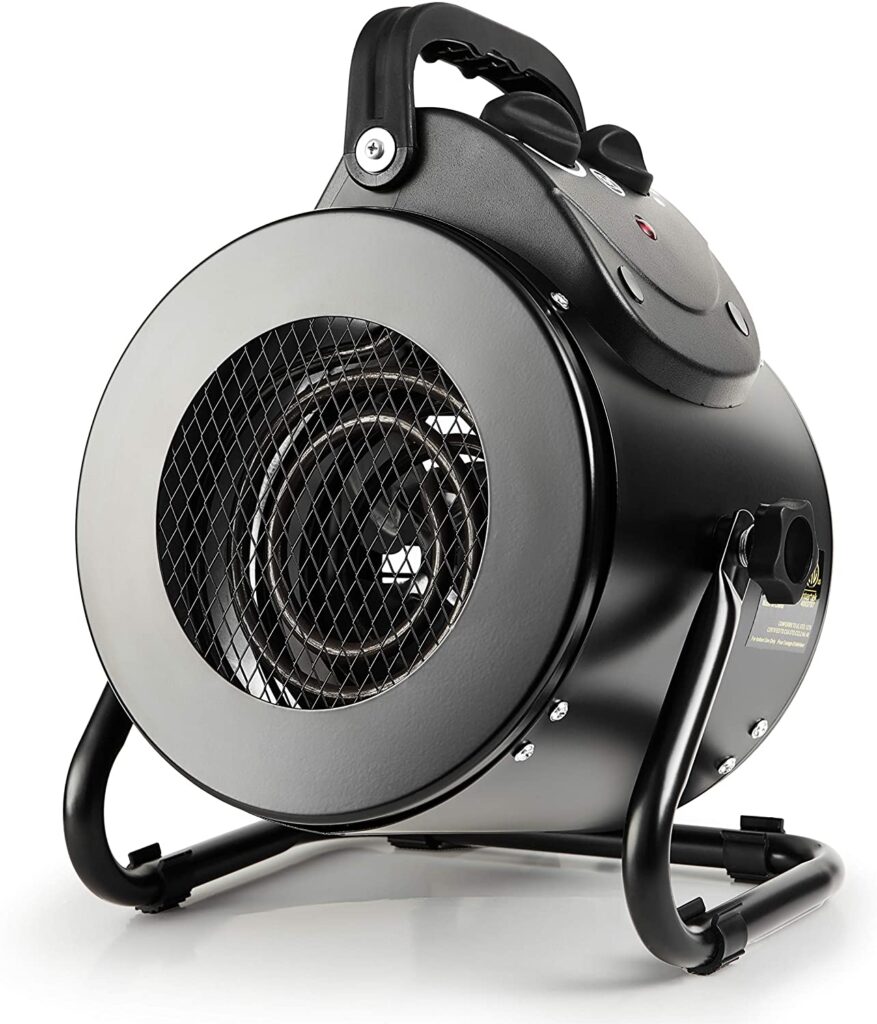 The iPower heater and electric fan was originally designed for greenhouses and grow tents, so it's perfect for camping in wet climates. It boasts IPX4 waterproof status, meaning that it protects from splashing water coming from any direction. 

This heater gets up to 210 degrees, but it comes with safety grills to prevent injuries and burns. It also has an anti-tip design and stands only 13 inches tall.

There's two catches to this heater: for one, it comes unassembled. You can order it assembled, but it'll tack another $115 onto the price tag.

A second drawback is that you'll need a power source for this 120V heater. If you camp in rural, unoccupied areas, you may need to look for a gas-powered model.

Still, we love how this pick is water resistant and packs a lot of heat into a small stature. With the iPower, keeping warm and staying dry is a cinch.
Most Versatile
Campy Gear 2-in-1 Portable Heater and Stove| $55.90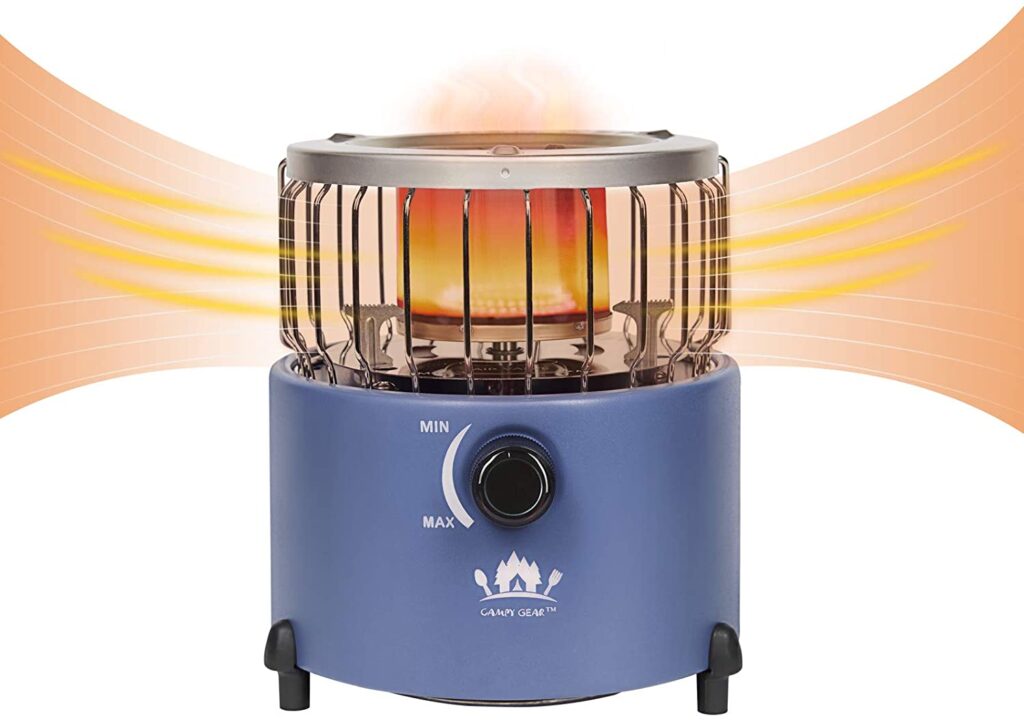 What's a campfire without s'mores? The Campy Gear 2-in-1 heater doubles as a stove, helping both you and your food stay toasty. 

You can use either butane, propane or isobutane to power this flexible device. Just attach a one-pound canister and your heater will get to work.

One pound of gas should be enough to power the heater for 3-5 hours. But if that won't cut it, Campy Gear also has attachment hoses and adapters available. These tools allow you to plug in heavier gas tanks for longer-lasting power.

This heater/stove combo weighs a petite two pounds, making it easier to transport than many competitors can offer.

You'll also have peace of mind knowing Campy Gear stands behind its products. The brand offers a year-long warranty and a 24-hour customer service line.

If you're looking to test your cooking chops on your next camping trip, give this 2-in-1 heater and stove a try.
Best Value
GiveBest Portable Space Heater | $39.99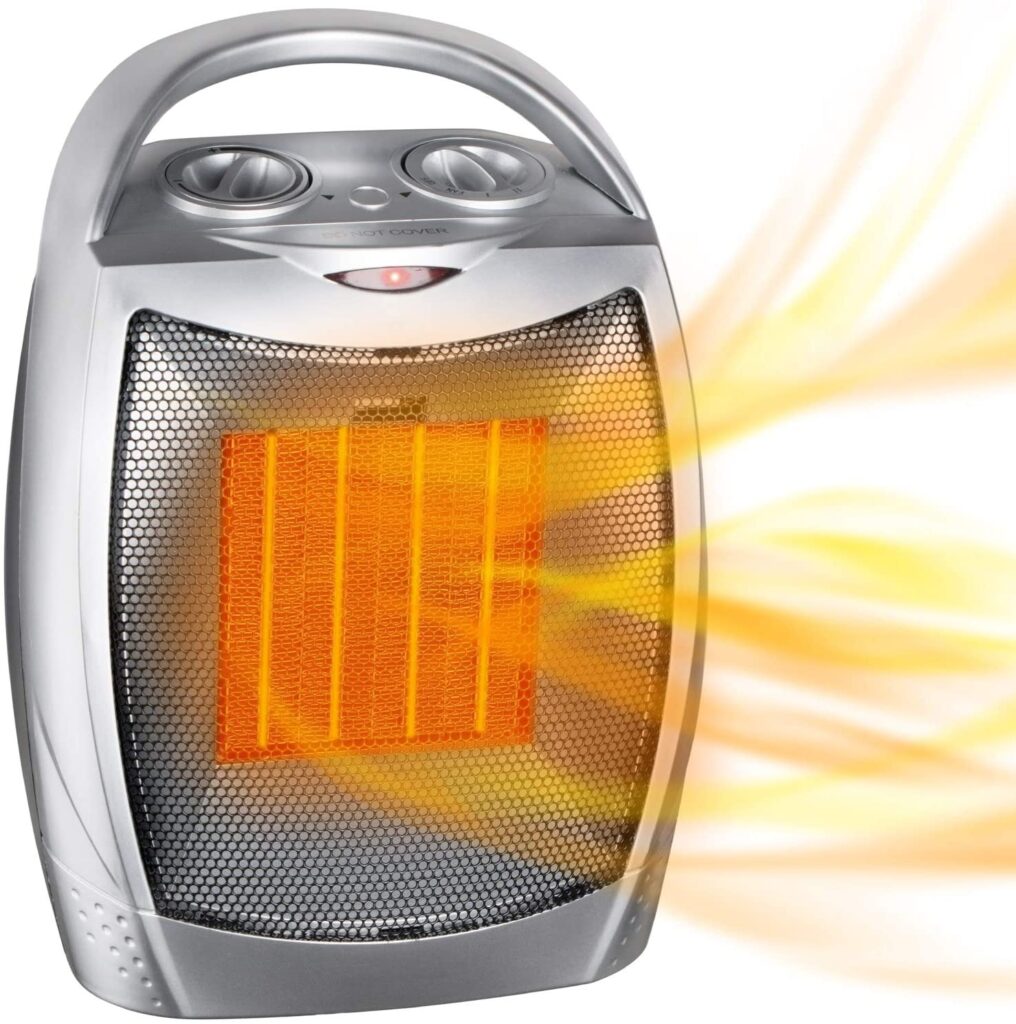 With a $40 price tag, the GiveBest electric tent heater can outperform pricier competitors. It can heat up to 158 degrees in seconds, warming up to 200 sq. ft. of tent space.

This electric pick comes with two heat settings and a cooling setting. If you like to camp somewhere with freezing nights and hot days, the dual heating and cooling could come in handy.

GiveBest's portable tent heater is a petite 3.5 pounds, so it's easy to carry across camp. It operates below 50 decibels, which is about as loud as your fridge.

Safety features also come standard with the GiveBest. If it's overheated or tips over, the heat will automatically shut off. This safety measure makes the heater safe for any pets or children that may join you on your trip.

If you prefer camping on occupied grounds like an RV lot, this 120V electric heater could be a great fit. Campers that prefer going off-the-grid will need to bring a generator if they want to use this electric option.

Between 2-in-1 heating and cooling, safety features, and an affordable price point, there's a lot to love about the GiveBest.

Best for Large Groups
Mr. Heater Big Buddy | $173.23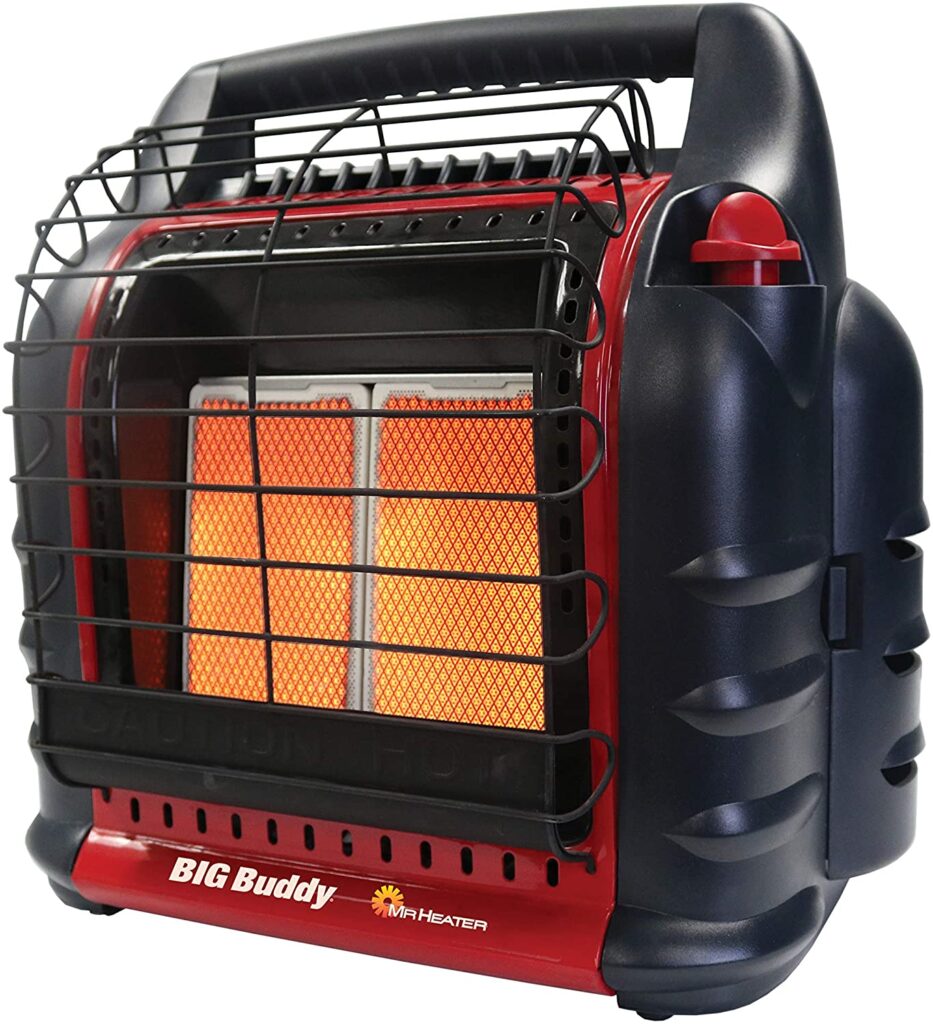 A big group needs a big heater to match. The Mr. Heater Big Buddy can warm 450 square feet of tent space, so you and your group won't have to huddle together to stay cozy. 

To get this heater working, just hook up two one-pound cylinders of propane. Its fuel lasts a mere two hours on its highest 18,000 BTU/hour setting, but you can reduce it to medium or low heat and make the propane last longer.

If you buy your gas in bulk, you're in luck. Mr. Heater sells hose attachments, so you can attach a 20 or 30-pound propane tank.

The Big Buddy has a low oxygen sensor, a tip-over safety shutoff, and grills to cover the heat. Mr. Heater makes reputable gas tent heaters, and the Big Buddy is no exception.
Tent Heaters: Worth the hype?
Camping is a great way to connect with nature. Tent heaters help you get closer with the great outdoors, even when the frigid outdoor air is uninviting.

These budget-friendly devices are a great way to make winter camping more comfortable and safe. With one in hand, the cold will be no match for your next adventure.