At HVAC.com, our writers create solutions that put you in control of your HVAC system. Our product reviews and recommendations are researched and backed by real buyers and industry experts, not dictated by our partners.
Carrier, a highly recognized brand name, sells energy-efficient heating and cooling products for residential and industrial use. Carrier's home lineup includes air conditioners, heat pumps, packaged heating and cooling systems and two types of furnaces: oil and gas.
Skip the search and connect with an HVAC expert.
This guide provides information about Carrier furnaces for residential use in sections covering types of Carrier furnaces, furnace models, pricing, warranties and frequently asked questions.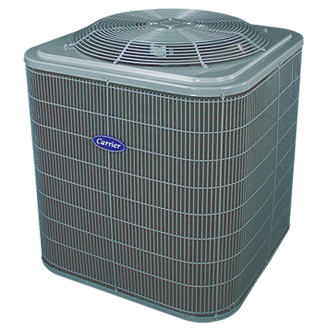 Types of Carrier furnaces
Carrier is owned by United Technologies, a corporation that also manufactures and sells several other brands of HVAC products, including Day and Night, Bryant and Payne. The Carrier brand includes about 20 models of gas furnaces and four models of oil furnaces.
Most gas furnaces classify as single-stage or two-stage. A single-stage gas furnace has only one gas valve, whereas a two-stage furnace has two gas valves for two levels of heating output. However, the most advanced gas furnaces today instead use a single modulating gas valve.
Furnaces also break down into fixed-speed, multi-speed or variable-speed. A fixed-speed motor blower operates at one speed only, whereas a multi-speed blower can be set at a choice of two speeds for better energy efficiency. A variable-speed motor blower uses a technological innovation known as an electronically commutated motor (ECM) with a speed controller to adjust the heating or cooling output your home needs 24 hours a day throughout the year.
Carrier furnace models
Carrier offers oil furnaces in two series. The Comfort series of entry-level oil furnaces consists of 80-plus percent models that are value-driven and affordable. Oil furnaces in the midrange Performance Series are two-stage units providing up to 95 percent AFUE and higher-end features. All of Carrier's oil furnaces come with a combustion/heat exchanger combination for converting oil to heat, plus a proprietary silencer system for quieter operation.
Skip the search and connect with an HVAC expert.
Carrier's much more extensive line of gas furnaces includes three series: the entry-level Comfort series, the mid-range Performance series and the premium Infinity series, which offers advanced features and AFUE of up to 98.6 percent. Specifications differ for the gas furnaces in the Comfort and Performance series in comparison to oil furnaces.
Top Carrier furnace models
Comfort 95 59SC5 Gas Furnace
For small homeowners on a budget seeking very high energy efficiency at a relatively low price, the Comfort™ 95 595C5 makes sense. It is a single-stage gas furnace achieving AFUE of 95 percent or more. Like other gas furnaces from Carrier, this furnace model is also compatible with the company's Hybrid Heat, a separate unit with two-stage compression for enhanced dehumidification during the cooling season.
Recommended controls include Carrier's Performance Edge relative humidity or ComfortZone™ II thermostat. Unfortunately, this furnace uses a fixed-speed ECM torque blower motor, so it is somewhat noisier than the two-stage Carrier furnaces.
Comfort 80 Gas Furnace 58DLA
Do you live in a climate where winters are mild? Then you might not need an AFUE of 90 percent or more. This entry-level gas furnace provides an 80 percent AFUE, which could be all you require.
For quieter operation, the furnace comes in a fully insulated cabinet with Carrier's QuieTech noise reduction technology.
Performance Boost 90 Gas Furnace 59SP5
This model in Carrier's midrange Performance series is a single-stage furnace that comes with several special features to combat humidity, including a multi-speed blower motor and Carrier's Ideal Humidity System for enhancing summer dehumidification from an air conditioner or heat pump.
The furnace also includes proprietary SmartEvap technology, which stops the multi-speed fan while in "Constant ON" to give cooling condensation time to drain away, deterring re-humidification by as much as 10 percent. The model's AFUE rating is 96.5 percent. When you use this furnace with the right cooling system, you can also boost SEER levels for your home, thereby achieving energy cost savings throughout the year.
Skip the search and connect with an HVAC expert.
Performance 96 Gas Furnace 59TPS
Gas furnaces in the midrange Performance series include two-stage units such as the Performance 95 59TPS. To help lower fuel bills this Energy Star-certified unit can reach up to 96.7 AFUE while operating at a lower blower stage 90 percent of the time.
This unit also features a separate air filter cabinet, so you can replace filters without the need to open the furnace itself. However, this unit is pricier than those in the Comfort series while lacking the easy manageability of furnaces in the Infinity series.
Infinity 80 Gas Furnace 58CVA
Like other gas furnaces in Carrier's Infinity lineup, this model features Infinity intelligence for self-configuration and easy management with the use of an Infinity control. The furnace has a rating of only 80 AFUE, so it is not ideal for very cold winters.
However, it is a two-stage unit with a constant airflow ECM blower motor for quiet operation and motor efficiency when used with the proper cooling components. The furnace also provides four choices of "Constant ON" fan speed operation.
Infinity 80 Ultra-Low NOx Gas Furnace 58CUO
The Infinity 80 58CUO gas furnace offers similar features to the Infinity 80 58CVA, with two exceptions. First, it is a single-stage unit. More importantly, though, the Ultra-Low Nox furnace is designed to comply with new requirements for dramatically lowered nitrous oxide (NOx) emissions from California's South Coast Air Quality Management District and San Joaquin Valley Air Pollution Control District.
As these agencies see it, NOx contributes to the deterioration of water quality and the formation of smog and acid rain. If you live in these jurisdictions, and you cannot afford the higher price of an Infinity model, Carrier also offers two Ultra-Low Nox models in its lower-cost Comfort series. Plus, you can put in special orders for Ulta-Low Nox versions of additional models from Carrier.
Skip the search and connect with an HVAC expert.
Infinity 98 Gas Furnace 59MN7
With an AFUE of up to 98.5 percent, the Infinity 98 — Carrier's most expensive furnace — is the most technically advanced unit in Carrier's gas lineup, delivering the best efficiency and noise reduction. Carrier achieves this efficiency through proprietary Greenspeed technology. Greenspeed combines the Infinity control unit's built-in intelligence with the adaptable-speed technology of a one-of-a-kind modulating gas valve.
The furnace can adapt its output to the needs of the home in one percent increments between 40 and 100 percent, providing only the amount of heating that's necessary. The only downside to this highly sophisticated unit is its hefty price tag.
Comfort 80 OBM Oil Furnace
The Comfort 80 oil furnace is an entry-level model with flexible installation options, including upflow, downflow, and horizontal. Like Carrier's other oil furnaces, it comes with your choice of a Beckett or Riello burner.
Its fixed-speed blower might otherwise be noisy, but the unit sits in an insulated cabinet with flue silencer baffles. Because this is an oil furnace, you will spend more on fuel than you would with a gas furnace, even though the furnace itself will probably cost you less.
Performance 80 OVM Oil Heater
The Performance 80 OVM oil heater offers similar features to the Comfort 80 OBM. Instead of a fixed-speed blower, it uses a variable-speed blower to help even out temperature swings and reduce noise.
Like the Comfort 80 OBM, the Performance 80 OVM achieves an AFUE rating of up to 86 percent. Unlike the Comfort 80 OVM, however, the Performance 80 is Energy Star-compliant in select sizes. You can decide whether the quieter operation and improved comfort and energy efficiency are worth the extra money to you.
Performance 80 OVL Oil Furnace
In some smaller homes, it can prove difficult to find a suitable place for fitting a furnace. The Performance 80 OVL is a low-clearance version of the Performance 80 OVM, with a Low-Boy design crafted to fit into spaces 39.25-inches high or less, such as attics.
This unit has an AFUE rating of up to 86.6 percent. It also meets Energy Star specifications. In contrast to the Performance 80 OVM, which provides flexible installation, the OVL model can be installed as an upflow furnace only.
Carrier furnace pricing
Carrier pricing depends on type of furnace, its features, the size of the home, and installation. Homeguide.com estimates $3,100 as the cost of parts and installation for a Carrier gas furnace for an average 1,800 square foot home using a 100,000 BTU furnace. For parts and installation of a Carrier oil furnace in an average 1,800 square foot home, assuming a 250-gallon oil tank, you can expect to pay $5,100.
The best way to get accurate product recommendations and pricing information is to contact a local HVAC professional.
Carrier furnace warranties
Many Carrier models have a lifetime warranty for the heat exchanger, while others offer a 20-year warranty. Most models also provide a ten-year warranty for other parts. You must register your warranty within a set time period in order to get full coverage. Optional warranties on labor are also available with Carrier furnaces.
Carrier furnace reviews
You can learn more about Carrier furnace models by reading Carrier furnace reviews on HVAC.com.
Skip the search and connect with an HVAC expert.
Frequently asked questions
How much does a Carrier furnace cost?
Pricing depends on type of furnace, size, features, type of home, and installation. For parts and installation of a Carrier furnace for an average 1,800-square-foot home, you can expect to pay about $3,100 for a gas furnace and $5,100 for an oil furnace.
Where can I buy a Carrier furnace?
You can buy a Carrier furnace from all HVAC dealers authorized to sell and install Carrier products.
How long will a Carrier furnace last?
Depending on the model, Carrier provides either a lifetime or 20-year warranty for the heat exchanger in addition to a 10-year warranty for other parts. As such, the furnace should last you at least 10 years, although you might need to pay for replacement parts after that.