At HVAC.com, our writers create solutions that put you in control of your HVAC system. Our product reviews and recommendations are researched and backed by real buyers and industry experts, not dictated by our partners.
Central Boiler has been manufacturing outdoor wood furnaces since 1984. Based in Greenbush, Minnesota, Central Boiler is the largest outdoor manufacturer of the outdoor furnace.

The company's outdoor furnaces work similar to a standard central heating unit but use wood as the fuel. However, the EPA has been heavily regulating the use of the outdoor wood-burning furnaces, making it harder to find options.

Read on for more information on how outdoor wood furnaces work and a roundup of Central Boiler pricing and units.
How does an outdoor wood furnace work?
An outdoor wood-burning furnace uses wood to create heat, known as gasification. Outdoor wood-burning furnaces are also known as hydronic heaters.

According to the EPA, a hydronic heater burns wood to create heat. The heat is transferred to a liquid anti-freeze solution that is piped into the home to warm the zone.

Burning wood causes smoke and more emissions than other types of central heating fuels. That's why it's necessary for the furnace to sit outdoors for optimal air circulation. The unit can be hooked up to an existing system and sits outside between 30 and 500 feet away from the house.
Central Boiler outdoor wood furnace pros and cons
If you are not too familiar with how an outdoor wood furnace works, weigh the pros and cons. Speaking with an experienced outdoor wood-burning furnace technician will give you insight into the pipes and other accessories needed to connect to your home's current heating system.
Pros
Ideal alternative fuel for off-the-grid installation
Clean burning when using properly-seasoned wood
Relatively energy efficient
Cons
Best for homeowners with affordable, easy access to firewood
Wood storage could require lots of space
You'll need to load the furnace regularly to ensure a constant heat supply
Central Boiler outdoor wood furnace prices
If an outdoor wood furnace sounds like a possible option, finding an affordable boiler may be your next step. We referred to Central Boiler outdoor wood furnace prices and looked at the two most popular models.
Classic Edge | $9,950 – $12,600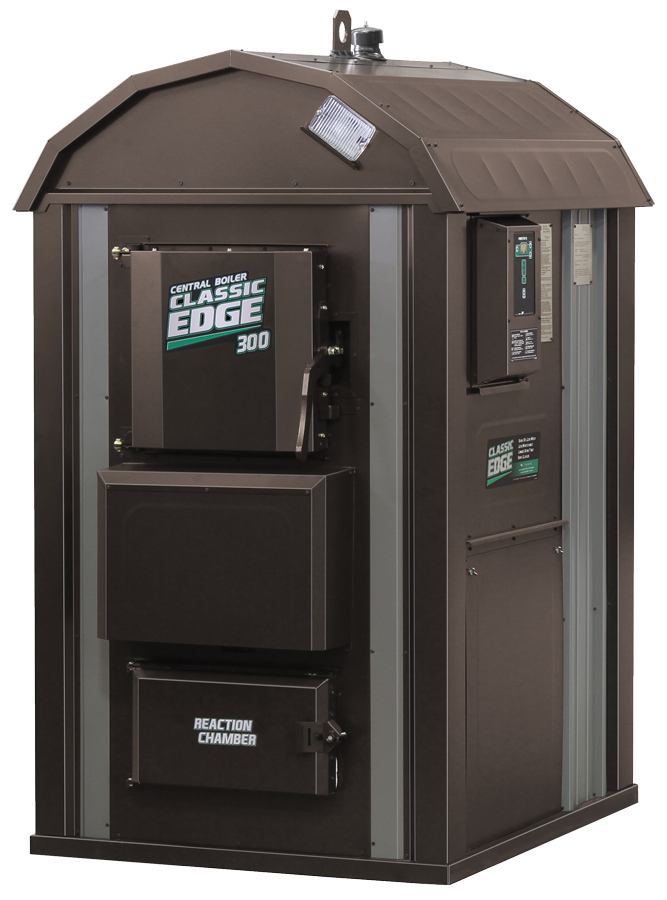 The Classic Edge model improved on the original Central Boiler Classic introduction. It is built to avoid corrosion using stainless steel or titanium-enhanced stainless steel fireboxes for durability.

The Classic Edge was the first outdoor wood furnace to receive CSA and UL certification. The variety of BTU ranges in the model is between 170K and 245K. A water tank capacity of up to 410 gallons is capable of heating a variety of indoor environments.

Classic Edge furnaces can range in price between $9,950 and $12,600, depending on the firebox material and size. However, the price does not include supplies and installation, which can add up to $2,400 to the cost.
E-Classic | $10,400 – $16,200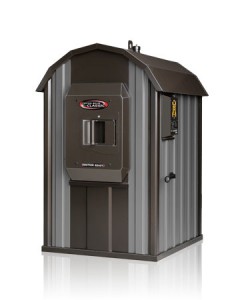 Since outdoor furnaces run most of the day and night to keep a home, barn or other structure warm, questions were raised about how the constant wood burning can affect air quality. The EPA has limited the sale and production of outdoor wood-burning furnaces over the years.

The E-Classic outdoor wood furnace was designed by Central Boiler to burn more efficiently, meeting the EPA's tightening restrictions. The model makes starting a fire easier, with a gas-fired ignition option that takes some of the work out of lighting a fire. The ignition may be convenient, but keep in mind it will need the installation of a gas line, which could require its own permits and adds to the cost of installing an outdoor wood furnace.

E-Classic models can cost between $10,400 and $16,200 for the furnace. Add up to another $2,700 in materials and installation.
How to install a Central Boiler outdoor wood furnace
Depending on the area you live in, you may need to hire a licensed contractor to install an outdoor wood furnace. If you're trying to gauge whether you're able to install the outdoor furnace yourself, review these seven outdoor wood furnace installation steps:

Build a concrete pad 4" or thicker for the furnace to sit on.
Dig a trench for the PEX (hot water) pipe leading into your house. The trench should be well below the frost line to prevent the fluid in the line from freezing.
Secure the furnace to the concrete pad and mount a heat exchanger using an L – bracket to secure it in place.
Make the water connections between the furnace, water heater and heat exchanger.
Connect the thermostat and wiring to the circuit breaker and the furnace.
Add water to the furnace to fill the PEX pipe.
Add wood and ignite to start the heating process.
Outdoor wood furnace local regulations
Many states have restrictions and regulations on how to run an outdoor wood-burning furnace. To find out about your local area, contact your state air agency. Here are some examples:

Colorado: Burning restrictions are in effect during red or high-pollution days for homes located in metro areas under 7,000 feet.
Michigan: Outdoor wood furnaces are a common source of neighbor complaints. Measures must be taken to "mitigate smoke exposure" such as extending the chimney height.
Oregon: The state could curtail homeowners from using their outdoor furnaces during periods of air stagnation.
Is a Central Boiler outdoor wood furnace the best option?
An outdoor wood-burning furnace has many advantages. If you have easy access to clean firewood and don't mind refilling the firebox throughout the day and evening, you will find you are less dependent on local utilities for your heat source.

However, depending on your area, there may be air-quality restrictions on how often or how long you can burn wood to keep your home warm. Before you purchase a model, do your research and look into your local and state ordinances regarding these furnaces.