At HVAC.com, our writers create solutions that put you in control of your HVAC system. Our product reviews and recommendations are researched and backed by real buyers and industry experts, not dictated by our partners.
Having a new furnace installed is a big job – for the money you'll be investing in a new heating system, you need to make sure the installation job is done right. Proper furnace installation helps your new equipment to perform properly, offer labeled efficiency ratings, and deliver years of warmth. HVAC.com is here to offer the furnace installation help you need when purchasing a new heating system.
Choosing a Contractor for Furnace Installation Help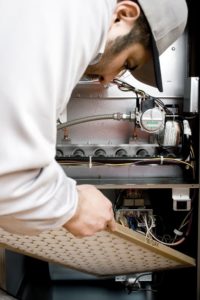 Furnace installation should always be performed by a licensed, qualified HVAC professional. A furnace is a complicated mechanical system – you should never attempt to install a new heating system by yourself.
Working with a qualified contractor protects your investment. A licensed contractor offers skilled furnace installation help, so your new heating system will perform as expected. Evaluate these factors when choosing a furnace installation contractor.
Cost of Furnace Installation Help
When you receive a quote from an HVAC contractor for furnace installation help, components of the quote include the actual cost of the furnace, and the contractor's cost to install it.
The average cost of furnace installation help in the U.S. is $4,200. The total cost of the job may vary due to factors concerning the equipment (such as fuel type or features) and those having to do with the installation (if there is additional work the contractor must do to facilitate the new furnace, such as installing ductwork).
Preparing for Furnace Installation
While homeowners should never attempt to install the actual equipment on their own, there are many things that can be done to prep for furnace installation. Investigating equipment options, finding a quality furnace installer, and getting your home ready for the job are just a few things you can do to help your furnace installation go smoothly. Check out our guide to HVAC installation for more tips.
Furnace Installation Help – Common Questions
Installing a new furnace is something homeowners will likely have to do a few times over the years, depending on the length of time in the home and other factors. If you've never had to do it before, you likely have many questions. HVAC.com has the furnace installation help you need – find the answers to frequently asked furnace installation questions on our blog.