At HVAC.com, our writers create solutions that put you in control of your HVAC system. Our product reviews and recommendations are researched and backed by real buyers and industry experts, not dictated by our partners.
Weird smells circulating through your home? Is it coming from your furnace? Are you in danger? Furnace smells are indicative of many issues that are important not to ignore, both for the safety of your family and the furnace itself. Three Smells You Should Never Ignore from Your Furnace: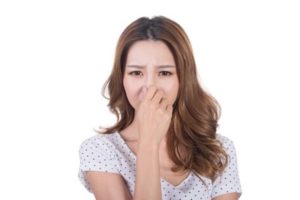 1.) Rotten Eggs Smell: The rotten egg odor is a profound indicator that there is a natural gas leak and should immediately be taken care of. Open doors and windows to let fresh air in and evacuate the house. Making sure to stand away from your home, call 9-1-1 and then your gas company.
2) A Burning Electrical or Metallic Smell: If you smell any odor similar to an overheated motor this could be a sign your furnace blower motor is seizing up due to worn bearings. This can lead the motor to use excessive voltage and overheat. In addition to the motor overheating it can cause the wires attached to it to melt and produce an electrical hazard. If you smell a burning electrical smell throughout your home, turn off your furnace at the thermostat and call an HVAC technician to inspect your furnace.
3.) Chemical Aroma: Odors that resemble the chemical formaldehyde scent may indicate a cracked heat exchanger, which is a very serious issue. The heat exchanger is the mechanical function inside the furnace that transfers heat from the combustion chamber to the furnace plenum. If the heat exchanger is cracked, poisonousness carbon monoxide fumes can be circulated through the home's duct work. With that being said, treat any chemical smell with caution and respect, it is always better to be safe than sorry!