At HVAC.com, our writers create solutions that put you in control of your HVAC system. Our product reviews and recommendations are researched and backed by real buyers and industry experts, not dictated by our partners.
Got Goodman furnace problems? Check out these DIY Goodman furnace troubleshooting tips. They may save you the trouble and expense of calling a repair technician.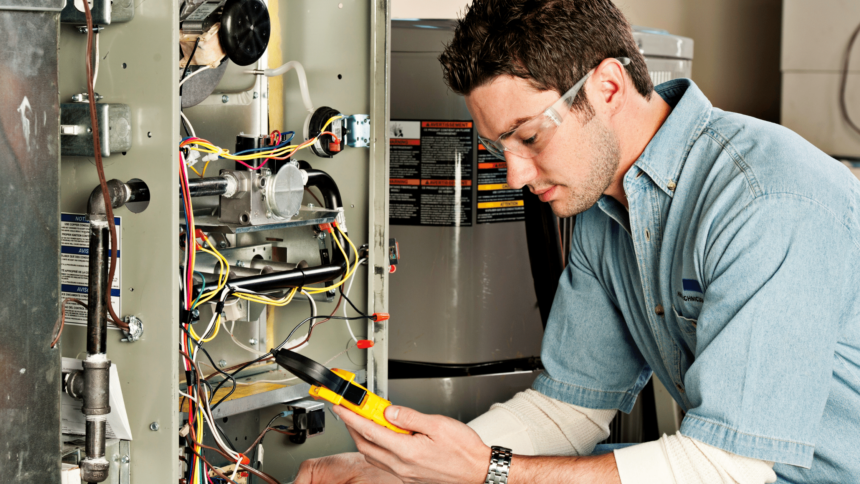 Goodman furnace isn't turning on
If your Goodman furnace isn't turning on, check your circuit breaker or fuse box first. You may need to reset the circuit or repair a blown fuse.
If that doesn't fix the issue, try resetting the furnace. You can remove the front access panel to find and press the reset button. Refer to the owner's manual if you need instructions on how to do this.
If these Goodman furnace troubleshooting tips don't get your furnace running, consider calling an electrician before contacting an HVAC tech.
Goodman furnace isn't blowing hot air
First, check your thermostat if your Goodman furnace isn't blowing hot air. It should be set to "auto" and "heat." If it's set to "on," your fan will blow air constantly, even when it's not actively heating.
Next, check your air filter. You should change your furnace air filter regularly. Check out our instructions on how to do this yourself. You can pick up a new furnace filterfor less than $20. They're also available at stores like Walmart and Lowe's.
Open the access panel and give your burner a look. If it's dusty or dirty, you can clean it by blowing canned air or wiping it with a damp, soft cloth. Always make sure you turn the furnace off before handling any internal parts.
Finally, look at your flame sensor. If it's dirty, it can be removed and cleaned with steel wool that has no detergents. However, our HVAC experts also recommend using a dollar bill for cleaning. It's durable enough to be effective but less likely to break or damage the sensor. If the sensor is cracked or damaged, you'll need an HVAC technician to repair the part.
Goodman troubleshooting guides
Goodman furnace is cycling irregularly
Furnace cycles typically last about 15 minutes. If your Goodman furnace is cycling irregularly, first check your air filter. If it's full of dust or other contaminants, change it out for a new furnace filter.
Next, make sure the vents in your home are open. At least 75% of the vents should have open grates for your furnace to function properly. Check that they aren't blocked by furniture, laundry piles, Amazon boxes, etc.
If that doesn't solve the problem, check your furnace ventilation. Most furnaces have an exhaust flue leading out to the roof or an external wall of the home. Make sure it's not blocked or clogged by things like a snow pile or bird's nest.
Next, open the access panel to check your burner. If it's dirty, you can clean it with canned air or a soft rag (always turn the furnace off first).
The flame sensor may also be dirty. If so, remove and scrub it with detergent-free steel wool. If it's visibly broken, you'll need a pro to replace the part.
Goodman furnace won't turn off
If your Goodman furnace won't turn off, the first thing to check is your thermostat. Ensure it's set to "heat" and "auto" (not "on"). The temperature should be set around 72℉. If the temperature is set too high, it could cause this problem.
Your home may be allowing hot air from the furnace to escape. Check for drafts around windows and doors. The Environmental Protection Agency has some good tips for air sealing. Consider investing in draft stoppers and weatherstrip to keep hot air in.
Other causes of a constantly running furnace may be a faulty limit switch, a broken power control board, or a malfunctioning thermostat. These aren't DIY issues. You'll need to call in a pro.
Goodman furnace codes
Sometimes, your furnace may give you a clue about what's wrong. Below is a list of common Goodman furnace codes and what they mean for you.
You can usually see the error light on your Goodman furnace through a small opening in the front cabinet. Write down the error code and share it with your furnace repair person. If you power off the furnace, the code will reset and may not be visible when the technician arrives.
| Light status | What it means | DIY or not? |
| --- | --- | --- |
| Solid on | No connection to thermostat | Check thermostat settings. Check power to thermostat. If that doesn't help, call a pro. |
| Blinking on and off | Furnace ignition failure | Turn furnace off and back on. If that doesn't help, call a pro. |
| Rapid blinking | Power supply polarity reversed | Call a technician. This isn't a DIY fix. |
| 2 blinks | Blower or pressure switch failure | Check if there's been a short or blown fuse. If that doesn't help, call a pro. |
| 3 blinks | Pressure switch open | Call a technician. This isn't a DIY fix. |
| 4 blinks | Primary limit switch open | Replace air filter. Open vents. Ensure exhaust flue isn't blocked. Check power supply. If that doesn't help, call a pro. |
| 5 blinks | Flame present but no call for heat | There could be a gas leak. Turn the furnace off immediately and call a technician. |
| 6 blinks | Reversed polarity | Call a technician. This isn't a DIY fix. |
| 7 blinks | Low flame | Call a technician. This isn't a DIY fix. |
| 8 blinks | Igniter circuit failure | Call a technician. This isn't a DIY fix. |
| 9 blinks | High state pressure switch open | Check for loose electrical connection at the switch. An electrician can help you do this. Inspect pressure hose for crimping. If that doesn't help, call a pro. |
Goodman furnace owner's manual
We've provided links below to the owner's manuals for Goodman's current line of furnaces. These may provide more Goodman furnace troubleshooting ideas. They may also help you identify parts while you're troubleshooting.
If you don't see your model listed below, you can find product information here.
When to call a pro for Goodman furnace problems
If the Goodman furnace troubleshooting tips above don't work, give a professional HVAC technician a call. You can also reach out for help if you're uncomfortable trying to troubleshoot on your own.
Click below to schedule an appointment with a local furnace repair pro who can get your Goodman furnace working.
Book a local furnace repair pro