At HVAC.com, our writers create solutions that put you in control of your HVAC system. Our product reviews and recommendations are researched and backed by real buyers and industry experts, not dictated by our partners.
The X6672 Lennox furnace filter is a carbon clean pleated air filter designed to deliver superior air filtration to your home. Measuring 16"x25"x5", the Lennox X6672 furnace filter replacement offers MERV 16 filtration, making it the best option you have for filtration short of a HEPA air cleaning system. The filter's carbon coating aides in eliminating harmful airborne contaminants within your home.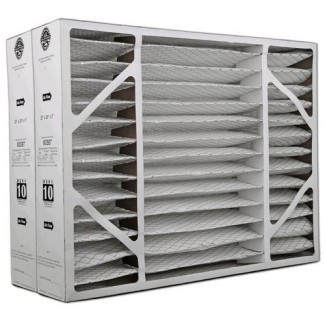 About the X6672 Lennox Furnace Filter
The Lennox X6672 furnace filter replacement fits the Lennox HCC16-28 air cleaner.  This filter offers efficient removal of airborne pollutants including:
Viruses
Bacteria
Molds
Volatile Organic Compounds (VOCs)
Carbon monoxide
Pesticides
Formaldehyde
Dust mites
Pet dander
Dust
Fungi
Smoke
Mildew
The Lennox X6672 furnace filter replacement captures over 90 percent of harmful particles down to 0.1 micron in size, and over 95 percent of particles down to 0.3 microns in size. With this filter installed, your home will benefit from hospital level filtration and superior contaminant removal.
Genuine Lennox furnace filters are created with the exact measurements of the units they serve, ensuring a proper fit and correct seal. With genuine Lennox furnace filters inside your Lennox air cleaner, you'll receive the high level of contaminant control you expect. You may also see the name Lennox Healthy Climate Solutions on this model of filter – rest assured that it is a genuine Lennox furnace filter, as Lennox Healthy Climate Solutions is a Lennox brand.
Your Lennox X6672 furnace filter should be replaced approximately every 9 to 12 months for best performance. Changing your furnace filter replacement regularly protects your HVAC system's blower motor from overwork and inefficiency while helping your home with the best filtration possible. Using your Lennox furnace filter for too long can not only damage your heating and cooling systems and indoor air quality equipment, but burden your family with the harmful effects of improperly filtered air.
This Lennox furnace filter includes a carbon backing for added benefits to your household. The carbon works to neutralize odors as they pass through your air supply. Smoking, cooking, pet, and other odors are removed, so clean, fresh smelling air circulates back into your home.
X6672 Lennox Furnace Filter Product Overview
Learn more about the X6672 Lennox furnace filter and its great benefits by viewing our informational furnace filter replacement video. Our customer service team is here to assist you if you have any questions about this model or any other furnace filter replacements.
Find Furnace Filter Replacement Help on HVAC.com
HVAC.com is packed full of information to help you learn about Lennox furnace filters and how to perform furnace filter replacement. If you need help replacing your HVAC system's furnace filter, use our HVAC Contractor Directory to locate a heating and cooling contractor near you. Search by your ZIP code to see a complete listing of all HVAC contractors serving your area.