At HVAC.com, our writers create solutions that put you in control of your HVAC system. Our product reviews and recommendations are researched and backed by real buyers and industry experts, not dictated by our partners.
With so many heating options for homes, it's a smart idea to investigate several brands to see what equipment offers the performance and features you want. Trane is one of the many great manufacturers in the HVAC space, producing quality furnaces and heating systems.
About Trane Furnaces and Trane Heating Systems
Trane has been in the HVAC business for more than 120 years, producing innovative heating systems since their very start! Trane furnaces and Trane heating systems are made utilizing detailed design and the latest technology, and are rigorously tested for durability. Quality Trane heating solutions include natural gas furnaces and heat pumps.
Installing a Trane Furnace or Trane Heating System
New Trane furnaces and Trane heating systems should always be installed by a qualified professional HVAC technician. For extra assurance, consider working with a Trane Comfort Specialist. Trane Comfort Specialists are dealers who are certified directly by the brand, and are up-to-date on the latest innovations Trane uses to produce quality heating solutions.
Caring for Your Trane Furnace or Trane Heating System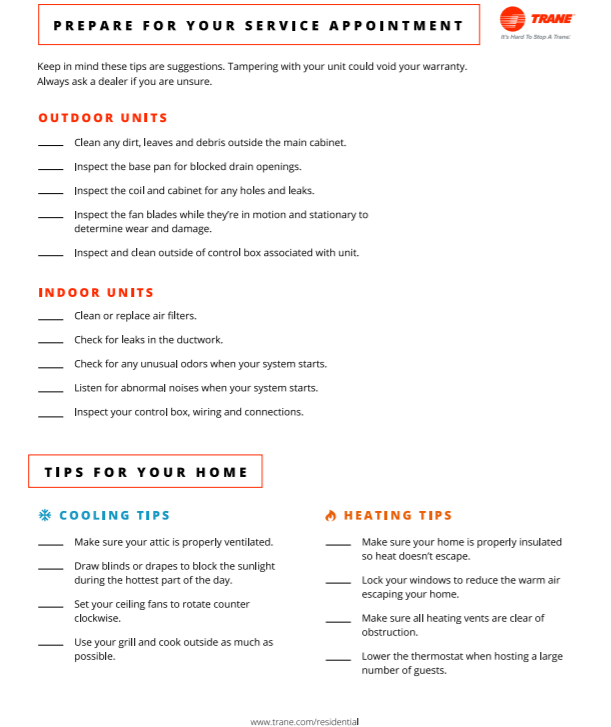 Trane furnaces and Trane heating systems require preventative maintenance to perform properly throughout the year. Trane furnaces should be professionally maintained once a year, ideally before the start of heating season. Trane heating systems like heat pumps need maintenance twice per year, as they operate to deliver both heating and cooling. Professional preventative maintenance works to maintain performance, boost efficiency, limit breakdowns, and extend service lifetime.
Prior to having a Trane maintenance specialist visit your home, the checklist to the right gives you some tips for preparing.
Homeowners should change the filter in their Trane furnace or Trane heating system as recommended by the filter manufacturer. Most filters should be changed every 3 to 4 months. A clean air filter helps your Trane furnace or Trane heating system deliver cleaner air to your living areas and maintain efficiency.