Maintenance is an essential component of caring for any HVAC system in the home. The heating, cooling, and indoor air quality systems in your home are mechanical systems – just like your vehicle, they need regular TLC to keep running properly. Maintenance also offers great benefits, keeping your expenses low thanks to lowered energy use and longer system life.
Learn HVAC maintenance basics you can perform throughout the year in our Maintenance Guide. Also, working with a qualified HVAC technician seasonally, depending on the types of heating and cooling systems your home is equipped with, will better the performance and efficiency of your systems. The maintenance needs of your HVAC systems are detailed in this guide.
Month-by-Month Guide to HVAC Maintenance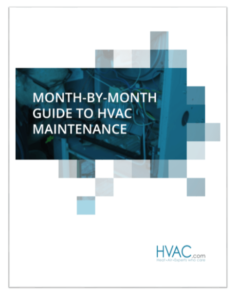 Just like any critical piece of equipment, your heating and cooling systems require regular HVAC maintenance to keep them running properly. Home and business owners should stay on top of maintenance tasks year-round to improve system performance and efficiency.
Download this month-by-month guide to learn how to care for your HVAC equipment throughout the year.