Lennox Air Filters – Healthy Climate
Asthma and Allergies strike one out of five Americans, totaling to about 60 Million people. More Americans than ever say they are suffering from allergies. Are you one of them? The rapid rise in pollution in the past few decades has adversely changed the Earth's air quality. Increasing the amount of allergy triggers such as pollen (tree, grass and weed), mold spores,  bacteria and dust particles in our outdoor air. All of these particles mix in easily with our breathing air causing asthma, respiratory diseases and other common allergies.
Allergy/Asthma suffers may have troubles breathing outside because of the air quality, especially during the most humid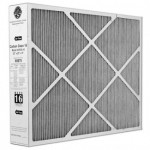 months of the year, summer. Although there is not much that can be done to rectify the air outside, there is no reason to suffer inside your home! HVAC.com has a recommendation to create a healthier home for you and your family. HVAC.com has tried and tested all of their products to ensure customer satisfaction, and after testing all products, HVAC.com recommends a Lennox Healthy Climate Air Filter as the best solution to keep your air healthy and protected from pollutants stated above.
The superiority of Lennox air filters comes from their composition. Compared to other air filters composed of the typical Fiber glass material, they are restricted to only remove large airborne particles. Lennox Air Filters remove the smallest contaminants that even the standard filters can't stop. It isn't just our opinion, the performance of Lennox Healthy Climate Air Filters has been renowned worldwide being compared to the effectiveness of a MERV 16 filter. Because of the excellent air flow characteristics and exceptional particle filtration capabilities, Lennox Healthy Climate Air Filters defends the health of you and your family as well as the condition of your heating and cooling equipment in which they are installed.
As an added bonus, Lennox Air Filters are backed by a five year limited warranty on covered components. At HVAC.com, we take the utmost care in providing you with products of the highest quality. Therefore if something goes wrong with your filter that is not covered by Lennox's warranty, HVAC.com has a 365 day hassle free money back guarantee. Choosing Lennox Filters is an excellent way to upgrade from the generic "rock catcher" fiber glass filters in your local hardware store. Lennox is one of the most trusted brand names in the industry as well as one of the most respected names in home comfort and indoor air quality industry.
If you need any more information or have any questions as you consider a Lennox Healthy Climate Air Filter purchase, please do not hesitate to contact our customer support team via email by clicking here: I Have A Question
As always, Thank You for shopping at HVAC.com. We sincerely appreciate your business!