Some think choosing a furnace filter is as easy as driving down to your local hardware store and picking one off the shelf. Although this is a easy and convenient route to take, HVAC.com begs to differ. Based on over 60 years of heating, cooling and air cleaning experience, we know making the right filter choice can significantly reduce the amount of dust in your home, severely reduce allergy or asthma problems, and even expand the life of your furnace!
Here are the three most important things to take note of before you begin your search:
1) What Type of Filter?: Pleated, non-pleated, boxed media air cleaner, electrostatic, electronic, or HEPA
2) What Size?: What size filter do you currently have? This is the time to consider if you want to get the same size as your pre-existing filter or, do you want to install a new, larger and more effective air cleaner?
3) What Kind of Filter Quality or Effectiveness Do I Need?: As you can imagine, filters vary in their performance.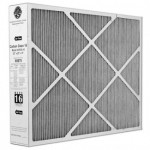 If your main issue lies within airborne particles, such as dust and dirt – You need to increase the MERV rating on your furnace filter. The MERV rating is the measurement used to find the furnace filter's effectiveness in dealing with particulates. Click Here to learn more about MERV ratings in our article entitled "What Is MERV?".
If your problem is associated with bio-aerosols, such as odors or chemicals and/or if you have problems with VOCs (Volatile Organic Compounds) – There are furnace filters to address each of these issues. You may also want to consider purchasing an air purifier which can fix all of the issues stated above! For example, the Lennox PureAir air purification system does an excellent job of dealing with particulates, bio-aerosols, and VOCs and is one of the highest-quality units you can buy anywhere.
As always, we are just a quick call away and more than happy to help in your decision. If you need any more information or have any questions as you consider a furnace humidifier purchase, please do not hesitate to contact our customer support team via email by clicking here: I Have A Furnace Filter Question or by phone, 1-855-932-4822
We have personally installed and used every product that you see on our website; that means everything you see is something we've tested and something we loved. Your specific needs will determine which replacement furnace filter to choose. We're happy to help you select the right filter – just send us an email!