At HVAC.com, our writers create solutions that put you in control of your HVAC system. Our product reviews and recommendations are researched and backed by real buyers and industry experts, not dictated by our partners.
This winter, gain the ambiance and warmth of a fireplace without the mess or hazard! Crane electric fireplace heaters offer effective space heating for rooms with the warm glow of an actual fireplace! Ideal for bedrooms, offices, dens, and other spaces around the home, gain the extra heat you need along with the look of a real fireplace!
About Crane Electric Fireplace Heaters
Crane electric fireplace heaters are compact electric heaters, measuring 15 inches tall and 7.5 inches wide. Crane electric fireplace heaters are portable and feature a handle for easy moving between rooms. This stylish heater comes in black, white, or red finishes and features modern design to fit any interiors.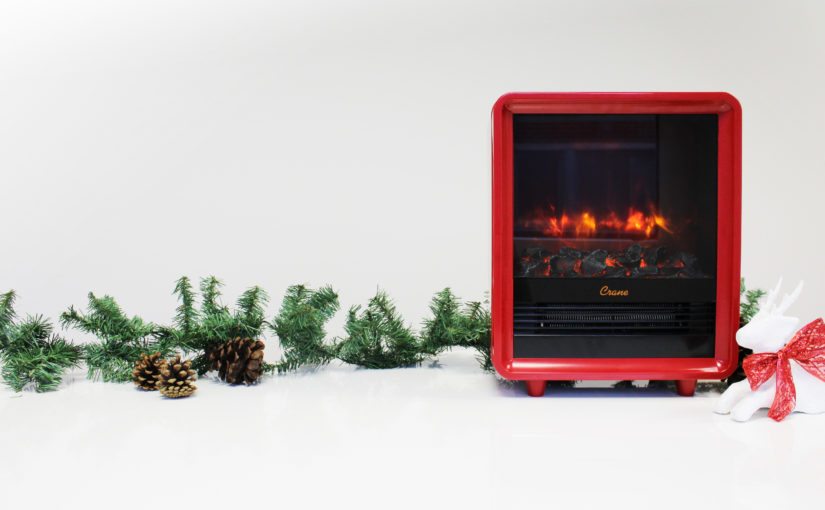 The heater's realistic embers give off the ambient glow of a fireplace when generating heat or without heat. Three adjustable settings are available, allowing you to select the heating output you need or run the fireplace heater without generating heat. It also features quiet operation to prevent disruption.
These electric heaters use an efficient ceramic heating element to create warmth while surfaces remain cool to the touch. Because of this safety feature, the Crane electric fireplace heater is a safer option for homes with children or pets. An auto-shutoff feature automatically shuts down the electric heater to prevent overheating when necessary.
Efficient Electric Heaters
The Crane electric fireplace heater operates using an efficient ceramic coil. It is more efficient than the average household lightbulb. This unit is ideal for heating medium-sized spaces. The Crane electric fireplace heater operates 2 heat settings at 750 watts and 1500 watts.
When shopping for an efficient electric heater, consider the size of the room or rooms in which you wish to use it. Purchase electric heaters that are rated for the size of room you want to heat. An oversized heater wastes energy by overheating rooms. In general, lower wattage models use less energy to create the desired amount of heat.
Safety When Using Electric Heaters
Electric heaters are used in many homes to provide added warmth in chilly rooms. When using electric heaters, safety is critical – space heaters are the cause of approximately 2 out of 5 home heating fires in the United States, and 5 out of 6 deaths caused by home heating fires. Many fires involving portable electric heaters are caused by using the electric heater too close to flammable items and using the unit when unattended.
When using the Crane electric fireplace heater or other portable electric heaters in your home this winter, follow these essential portable heater safety measures:
Keep the 3-foot area surrounding your electric heater free of items. Do not operate the heater around blankets, curtains, papers, toys, and other items.
Do not allow children or pets near portable electric heaters when in use. Even though the Crane electric fireplace heater stays cool when running, other models may not – keep children and pets away to prevent accidental burns and to prevent tip-overs.
Only use electric heaters when an adult is in the room. Do not leave electric heaters running when the room is unused, you're sleeping, or away from home.
Place the electric heater on a flat surface when in use. On uneven surfaces, the unit could tip over, causing a fire.
Do not use electric heaters with extension cords – only plug them into wall sockets. Extension cords increase the risk of tripping and knocking the unit over, as well as causing the unit to overheat.
Help with Electric Heaters on HVAC.com
Electric heaters are a great temporary option for space heating, and HVAC.com brings you a variety of resources to help you select a unit and use it safely! When searching for a permanent heat solution, we recommend you turn to a local HVAC contractor for assistance with equipment that will provide reliable heat throughout your home.
Use our HVAC Contractor Directory to locate an HVAC contractor near you. Enter your ZIP code to search for local heating and cooling companies who offer the heating equipment and services you need to stay warm this winter!