At HVAC.com, our writers create solutions that put you in control of your HVAC system. Our product reviews and recommendations are researched and backed by real buyers and industry experts, not dictated by our partners.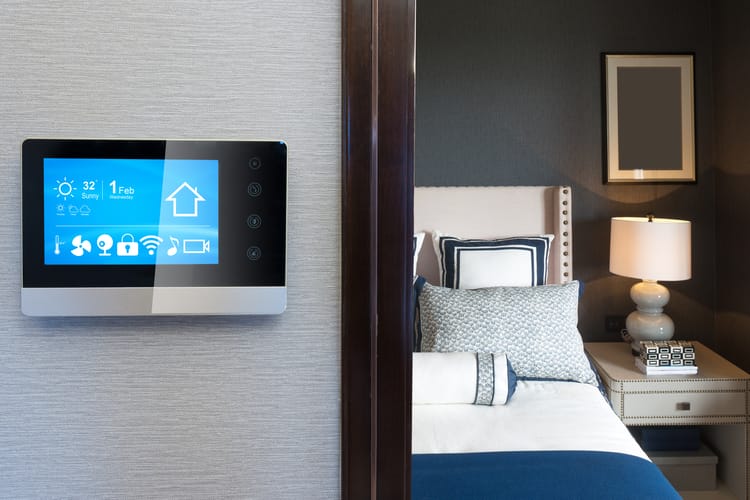 Technology in the HVAC industry is ever-changing, in the products we use to create comfort and how they perform in the home. Where consumers are most familiar with these advancements is thermostats.
Your thermostat has changed a lot over the years. We've moved from manual dial thermostats to programmable thermostats, and now smart thermostats are making their way into more and more homes.
Thermostat advancements have been focused on increasing HVAC system efficiency and enhancing user friendliness – smart thermostats address these common targets in ways no other thermostat has done before.
If you're looking for a way to boost heating and cooling efficiency in your home without extra effort, a smart thermostat is the HVAC product that helps you best meet your goals. If you're not too familiar with them yet, HVAC.com is here to change that – read on for everything you need to know about smart thermostats.
What Are Smart Thermostats?
Smart thermostats go by many names – you may know them by their branded name, or as a wireless or Wi-Fi thermostat. They are the latest advancement in thermostat technology and the best option for the conservation of heating and cooling energy in the home.
While a programmable thermostat lets the user set individualized temperature schedules based on the household's climate needs, a smart thermostat removes the settings from the process. Over a short period, smart thermostats actually learn your household's habits, schedules, and preferences – the thermostat takes over and sets energy-smart temperatures throughout the day to deliver ideal comfort with less energy use.
Smart thermostats are packed with user-friendly features, which can vary greatly from one model to the next. Some of the most desirable features available through smart thermostats include:
Wireless technology that allows a homeowner to access the thermostat and control energy consumption even while away from home. Thermostats are also easily controlled through smartphone and tablet portals, eliminating the need to ever manually touch the thermostat!
Energy usage data which is easily reviewed by the homeowner through the smart thermostat's online portal. The goal of this data is to help users better understand how their HVAC equipment uses energy as well as how to make informed changes to further lower consumption.
Automatic system monitoring that alerts homeowners to potential malfunctions within the system. A poorly performing system consumes more energy – these alerts help you make repairs right away. These systems deliver maintenance alerts so you have a clear picture of what you need to do to enhance your HVAC system's performance.
Geofencing technology connects your smart thermostat to your smart devices to monitor your location for better home comfort. When the geofencing program detects you or a household member nearing the home, climate settings change over to adjust comfort levels to occupied settings so the home is at the ideal temperature upon arrival.
Compatibility with indoor air quality equipment for total home climate monitoring. All elements of your HVAC and indoor air quality systems are controlled together to deliver not only the right temperatures, but better indoor air quality which also impacts HVAC system energy consumption.
Smart Thermostats: Equipment Options
When it comes to smart thermostats, there are more and more options introduced each year. The right model is often a matter of preference, features, and compatibility with your home's heating and cooling equipment.
Some of our favorite smart thermostats include:
Ecobee
Ecobee is an industry leading developer of smart thermostats, with great options for use in the home. The innovation featured in Ecobee smart thermostats help maintain a comfortable indoor environment while eliminating as much energy waste as possible.
The Ecobee EB-STAT-02 Smart Universal Thermostat is a 4 heat/2 cool smart thermostat that customizes temperature settings in the home throughout the day. Wireless connectivity allows the user to remotely monitor home energy consumption, even when away. Its stylish, full color interface is easy to use and read.
The Ecobee EB-SMARTSI-01 Smart SI Thermostat utilizes DataRhythm technology, which creates intelligent heating and cooling adjustments to enhance indoor comfort and cut energy consumption. The Home IQ portal gives homeowners detailed insight into HVAC system performance, maintenance needs, and energy savings.
Honeywell
The Honeywell Lyric smart thermostat is a sleek and stylish option that is packed with efficiency. Lyric technology learns your household's schedule and comfort needs to auto adjust temperatures for maximum indoor comfort and energy efficiency. Geofencing technology ensures your home is always comfortable upon your return.
What to Do with Your Old Thermostat
When homeowners upgrade to smart thermostats, what do they do with the old one? Old thermostats can't just go in the trashcan – if your home still uses a thermostat that contains mercury, it must be handled with care.
Mercury was a longtime standard in thermostat technology which is being phased out with electronic models. If your home still uses a manual thermostat, there's a good chance it contains mercury.
Mercury is unable to be destroyed, but it is able to be reused and recycled. In several states, it is illegal to dispose of a mercury-containing thermostat with your regular trash – in eight states, they can't even be installed any longer! These thermostats must be recycled, and your HVAC contractor can help.
Many HVAC contractors across the company use the Thermostat Recycling Corporation to recycle old, mercury-containing thermostats. Over two million mercury thermostats have been safely collected and recycled through this initiative.
As thermostat upgrades are commonly performed for better HVAC system efficiency to benefit the environment, make sure your old model is safely disposed of to further advance this goal.