At HVAC.com, our writers create solutions that put you in control of your HVAC system. Our product reviews and recommendations are researched and backed by real buyers and industry experts, not dictated by our partners.
When it comes to HVAC systems for your home, there are many equipment options. Geothermal heating and cooling offers energy savings and efficient comfort using natural energy. Search and business giant Google is getting into the geothermal heating and cooling market with their new Dandelion business.
What Is Geothermal Heating and Cooling?
Geothermal heating and cooling systems utilize natural energy to heat and cool the home. Systems include a geothermal heat pump as well as a ground loop, allowing homes to access below-ground energy for indoor comfort. When in heating mode, the ground loop absorbs energy from within the earth, transferring it into the home where the heat pump uses that energy to warm air. To cool, the heat pump extracts excess heat from indoors, which is sent through the ground loop and deposited into the earth, which acts as a heat receptacle.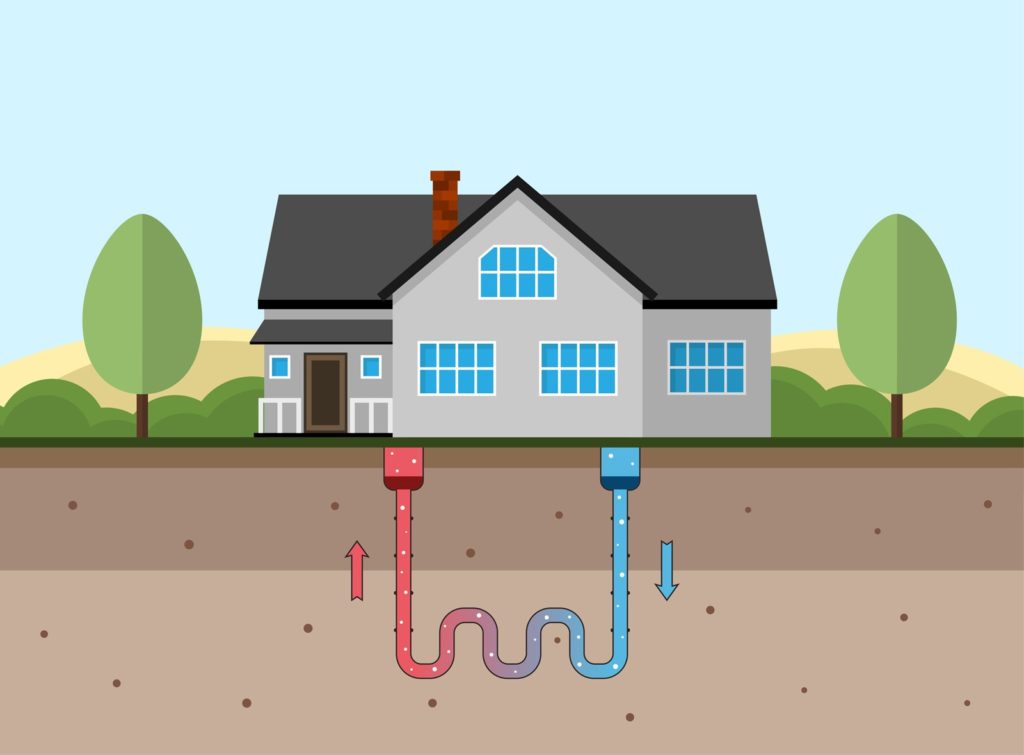 Geothermal heating and cooling systems offer excellent benefits for homeowners.
These systems have great longevity, with indoor components having an average service life of 25 years, and 50 or more years for ground loop components, depending on maintenance and other factors.
Geothermal heating and cooling systems dramatically cut home heating and cooling costs. They can reduce heating costs by up to 60 percent, and cooling costs up to 50 percent versus conventional HVAC equipment.
Due to the great savings they generate, systems can pay for themselves within 5 to 10 years of use.
Geothermal is clean, renewable energy. No greenhouse gases or carbon monoxide results from use. Fossil fuels are conserved, helping the environment.
Geothermal heating and cooling systems operate quietly, making far less operating noise than conventional cooling systems. There are no noisy outdoor compressors and fans, and the interior components operate as quietly as your refrigerator does.
About Google Dandelion Geothermal Heating and Cooling
Google has recently launched Dandelion, a geothermal heating and cooling company offering residential systems to homeowners. The business has launched starting in the northeastern portion of the U.S.
Google got into the geothermal heating and cooling market to help mainstream this technology to homeowners, offering benefits everyone can enjoy. Geothermal heating and cooling systems eliminate fossil fuel use, cutting greenhouse gas emissions, eliminating environmental concerns from fuel leaks, and increasing savings for users.
Dandelion geothermal products are targeted for single-family homes that currently use oil, propane, or electric heat. Switching to a geothermal heating and cooling system can save these homeowners thousands of dollars in operating expenses each year. Homeowners currently using natural gas heating can also benefit from going geothermal, delivering a cleaner, quieter HVAC system.
Dandelion geothermal heating and cooling systems work in homes with forced air delivery. The company plans to extend service through offering hot water distribution for homes.
Google Dandelion is recruiting installation partners. HVAC installers with reputations for high-quality workmanship and superior customer service are desired partners. The company also hopes to partner with HVAC contractors focused on adopting new technology, working to standardize and speed up installations.