At HVAC.com, our writers create solutions that put you in control of your HVAC system. Our product reviews and recommendations are researched and backed by real buyers and industry experts, not dictated by our partners.
Today's HVAC Q&A question is focused on making your thermostat more appealing. David in Arlington, VA writes:
"I just bought a beautiful home in Arlington with a rustic, comfortable sitting room. The problem is, our HVAC system's thermostat sits right in the middle of one of the walls. It breaks up the feel of the room and is a real eyesore. Is there any way to hide it without moving it and the costs that would entail?"
---
Depending on your budget and where your thermostat is located, there are two great options for hiding your thermostat: disguising it or purchasing a new, more attractive unit.
Disguising your thermostat
I've seen some great thermostat disguise jobs over the years that might give David (and anyone else who needs them) some ideas for turning an outdated thermostat into a beautiful part of your room's decor. Use these as starting points and consider what options are best for you.
Cover it up
The easiest way to disguise an unsightly thermostat is to cover it up. In many cases, this is as easy as covering the thermostat with a painting, art print or similar style of wall art that fits the room. You can either hang the art on a nail positioned above the thermostat and remove it each time you need to make a change, or you can connect the art to a door bracket so it swings open and closed. Just make sure you drill some holes so that the thermostat can read the temperature correctly.
Frame it up
Many homes I have been in use picture frames to disguise their thermostats. Instead of completely covering your thermostat, put a frame around it.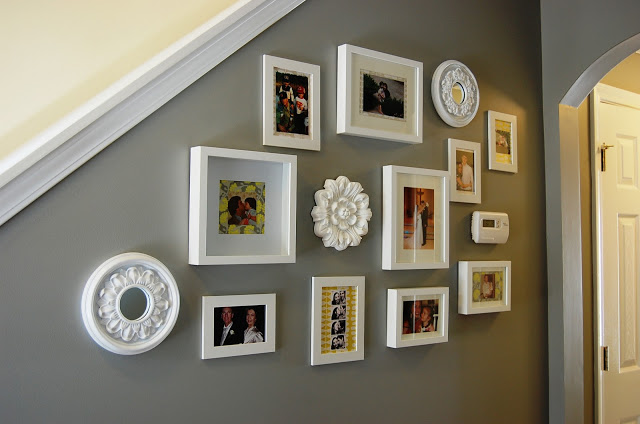 The frame will make your thermostat look like a piece of art, instead of an unsightly blemish on the wall. Another way to use picture frames to disguise your thermostat is to surround your framed thermostat with other pictures, making it blend into the "picture collage" that you have created.
Class it up
Depending on where your thermostat is located, you can turn it into a focal point. Consider where your thermostat is located and what types of amenities would make it more appealing.
For instance, one homeowner turned the poor positioning of his thermostat into a beautiful focal point in his kitchen. He used reclaimed wood shelving to create a swinging wine rack to hide his termostat. Now, instead of a thermostat on the wall, guests see a beautiful wine rack that swings open whenever you need to change the temperature.
This type of project could work in any number of rooms in the house. In David's case, a rustic wooden bookcase or wine rack would be a great improvement over the eyesore of the thermostat in his sitting room.
Buying a new, more attractive unit
Another option for getting rid of your ugly thermostat is purchasing a new one. Today, there are a number of attractive thermostat options for buyers looking to update the look of their control. If disguising your thermostat does not work for you, consider looking for newer, high tech thermostats that include features like wifi, touchscreens and other options — they are often designed to look attractive.
Remember, the actual location of your thermostat is going to be the biggest factor when deciding how to disguise it. Consider whether your space could use some art, a few family pictures or a new DIY project and get creative!
Have you seen any creative ways to disguise a thermostat? Tell us about them in the comments below!