At HVAC.com, our writers create solutions that put you in control of your HVAC system. Our product reviews and recommendations are researched and backed by real buyers and industry experts, not dictated by our partners.
Take your thermostat game a step further when you install a learning thermostat for ultimate home comfort. The Honeywell Lyric thermostat is Wi-Fi enabled, and intuitively adjusts temperatures in your home exactly when you need. Advanced features keep your home comfortable and help you save energy, saving you money without sacrificing comfort.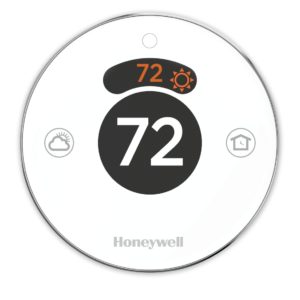 About the Honeywell Lyric Thermostat
The Honeywell Lyric thermostat is a smart thermostat that offers capabilities beyond a programmable stat. With a smart thermostat such as the Honeywell Lyric, you can stay connected to your home's comfort systems from most anywhere, and receive valuable information about your system usage and energy consumption that will help you make smart conservation decisions in the future.
The Honeywell Lyric thermostat delivers an array of features, including:
Voice control for easy use and convenience
Geofencing technology uses your location to adjust temperatures so you arrive home to comfortable conditions
Fine Tune technology considers temperature and humidity when adjusting temperatures, helping you stay comfortable without excess energy consumption
Smart Cues technology delivers system updates directly to your smart phone or other connected device, alerting you of filter changes and maintenance needs, as well as possible system issues
Backlight color cues show you exactly what mode your HVAC system is working in, and if your equipment is operating at peak efficiency
Zoning ability for ultimate comfort in every area of your home
Customizable app interface allows you to select the shortcuts you use and get rid of confusion
Works with single and multi-stage heating and cooling units, as well as geothermal and air-source heat pumps (hot water systems, too!)
Ability to control indoor air quality equipment such as humidifiers, dehumidifiers, and ventilators
Compatible with Apple and Android devices
Installing the Honeywell Lyric Thermostat
The Honeywell Lyric thermostat is easy to install, so you can begin enjoying the features and advantages it provides right away. You may be comfortable performing installation yourself, or decide to hire an HVAC installer for the job. If you're handy and have good knowledge of heating and cooling as well as electrical systems, you may have the skills needed to install your new thermostat.
The Honeywell Lyric thermostat is easy to set up, providing a guided installation walk-through. Gain confidence knowing your new thermostat is configured properly and will work as expected.
When you're ready to install your Honeywell Lyric thermostat, our informational videos will walk you through the steps!
Have a Honeywell Lyric Thermostat Installed Today
When upgrading your thermostat to a Honeywell Lyric, you may wish to leave the job to the pros. HVAC.com makes it easy to find the heating and cooling professionals you need for any job, from thermostat installation to new system replacement!
Use our HVAC Contractor Directory to find a qualified local heating and cooling company near you. Search by your ZIP code to receive contact information and more that will help you choose the right contractor for the job.