At HVAC.com, our writers create solutions that put you in control of your HVAC system. Our product reviews and recommendations are researched and backed by real buyers and industry experts, not dictated by our partners.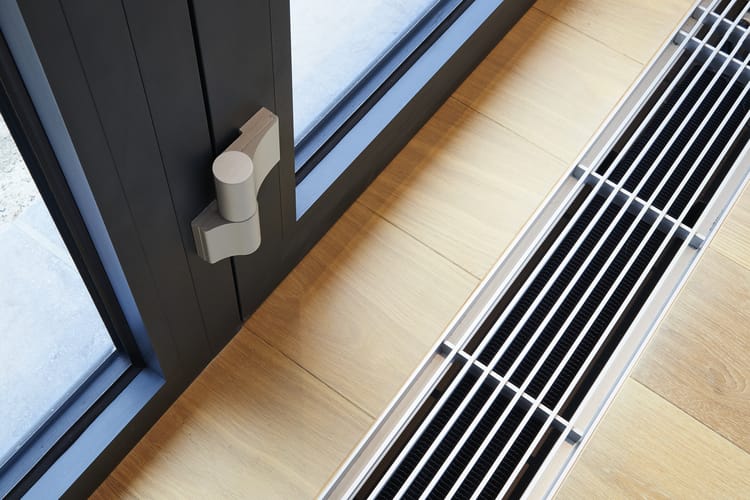 Since the beginning of our industry over 100 years ago, technological innovation and improvement has always been at the forefront in HVAC. Manufacturers continue to advance the technologies found in homes to meet consumer demands.
Air movement and ventilation systems continue to advance to deliver better indoor air quality for users. High-efficiency variable air volume systems, also known as VAV, is one system that has seen great improvements as technology has evolved.
What Is VAV?
A VAV system is a type of ventilation that delivers variable air volumes, rather than constant volumes. They are the new standard for energy savings in commercial buildings. Designed to meet heating and cooling needs across multiple building zones, they are one of the most efficient air handling systems available.
A VAV system's fan delivers precision temperature control with a fan blowing air at variable speeds. The fan speed is determined by the zone's temperature. The use of a VAV system versus a CAV (controlled air volume) system helps building owners achieve up to 30 percent energy savings.
VAV Advancements
Just like other HVAC technologies, VAV systems have continued to improve since their inception. Newer VAV systems incorporate new technologies to deliver better performance and energy efficiency. Components such as direct-drive fans, fan arrays, and improved motors create higher efficiency levels while reducing owner maintenance needs.
Additional HVAC system components such as bypass, heat recovery and series energy recovery allow buildings to lower energy use for heating to almost nothing. VAV systems also dehumidify incoming air before it is mixed with the building's air, which greatly benefits the facility's filtration and cooling systems.
Experts expect to see additional changes in VAV systems and technology as time moves on. Higher MERV value filters will be used to fight against airborne contamination in areas prone to heavy pollution. Sensor-driven ECM (electronically commutated motors) will find their way into air movement and ventilation systems, which take into account air quality to regulate a building's ventilation demands. The result is higher efficiency paired with better indoor air quality.
Regulations Regarding Air Movement Systems
Today's building environments place an increasing importance on indoor air quality, which leads to advancing regulation as well as the demand for effective ventilation systems. Residential ventilation code is governed by:
ASHRAE 62.2 and 90.1
ENERGYSTAR
International Residential Code
International Energy Conservation Code
State codes
The new fan efficiency codes also add requirements for equipment that is used in ventilation. The Fan Energy Index (FEI) provides fan efficiency regulations are anticipated to lead to more interest in regulations at the system level rather than regulation governing particular products.
Air Movement Systems in Homes
Many homes use a combination of natural ventilation and mechanical ventilation to keep air moving through living areas. Natural ventilation consists of using open windows and passive vents to allow air flow. Mechanical ventilation components use energy to move air.
Mechanical ventilation equipment found in homes may include:
Whole home ventilation systems
Range hoods
Exhaust fans
As increasing focus is placed on tight sealing of homes for better efficiency, mechanical ventilation becomes even more important. Natural ventilation takes advantage of the naturally-existing gaps and cracks throughout a home to facilitate air movement – when these gaps and cracks are sealed to help the home retain heating and cooling energy as well as comfort, ventilation and air quality suffer.
While air sealing is a positive move to increase energy efficiency, the right ventilation solutions must be in place to combat stuffiness and higher concentrations of air pollutants indoors – these contaminants would naturally filter out and air would exchange with fresh, outdoor air in an unsealed home.
Protect your home's indoor air quality when you work with a ventilation professional to identify and address your home's ventilation needs. Ventilation allows stale, contaminated air to move out of the home in exchange for fresh air. Many system types exist to help your home achieve better ventilation without sacrificing your heating and cooling energy.
Find Ventilation Help on HVAC.com
HVAC.com brings you many resources to help you better understand your home's ventilation needs. When it's time to install or upgrade ventilation solutions in your home, we encourage you to work with a trusted, local HVAC company.