At HVAC.com, our writers create solutions that put you in control of your HVAC system. Our product reviews and recommendations are researched and backed by real buyers and industry experts, not dictated by our partners.
HVAC contractors depend on strong vehicle fleets to keep their businesses moving. As an essential component of HVAC installation and service business models, trucks need to be managed effectively from acquisition to routine maintenance. When fleet expenses are not kept in check, your business's bottom line will suffer.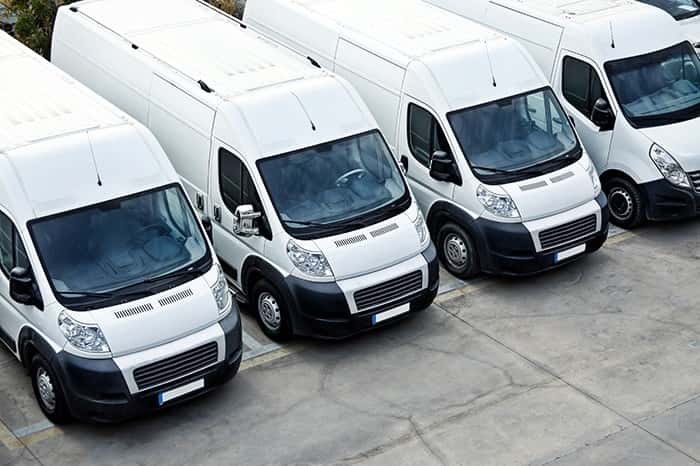 Fleet Acquisition
Buy vs. Lease
Purchasing fleet vehicles is a major expense for business owners. Many find purchasing vehicles outright is a wiser financial move than leasing. If you plan to customize your vehicles to hold tools or wrap them for marketing purposes, purchasing vehicles will better serve your interests. Amortizing the expense of purchasing vehicles over multiple years can help business owners cut monthly expenses versus leasing charges.
Choosing Vehicles
Making smart vehicle choices will better enable your employees and improve morale. Choosing vehicles that offer the functionality each position needs rather than one type of vehicle for every employee can help you save significantly on operation and maintenance costs.
Select vans or trucks for installation technicians which can hold the equipment, parts, and tools necessary for their daily jobs.
Maintenance technicians likely don't need the same amount of space; placing these staff members in smaller vans or trucks can help you save on fuel and maintenance costs versus the larger vehicles necessary to transport large equipment to jobsites.
For your sales staff, a compact car can be an affordable option, but make sure your staff will have the storage they need to transport marketing materials and other products effectively.
Customizing Vehicles
As you select vehicles for your fleet, be sure to consider the customization needs of your business and choose vehicles which will make these adjustments possible. With the expensive tools and equipment used daily, security should be a top concern. Eliminating windows in favor of panels in cargo areas can help protect your equipment as well as accommodate storage customizations. Consider closing off the cab of the vehicle with security bars to prevent theft should the front of the vehicle be accessed. Fleet management solutions such as GPS tracking can also be installed on vehicles to manage employees and track location.
Vehicle Maintenance
Vendor Maintenance or DIY
As with any vehicle, routine maintenance will significantly improve performance, cut repairs, and extend service life. As a business owner, one decision you'll have to make is whether you'll utilize an outside service company to handle fleet maintenance, or if you'll do it yourself. If you choose a vendor, look for those who have a proven record of quality fleet services. You may even be able to secure discounts based on your fleet numbers. If you go the do it yourself route, make sure you have employees who are skilled in these tasks and allot the time to do them on a routine basis.
Rotating Your Fleet Vehicles
Many HVAC contractors extend the service life of their fleet vehicles by rotating their function when possible. Service trucks putting on the bulk of the miles may be rotated to lower mileage uses after their first few years, such as installation.
Knowing when to rotate your vehicles and when to sell them will help you maximize the value of your fleet and will better serve your staff. Analyze your mileage logs to identify when more maintenance and repair needs are occurring, then look for solutions that could help you extend the life of your vehicles.
Fleet purchases and maintenance are a considerable expense for HVAC business owners. Make sure you're making smart fleet management decisions to maximize your return on investing in these vehicles.