At HVAC.com, our writers create solutions that put you in control of your HVAC system. Our product reviews and recommendations are researched and backed by real buyers and industry experts, not dictated by our partners.
The Honeywell Lyric smart thermostat makes comfort and energy savings a breeze in your home. Used alone or with your smart home hub, the Honeywell Lyric thermostat delivers effortless comfort control when you're home, and effective energy control all day long. Learn more about this great smart thermostat and see if it's the right choice for your household.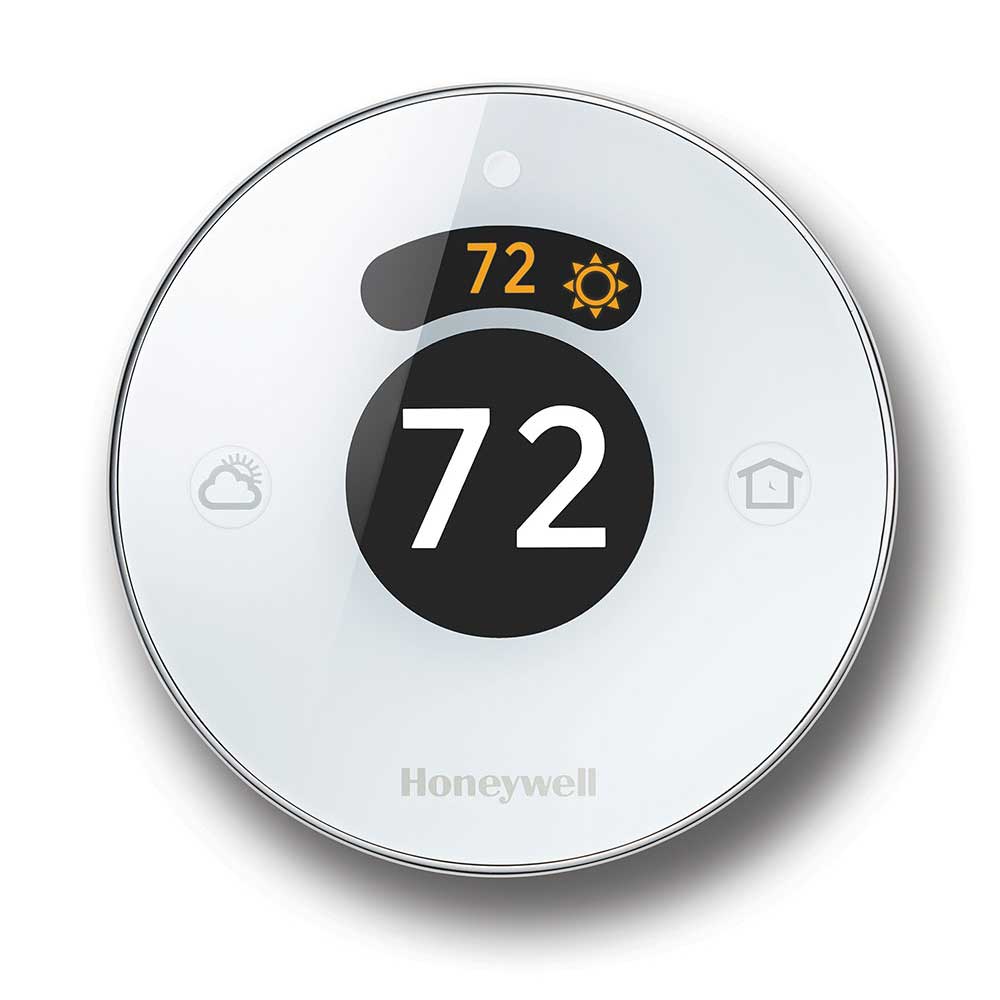 About the Honeywell Lyric Thermostat
The Honeywell Lyric thermostat connects via Wi-Fi and is activated by your smartphone for automatic comfort control. The Lyric learns your preferred settings to deliver the temperatures you like, and detects your phone's location to initiate heating and cooling cycles before you come home and shut down your HVAC system for energy savings when you're gone with geofencing technology.
This stylish round thermostat features a polished glass face three inches across, with a 1-inch beveled depth. The optional decorative backplate accents your home and helps you hide paint gaps and screw holes your old thermostat left behind. Its simple touchscreen interface is user-friendly with icons that are easy to identify and activate. The LED halo ring changes color depending on the function in use – orange for heat, blue for cool, and green for energy savings.
Honeywell Lyric Compatibility
Honeywell Lyric can be accessed by many models of smartphones and tablets. Honeywell Lyric is compatible with Android and Apple iOS systems. Use your new Honeywell Lyric smart thermostat with smart home hubs including Apple HomeKit, Samsung SmartThings, and more.
The Honeywell Lyric thermostat's Precision Control offers compatibility with 3 heat/2 cool heat pump systems as well as 2 heat/2 cool conventional HVAC systems.
Honeywell Lyric Thermostat Features
The Honeywell Lyric smart thermostat offers a wide range of desirable features that improve user experience, enhance indoor comfort, and generate measurable energy savings.
Fine Tune technology measures indoor humidity levels and temperature to increase comfort.
Smart Cues help you better care for your HVAC system, with alerts when it's time for a filter change or if service is needed.
Use Shortcuts and Event-Based Scheduling for additional customization of your indoor comfort.
6 and 12-hour forecasts displayed on the thermostat.
Motion-sensing display illuminates the thermostat as you approach it.
Compatible with indoor air quality systems including humidifiers, dehumidifiers, and vents.
Honeywell Lyric Smart Home Products
The Honeywell Lyric thermostat is just one of the great products in Honeywell's Lyric line of smart home equipment. Go beyond temperature control with these products that will protect your home and deliver ultimate smart home comfort and peace of mind.
Water leak and freeze detector
Wi-Fi security camera
Wireless portable doorbell
Security indoor motion viewer