At HVAC.com, our writers create solutions that put you in control of your HVAC system. Our product reviews and recommendations are researched and backed by real buyers and industry experts, not dictated by our partners.
Searching for the best HVAC system can feel like you're diving into a giant, murky pool. The heating and cooling industry has made some major advancements over the past decade, so researching the best brands like Trane vs. Carrier, allows you to feel confident in your investment.

The top HVAC brands offer a variety of systems. Whether you're in the market for the best value, an energy-efficient model, or the best warranty, our review will help take the pressure off of shopping for the best AC unit.

We're comparing three powerhouse brands in the HVAC space: Lennox vs. Trane vs. Carrier.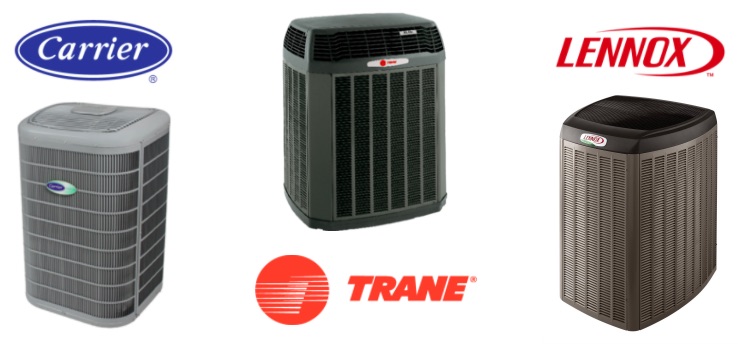 Each brand offers a long-standing reputation for high quality and reliability. Still, they have differences in categories like energy efficiency, compressors, and smart features.

The HVAC features that create an ideal atmosphere for your family may differ greatly from another shopper. In our HVAC brand comparison guide, we highlight main categories so you can choose the right AC unit based on the factors you care about most.
What do they have in common?
As unique as each brand is, Carrier, Trane, and Lennox share some important characteristics. From notable customer satisfaction to standing behind the workmanship of the equipment, these brands note the following commonalities:
They are considered reputable brands in the HVAC industry. According to a Consumer Reports study of 24,000 AC unit owners, Trane, Carrier, and Lennox were three of the five brands rated "Excellent" in user satisfaction.
All three cool your house with a blend of refrigerants called R-410A. Carrier's trademarked term for this refrigerant is Puron®.
Their AC units fall under three pricing tiers, ranging from value to premium.
All three offer single-stage, dual-stage, and variable-stage compressors.
All offer ACs that are compatible with smart thermostats and digital assistants.
A limited warranty comes standard with their AC units.
Smart Features
Winner: Trane

Trane, Carrier and Lennox all bucket their AC units into three different tiers. Each brand has a basic and most affordable tier, a premium tier with their most expensive units, and a middle tier between those two. Here's what each of the brands call their value, mid-level and premium models.

| Brand | Value | Mid-Level | Premium |
| --- | --- | --- | --- |
| Trane | XR | XL | XV |
| Carrier | Comfort | Performance | Infinity |
| Lennox | Merit | Elite | Signature |
As price increases across each brand, so do the smart features and amenities that come with your unit. Below is a list of notable features and their availability by brand.
Trane vs. Carrier vs. Lennox: Smart technology
If setting your thermostat to the ideal temperature from your smartphone is your idea of an HVAC system that keeps you comfortable, Trane may top your list.
Digital assistant compatibility
Winner: Trane

Use your smartphone to link your AC to other smart home equipment, like light fixtures and thermostats, with digital assistant compatibility. It's convenient and practical, especially if you're big into smart technology and want an easy way to interconnect your devices.

All three brands offer ACs with this feature. Trane's technology is called Nexia, and you can pair your AC with Google Home or Amazon Alexa. Lennox's iComfort technology can pair with the same digital assistants as Trane, plus Siri. Carrier's Cor Smart Home technology is compatible with Alexa.
Smart thermostat
Smart thermostats allow you to control your AC from your phone. You can adjust the temperature and monitor your system's energy use. This convenient tool also updates you on your AC's condition, so you avoid having problems fester or go unnoticed.

Each brand offers a variety of smart thermostats. If you replace your HVAC system, we recommend installing a smart thermostat of the same brand. The wireless technology often works best when partnered with the intended system.

Trane: Trane offers four varieties of smart thermostats. The two most expensive models use ComfortLink II technology. On the Trane website, its thermostats range from 3.6 to 4.8 stars. Its Nexia app also has 4.8 stars across almost 67,000 Apple app store reviewers, so users seem satisfied with its quality.

Carrier: When comparing Carrier vs. Trane, Carrier has six varieties to Trane's four smart thermostats. Many allow you to control three or more separate zones within your house. This could be ideal if you live with loved ones who have strong, conflicting opinions on comfortable temperatures.

Carrier's higher-end smart thermostats use Infinity technology. Note that Carrier's Cor Thermostat app has an average of 1.6/5 stars among 589 App Store reviewers. There are complaints about the app crashing and the level of difficulty to use the tool.

Lennox: Lennox offers three varieties of smart thermostats, all of which use its proprietary iComfort technology. But even on Lennox's website, its systems have mixed to negative reviews. Its three models range from 2.2 to 3.5 stars.

Carrier offers a wider variety of smart technology, but both it and Lennox's products have left many users desiring more. Trane earns the top spot when it comes to smart technology thanks to the Home App's ease of use and ability to integrate with other products.
Need help finalizing your decision?
Energy Efficiency
Winner: Lennox

An AC unit's energy efficiency is measured on the SEER (Seasonal Energy Efficiency Ratio or Rating) scale. This number gets calculated over one cooling season, from April 15 to October 15.

The SEER rating is the cooling output of your equipment divided by the amount of electric energy it takes to complete the cooling process. The higher a unit's SEER, the more energy efficient it is, and the less you'll have to fork over to the electric company every month.

Below is a table showing each brand's maximum SEER range for its AC units, organized by price tier.

Maximum SEER Range by Brand and Tier
| Trane | Carrier | Lennox |
| --- | --- | --- |
| XR: 14.5-16 | Performance: 13-17 | Merit: 13-17 |
| XL: 17-18 | Comfort: 13-17 | Elite: 15.5-21 |
| XV: 18-22 | Infinity: 16-26 | Signature: 20-28 |
When pitting Lennox vs. Carrier, their basic tier models both cap out at 17 SEER. While Trane's value models begin with a SEER rating up to 14.5, it loses footing to competing brands with a cap of 16 SEER.

Carrier has one AC unit with a maximum 26 SEER, but Lennox's high SEER ratings in the middle and premium tiers gives it an edge over the competition. Both Lennox and its value brand, Ducane, have long prioritized high energy-efficiency.

Lennox boasts the highest SEER rating available with the SL28XCV air conditioner, which is part of the Dave Lennox Signature® Collection. While a number of factors can affect your HVAC system's energy efficiency level, like quality of insulation, age of windows, and routine maintenance to the system, Lennox is the best place to start if you want to lighten your carbon footprint.
Price Comparison
It's rare to find clear pricing for a specific unit on Trane, Lennox, or Carrier's website. The problem with nailing down an exact price is that so many factors go into determining your cost.

For example, installation costs vary by geographic location and climate, sometimes by thousands of dollars. Elements of your home, like if ductwork is already installed, the need for more than one HVAC, or additional equipment you may want to include all affect the bottom line.

All three brands also partner with HVAC dealers, who act as the service provider between the brand and the customer. Those dealers set their own fees when it comes to labor and materials, which again, can adjust the price you would pay for a system in North Carolina compared to the exact same system in California.

Trane lists the total cost averages (unit price + installation fee) for all its AC units on its website. Trane's installed costs on its XR models range from $5,800-10,800. If you want an XL or XV model, you'll invest $14,000 or more.

Carrier's website claims it does not list pricing "due to the wide variety of factors that influence the cost to install central [AC] units." However, buyer data suggests Carrier's Comfort tier prices range from $4,892 to $7,224.

A Lennox Merit AC will likely cost you between $3,100 and $7,340 to install. Just like Trane, the price goes up if you want an Elite or Signature model.

All three brands are known for high quality and durability. That's why they're all in comparable price ranges, and why price alone isn't a great way to compare Lennox vs. Trane vs. Carrier.
We recommend contacting a local contractor for the most accurate quote. Ultimately, your contractor may be able to offer better deals than the national averages suggest.

Compressors
Winner: Lennox

Think of your AC unit as a boxing ring. The compressor is the coach, or the vital component, that powers and instructs the entire system what to do. The AC compressor moves the refrigerant through the system to collect warm air from inside your home and deliver cool air back through the ductwork.

All three brands offer single-stage, double-stage and variable compressors. Before we discuss the differences across brands, we'll first explain the different types of compressors.
Compressor Types
Single-stage: This compressor activates as soon as the indoor air becomes hotter than your thermostat's temperature setting. For example, if your room is set to 70 degrees, your single-stage compressor kicks in once the room's temperature hits 71 degrees. These compressors literally go from zero to 100 percent power. They can only operate at their highest capacity. Single-stage compressors repeatedly rotate between on and off during the day. While this style of compressor is the most common and least expensive, it's also the least energy efficient of the three.
Double-stage: This variety, also known as dual-stage, has both high and low speed settings. While it is capable of running at full capacity, it can also run at 60 to 70% capacity. Double stage compressors are on and running more frequently than single stage, but they save more money on energy. The lower capacity setting is used most of the time and is to thank for the unit's high efficiency.
Variable stage: This compressor wins best-in-show for its impressive performance and unmatched energy efficiency. Variable stage compressors have three or more settings, and they can run as low as 25 to 30% of their full capacity. These compressors will run almost all day in the warmer months, rotating between high and low settings as needed. The best energy-efficiency comes with a high price tag compared to single and double-stage compressors.
Now, we'll get into the types of compressors each brand uses (and whether they're up to snuff).
Trane vs. Carrier vs. Lennox: Compressors
Trane: All of Trane's home AC units use its proprietary Climatuff™ compressors. Trane mainly uses single or dual-stage compressors, but two of its premium units offer a variable-stage compressor. Climatuff™ compressors have a reputation for being quieter than other options on the market.

Carrier: Copeland compressors are standard for Carrier products. Almost all of Carrier's basic and middle-tier ACs use a single-stage compressor. The one exception is the Performance 17, a mid-tier product that offers dual-stage compression. Its premium tier has a mix of single and dual-stage compressors, and one model offers variable-stage.
Lennox: Like Carrier, Lennox uses Copeland compressors. Its basic tier offers both single and dual-stage compressors. Its middle tier offers single and variable-stage compressors, and its premium tiers have both dual and variable-stage options.

The choice between a variable-stage compressor or single or dual-stage ones may come down to the importance you place upon energy use, your climate, and budget. Lennox offers an impressive array of compressor types across all three pricing tiers, giving it a leg up over Trane and Carrier's more limited selections.
Capacitor Performance
The capacitor is the powerhouse of the AC unit. There are three different types of capacitors: run, start and dual.
Capacitor Types
Start capacitors help rev up the AC motors, giving them the voltage boost they need to power the unit. HVAC units require a large amount of power to get up and running, and without a properly working capacitor, your AC won't perform.

Run capacitors give the motors energy once they've already gotten up and running. A dual capacitor is a two-in-one device. It can jumpstart the motors and keep them running. Regardless of which capacitor type your unit uses, your AC can't run properly without it.

All three brands are compatible with a wide range of third-party capacitors. Capacitor performance shouldn't be the sole metric to use when comparing these brands.

You can purchase capacitors online, or through an HVAC contractor. AC capacitors usually range from $9 to $45, and the installation generally falls between $120 and $250, with the majority of repairs landing in the $170 range, as estimated by Home Advisor.

While you can DIY a capacitor purchase, the same can't be said for installation. If you try to install or replace a capacitor yourself, the high voltage can shock you and lead to injury or death (even if your AC's power is turned off).
Warranty
Winner: Trane

Regardless of your budget, reliability should be a top priority in your quest for the perfect home AC. Heating and cooling systems are an investment, so take the opportunity to evaluate the warranty before making the purchase. Warranties create a safety net, giving you peace of mind that your AC will work well for years.

All three brands offer limited warranties for each of their AC units. Note that none of these brands' warranties cover the cost of labor to repair these parts.
Limited Warranty Options
Compressor
Trane: 12 for XL or XV models, 10 for XR
Carrier: 10 years
Lennox: 10 for Signature and Elite models, 5 for Merit
Parts
Trane: 10 years
Carrier: 10 years
Lennox: 5 years
There are a few notable outliers. Trane and Carrier go almost neck-and-neck in coverage, but Trane's 12-year compressor warranty on its XL and XV models gives it a slight edge over Carrier. Some of Trane's ACs also offer a 20-year heat exchanger warranty, which goes far beyond what the competition offers.

Plus, Carrier's 10-year warranties only apply if you register your AC within 90 days of installation. Otherwise, the Carrier AC warranty reduces to five years. If you're a homeowner who plans on staying put for the long haul, a Trane premium model could be a great option.
In comparing Lennox vs. Trane or Lennox vs. Carrier on warranties, Lennox offers a 5- or 10-year compressor warranty, depending on the model purchased. If you want a 10-year parts warranty, which comes standard with Carrier and Trane, you'll have to buy the highest-end model.

If these brands' limited warranties aren't cutting it for you, all three offer extended warranties that you can purchase from third-party HVAC dealers.
How to choose an HVAC technician
Deciding on the best HVAC brand and model to buy is only one piece of the puzzle. Connecting with a qualified HVAC technician is equally as important.

A three-year study from the National Institute of Standards and Technology (NIST) found that poor AC installation can lead to leaky ducts and other problems. These issues can lower your AC's efficiency by 30% or more, making your SEER rating tank and your energy bill spike.

That's where we come in. We've gathered tips for selecting the best HVAC technician. By asking the proper questions and understanding HVAC basics, you'll find a local HVAC installation company that offers the quality work you need to protect your investment.
Our Tips for picking a contractor
Shop around. It may seem obvious, but you'll want a range of quotes from local contractors. Even if the first contractor you talk to sounds perfect for the job, cross-check their quote with at least two others in your area.

Ask the contractor to verify that they're licensed, bonded and insured. If they hesitate to provide proof or act offended by the question, steer clear. Sadly, your path to legal recourse is extremely difficult if an uninsured or unlicensed contractor botches your AC installation.

Watch out for extremes. If a low quote feels too good to be true, it likely is. Your contractor may be less thorough, leading you to pay more per month in energy bills and repairs.

If a rate feels unreasonably high, the contractor may be trying to sell you extra services or parts that you don't need. It's also a red flag if the contractor pressures you to buy anything on the spot.

Keep a written record. Ask the contractor to write down their rate, the product name, and other important info so they don't upcharge you on the back end.

Use the Better Business Bureau's search to confirm that the contractor is reputable.
Best Overall
You may have clicked on this article expecting a clear-cut winner from the Lennox vs. Trane vs. Carrier debate. However, the best qualities of each of these brands are just as unique as your needs.

These three brands each make products that meet the needs of families during the hottest and coldest days. Trane's lengthy warranty may be a great fit if you're planning on staying in the same home for over a decade.

Lennox's lofty SEER ratings make its units ideal for anyone looking to save money on their electric bill. Carrier's reliable ACs boast wide part availability and relatively inexpensive repairs.

Allow your family's needs to guide your decision for the best HVAC brand choice. If you're still deciding which features mean the most to you, explore our top HVAC brands guide.