At HVAC.com, our writers create solutions that put you in control of your HVAC system. Our product reviews and recommendations are researched and backed by real buyers and industry experts, not dictated by our partners.
Hiring a new HVAC contractor is always a risk for homeowners as well as commercial building owners. With hundreds or thousands of dollars at stake, they're left to hope the online research they've performed and recommendations they've received actually ends in a positive experience with the company they've hired. Fear of making a bad choice or potentially wasting their investment if another company must be hired to correct mistakes can make customers hesitant to purchase.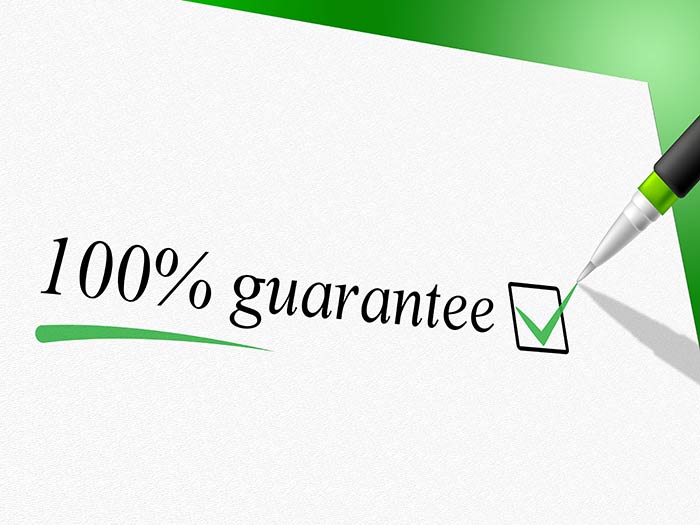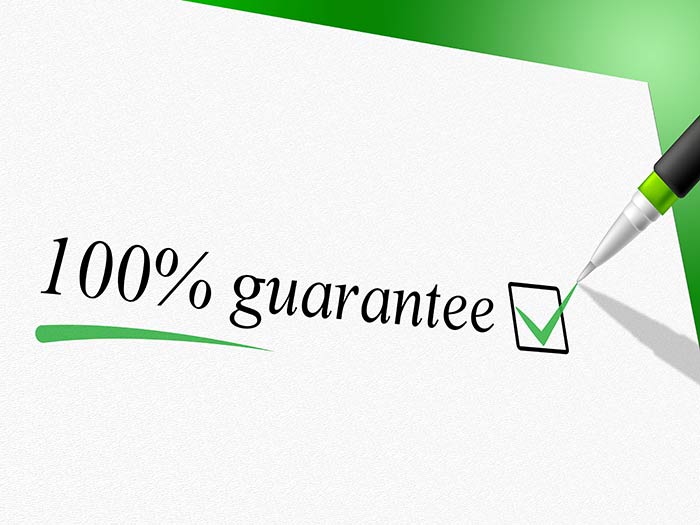 Heating and cooling contractors can dissolve this doubt and build trusting relationships with customers by making a guarantee — a customer satisfaction guarantee. With a clear-cut program in place to resolve customer dissatisfaction, should it arise, you will remove that risk while establishing your business as a credible and trustworthy service provider.
Develop your guarantee program
Your first step should be to decide what guarantees you want to make to your customers. It's a way to differentiate your business from your competition, so don't offer the same generic guarantee; consider what your company can do differently, and better. Some ideas which you can expand upon for your business include:
Customer satisfaction guarantee
On-time guarantee
Performance guarantee
Property protection guarantee
Clearly define what the guarantee means to you, so you can accurately communicate it to your customers. Decide what your terms are and what the repercussions will be should your team fail to meet them. Are you going to write the customer a check if your technician is late? Will you waive the service call fee? When you define what your guarantee entails, you're also defining what the end point is, which protects your business while giving your business and your customers a way to measure whether or not the guarantee has been achieved.
Know that mistakes and product failure are always a possibility, so build a cushion into your yearly budget to account for what you may pay out on your guarantee. By doing so, you'll eliminate the strain of surprise expenses. Review these numbers on a regular basis to determine if they require adjustment.
Implementing a satisfaction guarantee
Once you've determined what type of guarantee you'll be offering and what it entails, it's time to implement it. It is essential that your entire team is aware of your guarantee program, from the technicians who perform the work to the office staff who will be fielding phone calls about it. Hold a meeting to answer questions and put it all down on paper so your team will have a document to reference in the future.
Publicize it — it's a selling point that puts your company above your competition. You want all potential and current customers to be able to easily access this information, so create marketing collateral which can be left in the home, build a landing page on your website with details, and spread the news on your business's social media pages.
How a guarantee can make your business better
By putting a guarantee in place, you're setting a bar for your team to exceed on every job. You're upping your standards and meeting the high expectations your customers have for contractors coming into their homes. By defining your company as such, you're more likely to attract talent who are committed to these same customer service philosophies.
Assess the current shortcomings you have; what type of calls are you being called back to? If you have specific problems, your team may benefit from targeted training regarding certain systems, equipment or services.
What guarantees does your heating and cooling business offer? How have your customers responded, and how have your guarantees improved your business for the better?