Heating Repair FAQ & Answers
At HVAC.com, our writers create solutions that put you in control of your HVAC system. Our product reviews and recommendations are researched and backed by real buyers and industry experts, not dictated by our partners.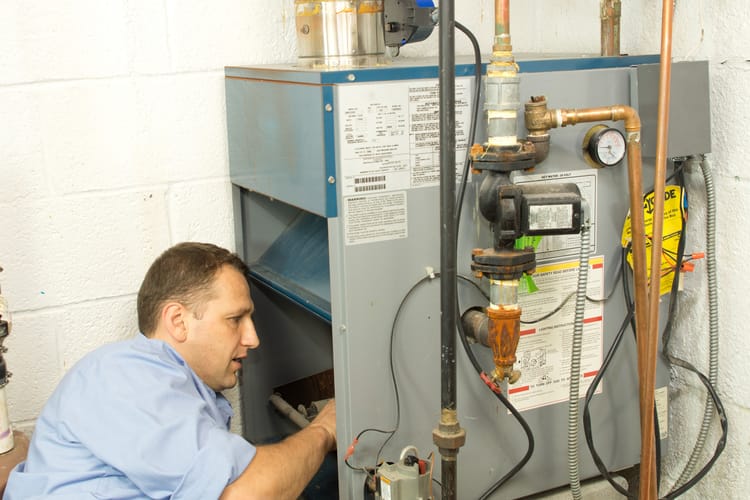 When your furnace or heating system is struggling, most homeowners have questions about heating repair and the process. Before you call for heater repair, know what to expect – find the answers to the most common heating repair questions below.
Heating Repair FAQs
What are signs I need heating repair?
A heating system that won't turn on or produce warm air is an obvious sign you need heater repair. Sometimes, the signs aren't so obvious. These are a few other warning signs your heating system may give off that tell you it's time to call for heating repair:
Air coming through vents is lukewarm
Very little airflow coming through vents in the home
Heating system struggles to keep the home at the desired temperature
Heating system turns on and off frequently (short cycling)
Sudden, unexpected noises during heating cycles
Unexplained high heating bills
How to troubleshoot before calling for heater repair?
Before calling a technician for heater repair, try these troubleshooting tips to see if the problem resolves itself.
Make sure your thermostat is powered and set to heat mode, and that the temperature is set a few degrees above the current room temperature.
Make sure your heating equipment has power at the home's circuit breaker panel and that external on/off switches near the unit are set to 'on.'
Change your air filter if it is dirty and clogged with debris.
How much does heater repair cost?
When you call a heating repair contractor, you'll likely be charged a service call fee. Typically, this ranges between $50 and $100, though may be more if you have an afterhours heating repair emergency. Additionally, there will be a charge for the parts and labor to complete your repair. The average heating repair costs $268.
What are some common heating repair problems?
Heating systems have many parts, any one of which can experience trouble leading to the need for heating repair. The following are common issues heating repair technicians correct:
Faulty ignitors
Malfunctioning thermostats
Dirty burners
Bad blower motor
Faulty flame sensors
How can I prevent the need for heating repairs?
Safeguard your heating system against breakdowns by staying current with preventative maintenance. Schedule annual preventative maintenance tune-ups for your heating system with your trusted HVAC company. This tune-up gives your heating system the needed care to operate at its peak performance and efficiency, while reducing the likelihood of breakdowns over heating season. Also, be sure to change your furnace filters on a regular basis to ensure the system has proper airflow, which also helps reduce the chances of breakdowns.
Should I replace my equipment or pay for heating repair?
When facing a significant heating repair bill, many homeowners wonder if investing in a new heating system is a better option. In these situations, it may be best to go with replacement:
Your heating system is nearing, at or beyond 15 years old. That's the average service life for a furnace.
If the heater repair bill is more than 50 percent of the cost to replace it with a new system.
Get Heater Repair Help on HVAC.com
HVAC.com has many valuable resources to help homeowners learn about their heating equipment and how to best care for it. If your home's system is in need of heating repair, use our HVAC Contractor Directory to locate a skilled heating and air conditioning contractor nearby. Search your ZIP code to see heating repair companies near you who will restore comfort in your home quickly!