How to Change Your Air Conditioner Filter
At HVAC.com, our writers create solutions that put you in control of your HVAC system. Our product reviews and recommendations are researched and backed by real buyers and industry experts, not dictated by our partners.
Changing your air conditioner filter is an essential step in maintaining your air filter. Lucky for you, it is very easy to do, and inexpensive compared to the problems that can arise from dirty filters!
To ease any confusion…
Air Conditioner and Furnace Filters are the same thing.
However, you may hear it referred to as an "air conditioner filter" or "furnace filter" depending on the season.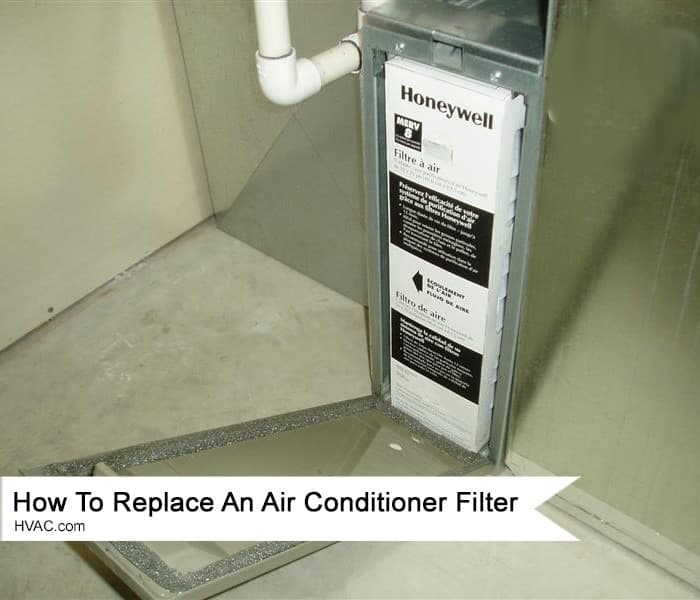 Instructions
Locate the filter compartment around your furnace.

Your filter compartment is probably covered with a strip of metal, which can be removed to insert or remove the filter.


Find out what size filter you'll need for replacement.

On most filters, the dimensions are noted on the side of the filter and are usually noted in inches. If the measurements are not present, you can measure the filter yourself; measure length, width, and depth, rounding each measurement up to the nearest whole inch.


Purchase a replacement filter in the appropriate size.

Air filters for air conditioners range in efficiency levels, called MERV ratings; you'll need to determine which is the best fit for your needs and system before purchasing. Higher efficiency filters may be preferable for those who live in warmer areas, dusty climates, or who are sensitive to household allergens.

Install the new air filter in the proper direction.

Note the direction of air flow that is marked on the edges of the old filter and install the new filter accordingly. To avoid installing filters in the wrong direction in the future, use a permanent marker to write the direction of air flow on the metal strip that covers the filter compartment for your reference.


Make yourself a reminder

Each manufacturer has its own recommendation on how often you should change your filter. Lower efficiency filters will require more frequent replacement than high-efficiency filters, and filters may require more frequent replacement during periods of heavy air conditioning use. Click here to see on average how often your filter should be changed.

Dispose of your old air conditioner filter.