Trane Air Conditioners
At HVAC.com, our writers create solutions that put you in control of your HVAC system. Our product reviews and recommendations are researched and backed by real buyers and industry experts, not dictated by our partners.
With a market share of 10 percent, Trane is a popular brand for residential central air conditioning (AC). Homeowners can choose from nine model series. Keep reading to explore Trane's types and models of air conditioners along with offers, pricing, and warranties.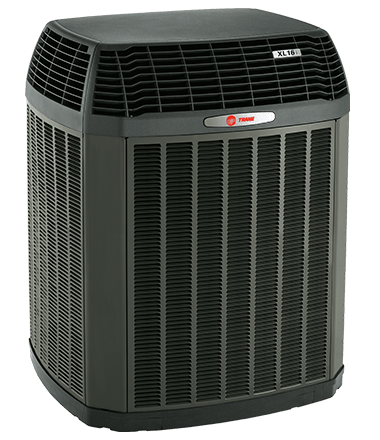 Skip the search and connect with an HVAC expert.
AC Cost Calculator
Need to know how much your air conditioner is going to cost you? Try out our Cost Calculator and get a price estimate that you can compare to quotes from technicians.
How Much Does HVAC Replacement Cost?
Average Cost: $3,250 – $12,586
Like your home and needs, your HVAC project cost will be unique. Use the calculator to better estimate your investment.
*Estimate is based on current data and does not represent a guaranteed price. For accurate pricing contact a local HVAC dealer.
Types of Trane air conditioners
Many types of residential air conditioners exist, including central, window, and portable. Of these, Trane sells only central ACs, a type designed to cool the entire house. Trane also offers furnaces, heat pumps, and air handlers, which carry conditioned air throughout the home.
Two types of central ACs exist: packaged systems and split systems. In a packaged system, all system components reside in a single HVAC unit, including the fan, motor, and evaporator coils. In a split system, the system is divided into two parts: an outdoor unit, containing the compressor, and the indoor air handler, containing the coils and fan. Trane produces two model series of central AC packaged systems and nine model series of central AC split systems.
Like other manufacturers in the central AC category, Trane offers products that are energy-efficient, as measured by criteria such as SEER (Seasonal Energy Efficiency Rating), and in compliance with federal Energy Star guidelines. The SEER number is calculated by dividing the cooling output for a typical cooling season by the total electric energy input during the same timeframe.
Trane's central ACs offer an average SEER rating of 17.3, in comparison to an industry average of 16.7 percent. Trane's packaged AC systems provide SEER ratings of either 14 SEER or 15 SEER. When it comes to energy efficiency, the higher the SEER rating, the more you're likely to save on utility bills. Also, almost all of Trane's central ACs are eligible to carry the Energy Star logo.
Trane's air conditioners have received other kinds of recognition, too. In a Consumer Reports owner satisfaction survey among people who had bought central ACs, Trane was among five brands to get the top rating of "excellent" out of 22 brands surveyed.
Trane AC models pricing
As is true across the industry, Trane's most expensive central air conditioner models offer more high-end features, resulting in higher SEER ratings and other advantages. Lower-end models cost less to buy and install. See below for 10 top model series in Trane's current central AC family.
Skip the search and connect with an HVAC expert.
XR13
The XR13 is Trane's most affordable split system central AC. This no-frills unit is Trane's only split system unit that isn't Energy Star-eligible.
However, this system provides the same basic components available in Trane's other split system model series, including a Climatuff compressor, Spine Fin outdoor coil, non-corrosive Duratuff base pan, full-side louvered panels, and an easy-access Quick-Sess cabinet with full coil protection. Baked-on powder paint helps resist rust.
Trane's entry-level split system model series provides SEER cooling efficiency of 14.5 percent, with potential energy savings of up to 42 percent.
XR14
Although the XR14 is not Trane's most affordable product, Trane rates it as the company's best value. The Energy Star-eligible XR14 offers a SEER rating of 16, for possible energy savings of up to 50 percent. An upgraded fan differentiates it from the XR13.
As with all other Trane split system central ACs, the XR14 comes in multiple models based on nominal tons, height, width, depth, and cooling capacity, as measured in BTUs per hour (BTU/h).
XR16
The XR16 is another economical split system central AC series from Trane. It offers energy efficiency of up to 17 SEER.
The XR16 and all other Trane models offers Trane CleanEffects, an advanced air filtration system that removes dust, pollen, and other irritants from conditioned air.
XL16i
The XL16i series is a little less expensive than the XR16. However, SEER is lower, too, at up to 16.5.
As with some other split system model series, a low sound option is available on select models of the 16i, providing sound insulation on the compressor plus an advanced low-noise fan system.
XR16 Low-Profile
This variant of the XR16 offers a small footprint. The pint-sized unit is specially designed to fit into constrained spaces such as condos or under decks.
Offering up to 17 SEER, this low-profile AC is available in seven different models that range in dimensions from 36.75- by 40- by 14.5-inches to 42.75- by 47- by 17-inches.
Skip the search and connect with an HVAC expert.
XR17
In contrast to Trane's lower-end split system model series, which relies on a single-stage compressor, the XR17 uses a two-stage compressor. A single-stage compressor only runs at one level.
A two-stage compressor provides two levels, high and low. It operates at full capacity when necessary and at a lower level otherwise. The XR17 series produces up to 18 SEER.
XV20i TruComfort Variable Speed 22
With a high SEER of up to 22, for potential energy savings of 60 percent, the XV20i is rated by Trane as the most efficient central AC in its lineup. This split system model series uses TruComfort variable speed technology, operating continuously at less than 100 percent capacity to just about match the temperature on your thermostat.
In Trane's variable-speed models, the compressor, outdoor fan, and indoor fan vary operating speed and BTU to meet changes in outdoor temperatures, slowing down or speeding up gradually in tiny increments. This keeps comfort within one-half inch of the thermostat setting. Consumers should be prepared to spend for these technologies.
XV18 TruComfort Variable Speed
Also equipped with a variable speed compressor and TruComfort technology, the XV18 is ranked by Trane as its quietest central AC. The variable-speed compressor, an integrated fan system, and a compressor sound insulator work together to lower sound levels to as little as 55 decibels. In comparison, most other split system model series from Trane produce sound of anywhere from 69 decibels to 76 decibels.
Like the XV21i, the XV18 also includes ComfortLink™ II technology for communicating with compatible indoor units and connecting all key components in the system for automatic configuration and calibration. The XV18, however, isn't quite as energy-efficient as the XV21i. Its SEER number is 18.
XL18i
Despite the similarity in names, the XL18i is quite different from the XV18. Like the XR17, the XL18i is a two-stage split system unit. It also lacks the TruComfort and ComfortLink II technologies of the XV18.
The XL18i is slightly more affordable than the XV18, but it's also noisier, producing 73 decibels of sound. The XV18 and XL18i offer the same energy-efficiency, which is up to 18 SEER.
XR14c
The XR14c is one of Trane's two packaged central AC model series. Trane's packaged ACs are designed for use in homes with limited space, especially those located in southern parts of the nation. In addition to a central AC, these compact units include a heat pump and furnace.
With a SEER rating of 14, the XR14c includes many of the same components in a Trane split system unit, such as a Spine Fin coil and Weather Beater top. It also offers a stainless-steel heat exchanger and powerful airflow system, but it isn't Energy Star-compliant. Trane's higher-end, Energy Star-eligible XL15c packaged system adds a variable speed Vortika motor blower. Rated at 15 SEER, the XL15c is also available with Trane's ComfortR airflow mode for better humidity control.
Trane air conditioner pricing
Average pricing with installation ranges from about $3,850 for the XR13 to $4,790 for the XV21i, according to estimates by AirConditionerLab.com. Estimates are based on the use of a 2.5-ton condenser, 1300 to 1400 CFM air handler, and a programmable thermostat.
Skip the search and connect with an HVAC expert.
Pricing varies widely, with factors such as energy efficiency, unit model and size, type of home, and installation affecting cost. Installation costs vary throughout the U.S. and can be impacted by the size of the home, existing ductwork, and the location where the unit is to be installed. You can get accurate pricing information by contacting a local HVAC professional.
See below for average pricing for specific Trane models.
XR13: $1,595 without installation, $3,850 with installation
XR14: $1,655 without installation, $4,055 with installation
XR16: $2,190 without installation, $4,490 with installation
XL16i: $2,150 without installation, $4,490 with installation
XR16 Low-Profile: $2,190 without installation, $4,690 with installation
XR17: $2,390 without installation, $4,800 with installation
XL18i: $2,550 without installation, $4,790 with installation
XV18 TruComfort Variable Speed: $2,645 without installation, $5,205 with installation
XV20i TruComfort Variable Speed: $2,800 without installation, $5,600 with installation
Trane air conditioner warranties
All residential Trane ACs include a 10-year registered limited warranty on the outdoor coil and all other internal functional parts. The XR units also include a 10-year registered limited warranty on the compressor. The higher-end XV and XL central ACs come with a 12-year registered limited warranty on the compressor. Trane does not provide any warranties on labor.
Trane air conditioner reviews
You can learn more about Trane central air conditioners by reading Trane central AC reviews on HVAC.com.
Frequently asked questions
How much does a Trane central air conditioner cost?

Pricing varies widely based on several factors. Estimated average pricing for central AC units from Trane ranges from about $1,595 for the XR13 to $2,550 for the XV21i. Average pricing with installation ranges from about $3,850 for the XR13 to $4,790 for the XV21i.
Where can I buy a Trane central AC?

You can buy a Trane central air conditioner from any HVAC dealer authorized to sell this product.
How long will a Trane central air conditioner last?

The longevity of a central air conditioner depends on many factors, including how often it's used, the climate and environment it's used in, and how well it is maintained. For this type of product, experts generally predict a product lifetime of 15-20 years, except in coastal areas, which tend to be corrosive, and in high run-time hour situations.