Best Air Purifiers for Mold: Eliminate mold and mold spores
Nic RardinAugust 10, 2021
If you want to improve your indoor air quality, incorporating an air purifier into your home can help eliminate harmful germs from the air you breathe. One such pollutant is mold spores.

Mold growth doesn't have to be obvious within your home for spores to exist in the air. The Centers for Disease Control (CDC) have found that mold can be common in homes and buildings. Spores can enter into your home through your clothing or something as simple as an open door or window. Those spores can travel to moist, dark spaces and begin to multiply.

Mold causes health issues ranging from allergies, asthma and more serious respiratory diseases. Will an air purifier help with mold? The short answer is yes, but it's necessary to choose the best air purifier for mold spores to help do away with the culprits before they cause more serious problems.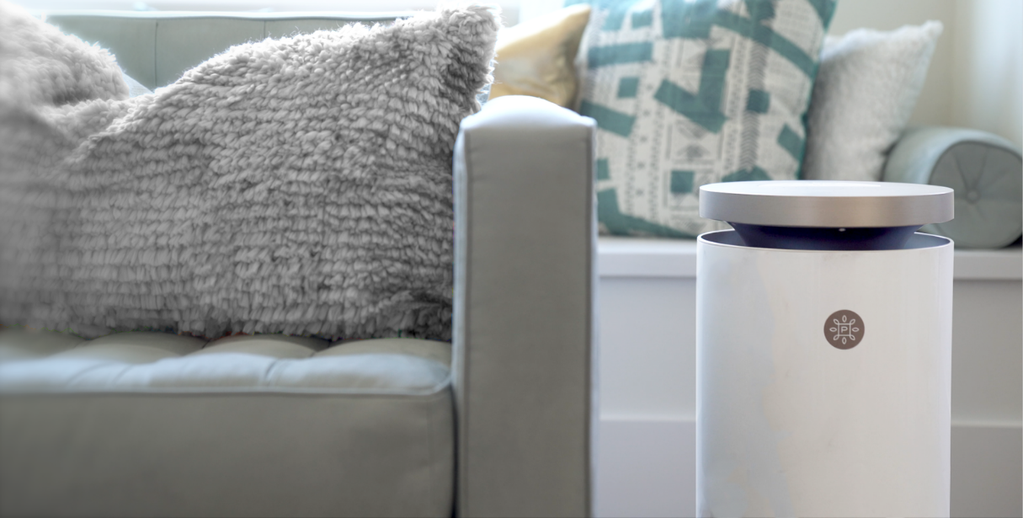 Not all air purifiers are designed to eliminate mold from the air. This guide will walk you through what is the best kind of air purifier for mold and how to choose one that's affordable and effective.
How do air purifiers help with mold?
An air purifier works by running air through the device and catching pollutants in the filters. A purifier can help sweep up and capture mold spores, reducing their concentration.

The best air purifier for mold is only as good as its filter and how often you change it. A clogged filter won't catch the mold spores or other microorganisms that move through the air purifier and can ultimately blow the spores back into your home.

One of the most effective filters is a High Efficiency Particulate Airtypes (HEPA). The U.S. Environmental Protection Agency says the HEPA filter can capture 99.97% of mold, dust, pollen, bacteria and particles as tiny as 0.3 microns (µm).
Signs of mold
Although mold can be common in a home, not every household has an issue. Before you go out and purchase the best air purifier for mold and mildew, there are a few warning signs to help you determine if there's a need to improve the air quality in your home.
Smell
One of the most obvious signs there is a mold or mildew problem is the lingering odor. If there is a musty or damp smell, there is most likely a moisture and mold problem that needs to be addressed.
Allergy symptoms
Sometimes the only way you may know if there is mold in your home is by your respiratory health. Some of the most common symptoms that serve as a warning about mold growth in the home include:


Coughing
Watery, itchy eyes
Nasal congestion or runny nose
Shortness of breath
Asthma
Itchy skin or other allergic reactions
If you suspect your allergic symptoms may be caused by mold, a doctor can order a test to see if you have a sensitivity due to exposure to mold.
Moisture issues
Peeling or bubbling paint, rusting in areas or discoloration can be a sign that there are moisture issues in the walls, a closet or other spots of your home. A small leak or a humid zone in your home could attract and grow mold.
Features to look for in an air purifier for mold
If you suspect there is mold in your home, an air purifier for mold can improve indoor air quality. When shopping for the best air purifier for mold and mildew, consider the following features:

Filter type: As mentioned, a HEPA filter is the most effective. However, other types of filters may also work, such as sanitizing UV lights, ionizers, activated carbon filters, PCO and PECO tech filters.
Ease of filter replacement: The key to keeping your home mold and mildew-free is by regularly replacing the filters as the spores build up. Look for an air purifier for mold that has easy access to remove and replace the filter. 
Noise level: Air filters work best when they can run most of the time to keep clean air circulating. Choose an air purifier for mold that can work behind the scenes while you study, sleep and go about your life.
Clean air delivery rate (CADR): You may need a larger, more powerful purifier, depending on the size of the room. The higher the CADR, the faster and more effective an air filter for mold will be at purifying a room. 
What is the best air purifier for mold and mildew?
Using the four criteria mentioned, we've curated a list of the best air purifiers for mold and mildew based on varying home conditions and most common needs.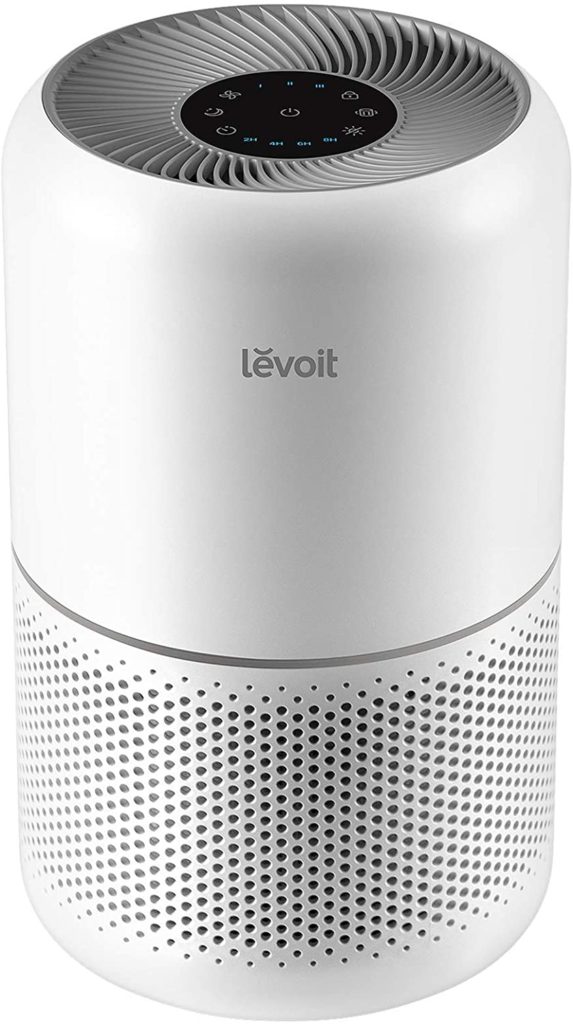 LEVOIT is one of the top-selling air purifier manufacturers. The Core 300 is a quiet HEPA filter with low-level noise of 24db (about the same as someone whispering to you). It's a good solution when you need to clear the air in a space in a hurry. A high CADR means the air in a room up to 219 square feet can be purified in just 12 minutes. The quiet operation means you can let the purifier run day or night without being disturbed. LEVOIT's VortexAir Technology and the round design of the unit allows the device to take in air from all sides, purifying a room completely up to five times per hour.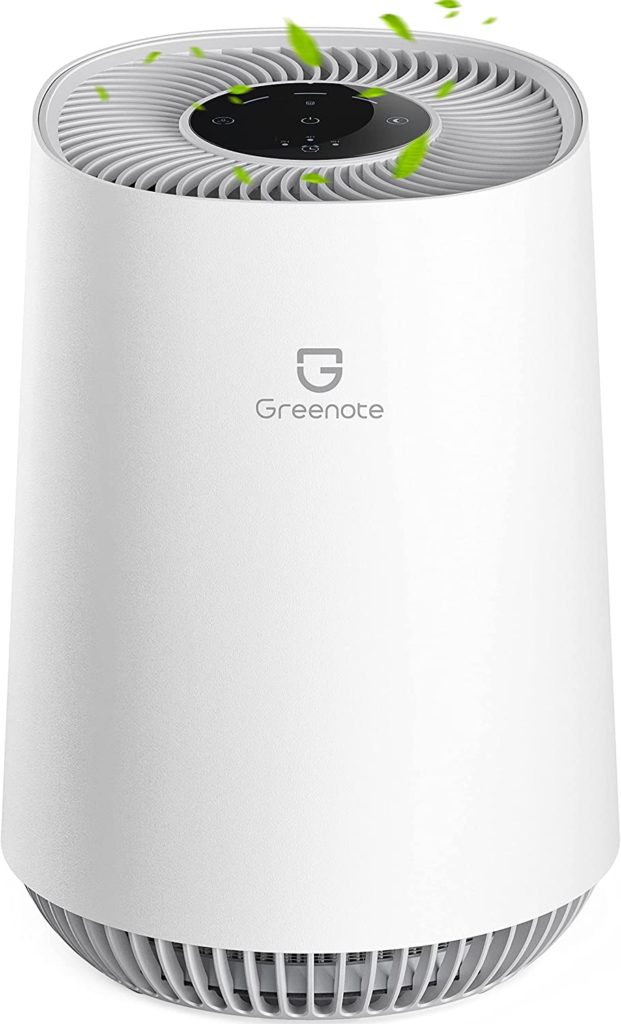 If you'd like to control mold or mildew in an office space, nursery or other area where quiet is needed, Greenote's purifier may be the best option. It's small enough to sit on a night stand or desk and rated to clean a room of up to 430 square feet. The HEPA-based purifier has four modes (Low, Medium, High and Sleep) and produces only 22dB of sound in Sleep mode, equivalent to the sound of rustling leaves.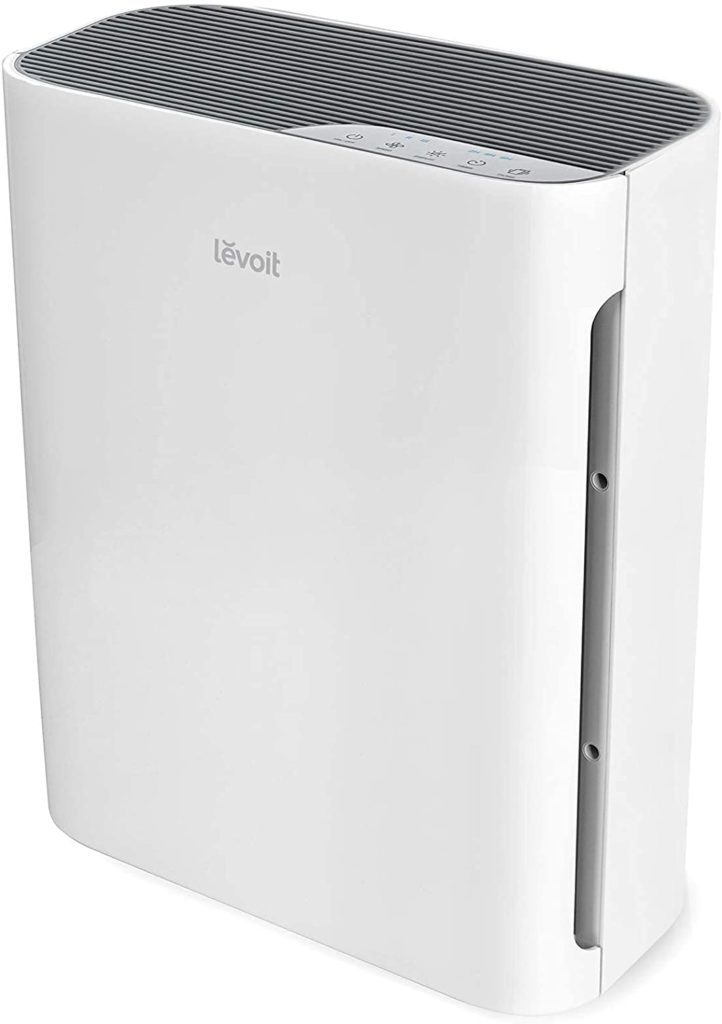 When you need a more powerful filter but don't want to worry about the cost of maintaining and operating one, the LEVOIT H13 could be the most economic option. The pre-filter that captures dust, lint and fur is washable so you can save on replacing it. It's followed by a more economic high-efficiency activated carbon filter before you arrive at the core of the unit, the HEPA filter. The purifier has a sensor that will notify you when it's time to replace the filters, saving you money over time by extending how long you can use the system without guessing. The brand claims it costs only $1.66 per week to run the purifier 24/7.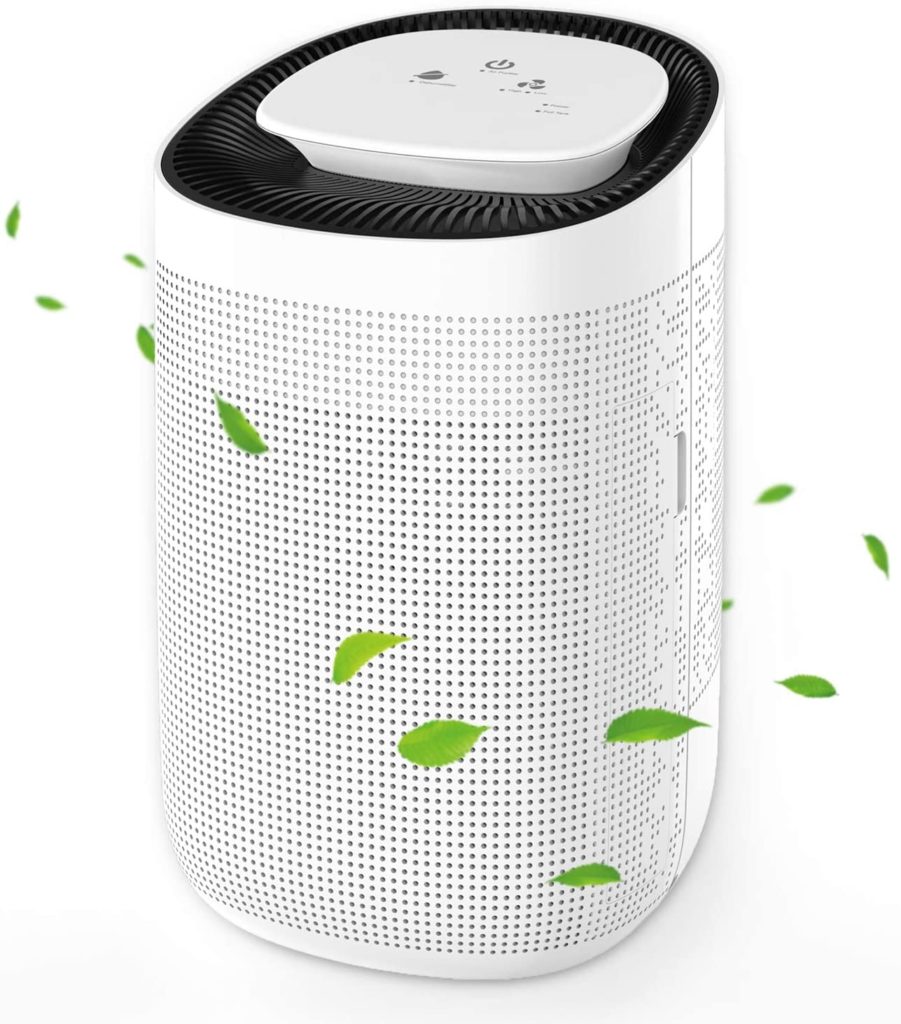 Moisture and mold go hand in hand. Spores need humidity to thrive. You can solve the root of the problem (and its result) by choosing the best air purifier for mold and mildew with a built-in dehumidifier. Honati's purifier is designed for rooms up to 215 square feet and could be ideal for a damp area such as a basement or bathroom. The HEPA filter clears 99.99% of the allergens in the air while the dehumidifier removes up to 750 ml (1.6 pints) of moisture per day. Best of all, it's easy to empty out the water tank and replace the filter when it's time.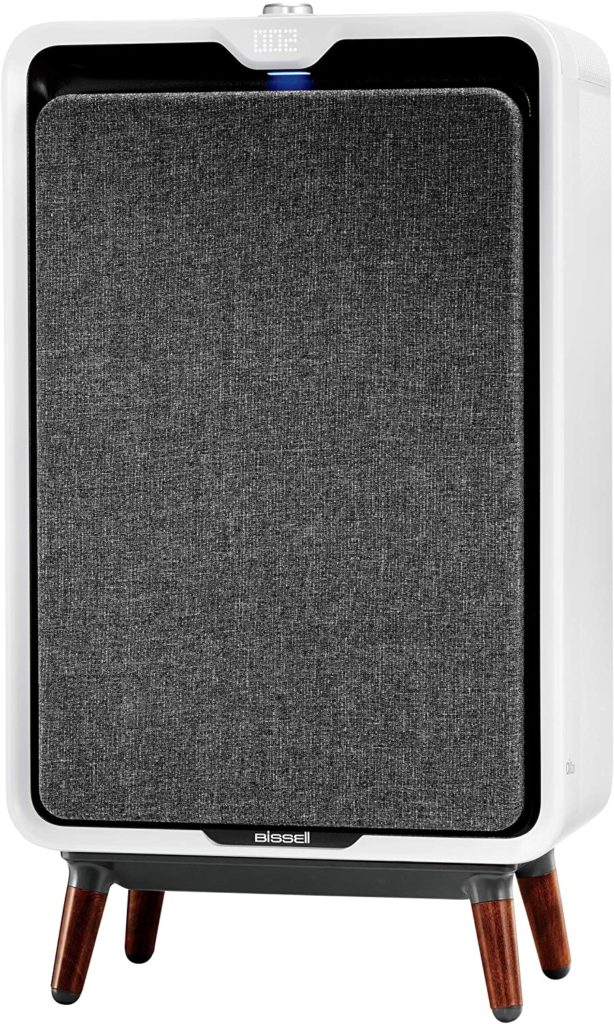 Most of the best air purifiers for mold and mildew take up a significant amount of space. Bissell's air320 is meant to be part of a room's design by featuring Mid-Century Modern details such as rounded edges and walnut-hue legs. Besides its stylish design, it's low maintenance. Replacing the filters is easy, thanks to front panel filter access. The purifier's smart design senses when air quality is lower and will increase fan speed automatically to clean the room faster with a CADR of 199 for spaces as large as 308 square feet.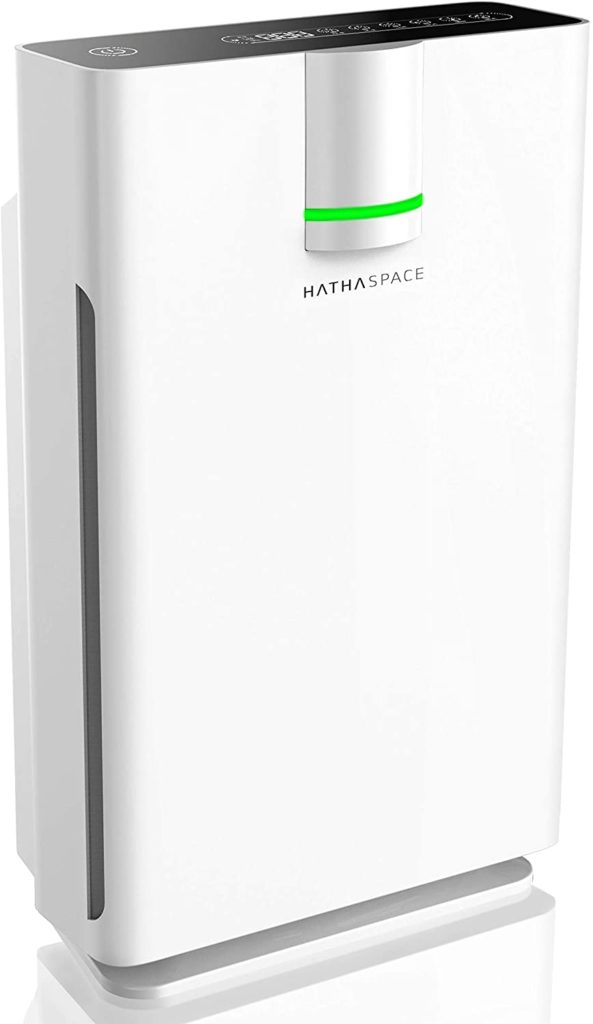 If you have a large basement or open living space with a mildew or mold issue, having the best HEPA air purifier for mold is essential. Hathaspace's model uses medical-grade H13 HEPA filtration (instead of the more standard H11). Besides the premium HEPA filtration, your home's air travels through four other stages for a five-in-one process. Designed to be understated yet powerful, the Hathaspace 2.0 replaces all the air in a 1500 square-foot room in one hour, or faster if the space is smaller.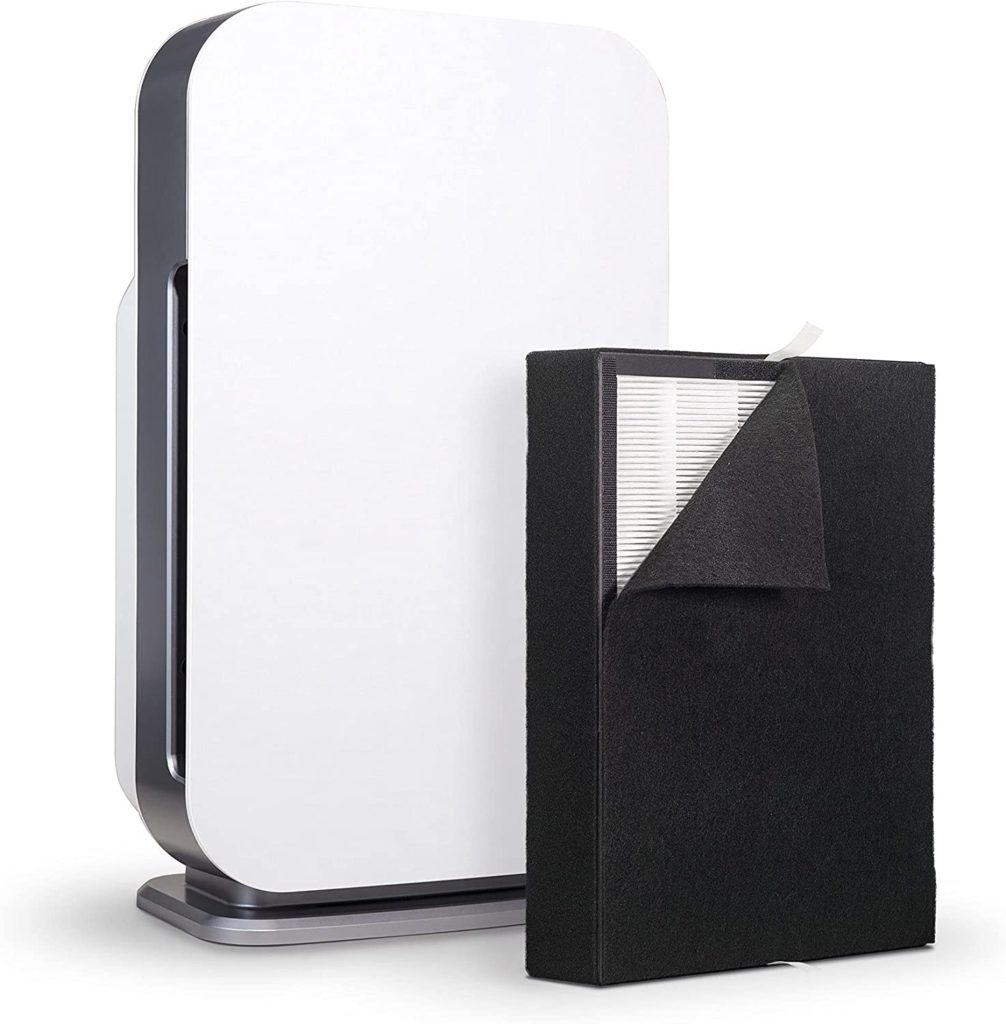 Many people focus on eliminating mold and mildew issues where they sleep. It's a sensible idea since most individuals tend to spend the most time in their bedrooms. The Alen BreatheSmart 45i purifier is ideal for a bedroom, providing optimal air conditions and minimal noise through a medical-grade HEPA-13 filter. It's the smartest of all the air purifiers for mold in the roundup, sensing up to five levels of air quality and transmitting them in the form of color. Green lighting is the best air quality, with purple being the poorest. An added bonus from this device is that it supports a good night's rest. The unit quietly delivers a special white noise rated by SleepScore Labs as the best sound for improved sleep quality.
Other ways to prevent mold
Besides having the best air purifier for mold, there are other ways you can prevent spores from taking hold in your environment. Consider the following ideas to prevent mold and mildew:

Keep humidity levels low: You may need a sensor to monitor moisture levels. If they get higher than 50%, consider adding a dehumidifier or circulating more air in the room.
Check for leaks: If you suspect there is a small leak or moisture issue behind your walls, call in a professional. They generally carry a moisture-detecting device that can see areas where water or humidity is collecting.
Use bleach or mold-killing products: If you detect mold in a certain area, like the bathroom or near a window, a solution of bleach or a mold product can help you kill the spores.
Dry wet areas right away: Drying any spills or leaks as quickly as possible prevents water from seeping into cracks, walls or other spots where mold can thrive.
Keep air circulating: To keep your home mildew and moisture-free, air circulation is key. A fan or open window that allows for air to circulate can help in preventing mold.
Improve the indoor air quality of your home and make your space more comfortable by installing an air purifier. These small but mighty devices can help prevent health challenges, damp odors, and mold growth within your home.