How Much Does HVAC Installation Cost?
Posted on: February 6, 2018 | by: Will Housh HVAC.com April 17, 2019
A new furnace, air conditioner, or heat pump is a significant investment for homeowners. To know what kind of expense you're looking at with HVAC installation, it helps to know the approximate cost. Below, we'll give you average HVAC installation costs and discuss other factors that can affect the overall price of your HVAC installation.
HVAC Installation Costs
New systems vary in cost depending on factors concerning your equipment and home. On average, HVAC installation costs fall in the ranges below:
Factors Affecting HVAC Installation Cost
When it comes to HVAC installation cost, the price of the equipment isn't the only cost involved. While equipment prices vary, your home may need other work to help the new system function properly. We will discuss some of the variables below that go into HVAC installation cost.
Equipment capacity, efficiency, and features affect price. Larger capacity systems typically cost more than smaller systems, and you'll pay more for increased efficiency and advanced features, such as on-board diagnostics.
Duct system installation and repairs affect HVAC installation cost. If you're installing a new forced air heating or cooling system, your home must have ductwork – if you don't have ducts installed, a new duct system will need to be designed and installed. Your existing duct system may require air sealing to eliminate air loss, helping your new heating and cooling system operate efficiently.
The number of zones will affect HVAC installation cost. With ductless systems, you have the ability to zone your home's heating and cooling needs with individual air handling equipment in each zone. The more zones, the more equipment you'll need, increasing price.
Indoor air quality systems add cost. If you're installing whole home humidifiers, dehumidifiers, or air cleaners with your new system, there will be additional equipment costs for these systems.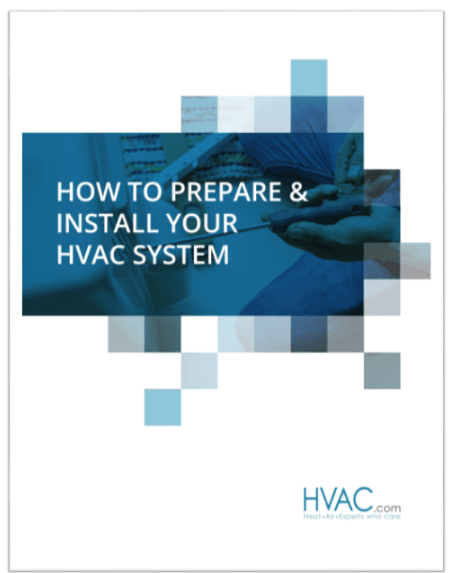 Find an HVAC Installer on HVAC.com
The best way to find an accurate price for your new HVAC installation is to request estimates from contractors serving your area. Search the HVAC.com Contractor Directory to connect with local heating and cooling professionals who can provide you with a quote for your new furnace, air conditioner, or heat pump installation.
You may also find our HVAC installation guide to the right helpful as you prepare for your project.